Plus Size Black Ruffle Boy Shorts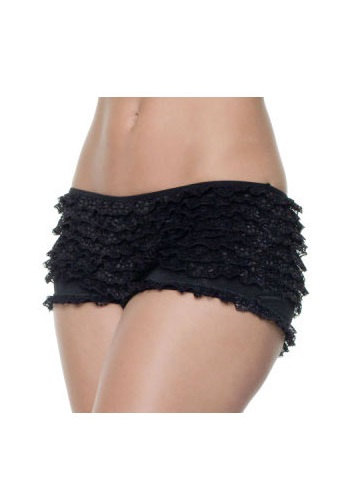 Sign Up
to be Notified When Your Size Is Available
Product Information
Features eight layers of ruffles

Elastic waistband
Did you know that in England, they call underwear "knickers" or "pants"? Which is honestly confusing, sometimes, when you're watching your favorite British reality TV show about rich kids who live and play in the posh neighborhood of Chelsea in London, and they're talking about what happened after the fancy dress party (hot tip: "fancy dress" means wearing a costume, not "show up in your best regular duds". You're learning so much today!) and someone says something about how someone else was practically walking around in their pants. You're like, "Yeah, we know, pants! What's the big deal?" and then you realize that they're talking about their underwear and it makes all the drama surrounding this statement all the more clear!
But we'll take a guess and say that if that someone was walking around in these Plus Size Black Ruffle Boy Shorts, nobody would have any complaints! This super cute ruffled accessory is ultra comfy and is interchangeable with so many of our other costumes. Slip 'em on and get ready to rock out with your pants out!
There are no reviews for this item yet. Be the first to write a review!
 Write A Review
---