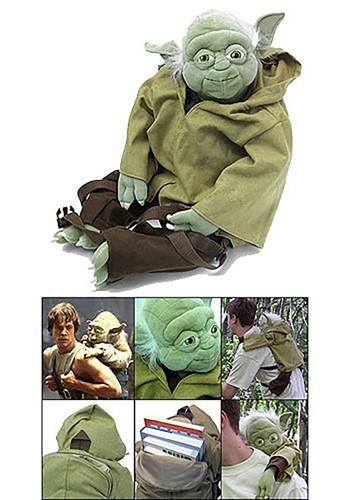 Product Description
Too lazy to head to Dagobah to finish your Jedi training, or maybe your X-Wing is in the shop? Well, you're in luck. Yoda can come to you. Not only that, but he'll hold on to your stuff and protect it with his Force powers while you train with him. Alright, so maybe this isn't the REAL Yoda and it's actually just a backpack, but if you mumble "Do, or do not. There is no try," while you wear it, it's almost like having the little dude with you.
Officially licensed

Plush backpack is shaped like Jedi Master Yoda

Adjustable shoulder straps and chest strap

Zipper reveals storage compartment
Amazing product and fast shipping g! So happy!
Anonymous
/
December 21, 2015
By
It wasn't until last Thursday *17th december) that my mum said she wished she'd bought one of these when the last lot if films came out. I immediately went on ebay to find they only had used ones for £60. I wanted to get it as a Christmas present so did a Google shopping search which sent me here. The product looked great but seeing reviews saying the shipping times are inaccurate I wasn't hopeful it would arrive for christmas. I decided it could be a late present so ordered anyway. The order confirmed it would arrive on Tuesday the 22nd but I wasn't hopeful as all reviews said that estimate was way under or a blatant lie to get my money as one reviewer put it. Today is monday 21st and my backpack just arrived at about 8:30 am. I am so pleased! Will definitely come to this site again!

Thank you!
 Write Review
---