Joker Costume Ideas
Comic book worlds and superhero films are filled to the brim with unique and fascinating characters. Who wouldn't want to soar through the clouds with marvellous powers that come from contact with a yellow star? Some might prefer to keep their mortal frame and bolster their heroics with fantastic technology that lets them go head to head with virtual gods like Superman (while also creating quite a product line of Bat-related gizmos). But no matter how fascinating a hero can be, they're only ever as amazing as the villain who inspired them to reach for justice. And of all villains out there, nobody can hold a candle to the Joker! He's a true enigma. One moment, he's all about seemingly innocent pranks. The next moment, he reveals his genuine insanity! But as the only Gotham villain that can really stand up to Batman, he's managed to capture more than just our attention! If you're looking to give a gothic spin on your average nutter clown, you've come to the right place. We have a ton of fantastic ideas to inspire you for your Joker costume, whether you're aiming for the classic Joker purple suit or going for a more insidious Joker suit, Suicide Squad style!
Women's Joker Costumes
While we're talking about which kind of villain you'd like to be, we should note that DC Comics loves to give us alternate universes. Not only do we get the gritty realism of Christopher Nolan's Dark Knight universe and the mysterious mayhem of the deviously evil clown of The Animated Series, but there are totally separate dimensions in the comics, too! Did you know that the Joker isn't always the tux-toting yuckster we know him to be? There's a version where Bruce Wayne's mom became the Joker! What a world, huh? Even if it were just Harley Quinn putting on the female fun, we'd still make sure that there would be the perfect women's Joker costume! Just imagine the idea of a duo of a Joker gal and Harley Quinn teaming up to take down Gotham. That's practically a horror film in the making…but it's also something we can't wait to see! The first step is finding the right gender-bent Joker.
Female Joker Costume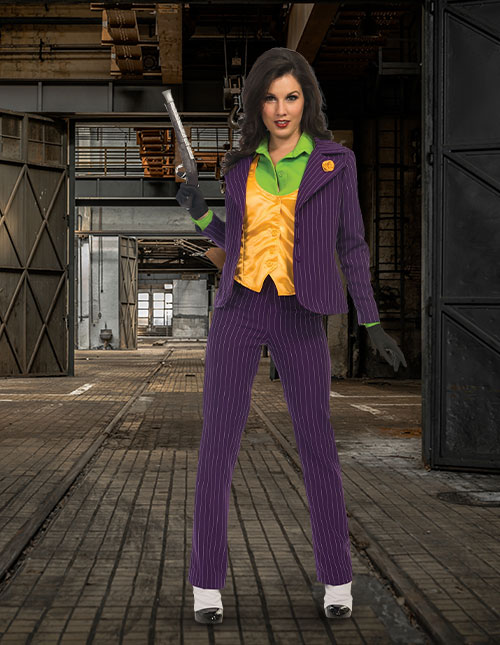 Everyone is always trying to figure out who the Joker really is. What's his name? What's his origin? He's a total mystery and that's just how he likes it. But it made us wonder: the Joker looked pretty fantastic when he hopped himself into the dress uniform of a nurse, yes? We think so, too! Naturally, we had to wonder how smashing it would be in reverse. Turns out a Joker fancy dress for women is perfect… almost too perfect! We might be onto something!
Women's Joker Fancy Dress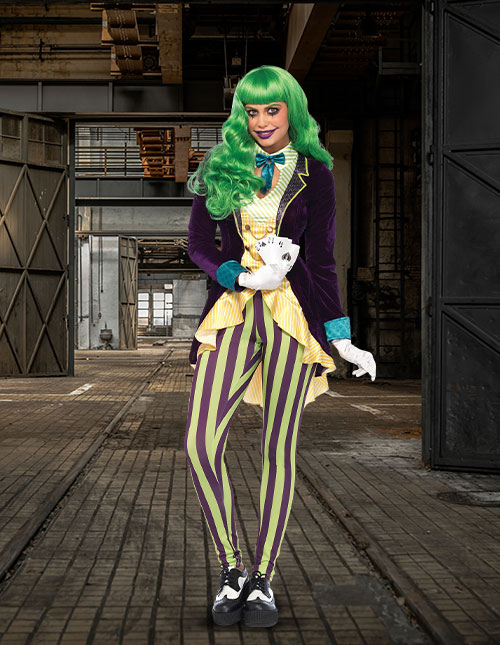 If there is any time to go subtle, becoming the Joker is certainly not it! Sometimes you've got to stand out so much that even the standard Joker look isn't enough. We're talking a green that stands out. We're looking for purple that isn't just solid, but in stripes that demand to be noticed. Something so frenzied and fun that creating chaos in the city happens just by walking around. Okay, maybe reign it in just a bit when you're in a wicked trickster Joker costume!
Joker and Harley Quinn Fancy Dress
Did someone say group costumes or was that just us? (When you're talking about the Joker, hearing voices in your head is part of the role, so it is good to double-check now and again.) There are so many fantastic characters hanging around Gotham—both the goodies and the baddies—it should go without saying that teaming up with one or two to bring Arkham City to life is only natural! The fact that the Joker was one of the few who could actually convince the other supervillains to "get along" shows what a genius he is. Naturally, he couldn't have gotten anywhere without Harley Quinn, the gal who's got her finger on the pulse of the criminally insane. If you're gearing up for a themed costume with some Gotham flavour, do we have the group and couple's costumes for you?!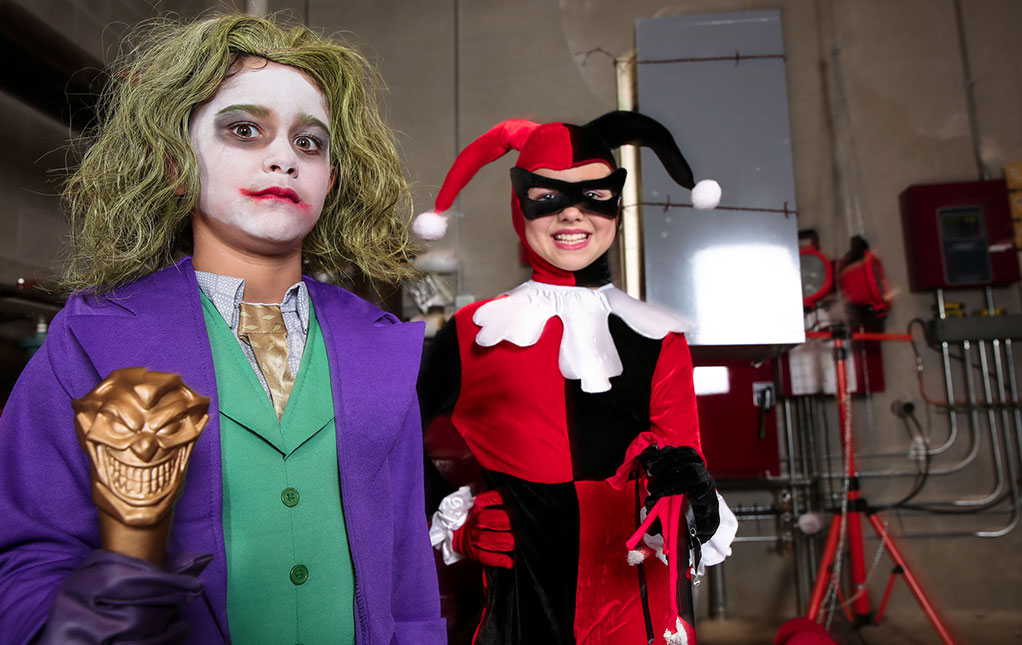 Harley Quinn and Joker Costumes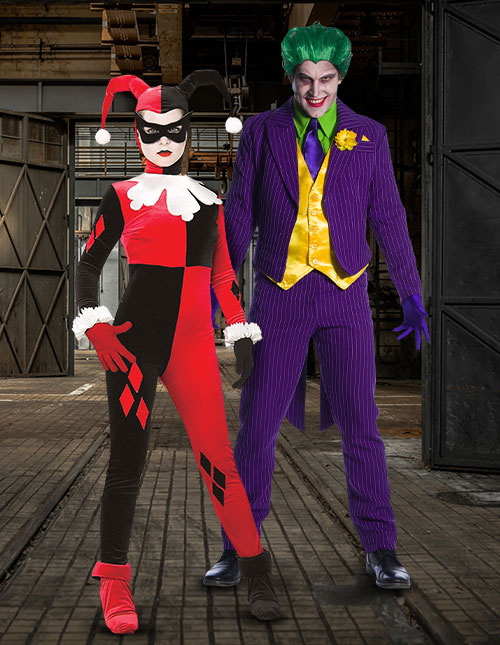 The classic villain duo have been together almost as long as Batman and Robin have been paired up. They don't always get along and almost never see things from the same perspective. (In fact, Harley seems to love to muddling up some capers just to get old Puddin's goat when the Joker is too obsessed with the green. We're sure that you'll enjoy these classic costumes like crazy, especially if you and keep the Joker in line!
Batman Arkham City Joker and Harley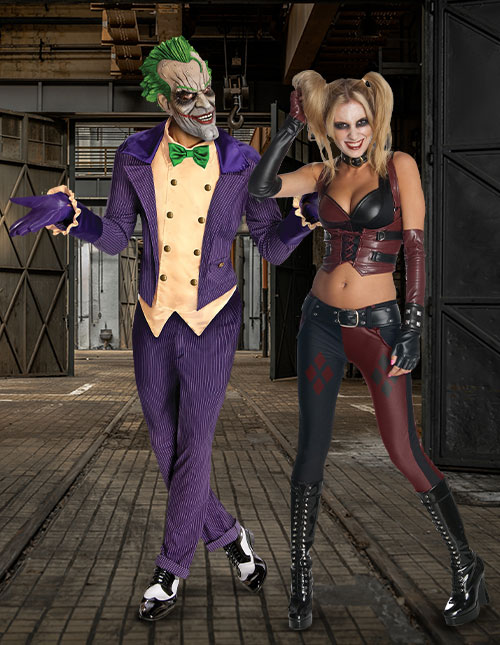 What makes for a really great video game? Well, obviously a mighty hero and a few awesome gameplay mechanics can really make the universe feel real. But, it's really about a stellar team of terrifying villains that'll get your heart thumping! You can't go wrong (or is it that you can't go right) with the villainous team of a pair of Harley Quinn and Joker costumes from the hit Arkham video game series!
Kid's Joker Costumes
The thought of Joker and kids isn't one that usually comes across. As Harley likes to say, he's a pretty busy guy. But there have been stories about little Joker kidlets running around. (Mostly in secret!) In one universe, there is Duela Dent, a mysterious semi-heroic gal who claims to be Joker's daughter…but her origin is just about as muddy and confusing as the nutter she claims is her father! So far, we haven't seen any universes where the Joker was a kiddo but, with heroic organisations like the Teen Titans, anything is possible! The point is that your tykes probably love the Joker for his comical mischief (and periodic real villainy). Halloween is a time for mysterious stories and spooky happenings, so what better character to lead this gothic and scary season than a boy's or girl's Joker costume? You can even go a step further and make a brand new Joker for your tyke. Just imagine a Joker with a purple cape! (Is it too outlandish to suggest that Super Joker be a character?)
Kids' Joker Fancy Dress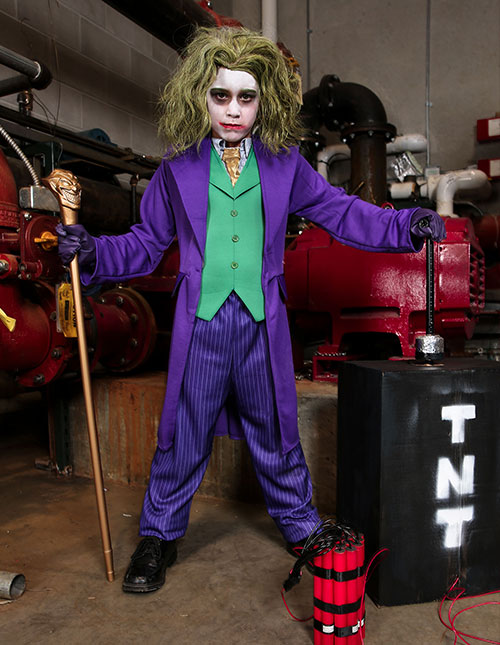 Your tyke may already show that they are a devious master of chaos. They may get you to lower your defences with a joke or two and then, suddenly, it's time for a biscuit! Perhaps they've discovered the box of sweets you thought you had well hidden and they're using it as leverage. This kind of sinister behaviour is clear evidence of a little villain in the making. Fortunately, it's kind of cute for the time being and you can get some adorable pictures of your little Jok(est)er.
Boys' Joker Costume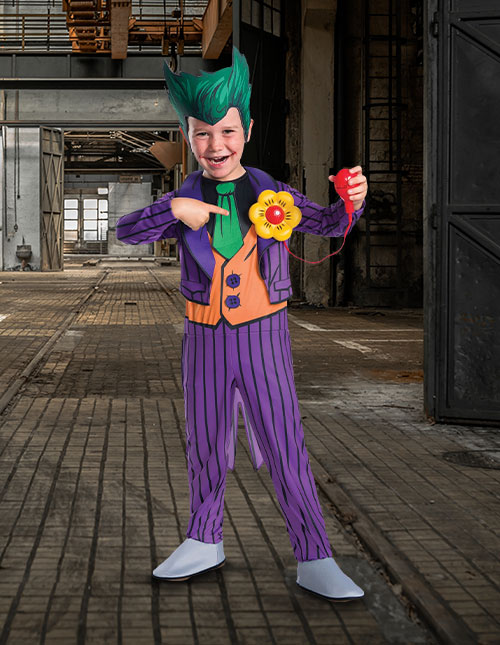 If your little one is about as animated as some of the cartoons that they love to watch, you can't make do with a fancy dress that doesn't feel equally animated. Now, we'd be shocked, too, if we saw a cartoon pop out of the screen and start to joke around. (That's doubly true for someone like the Joker.) But, when your little tot becomes a picture-perfect Joker thanks to a costume from Batman: The Animated Series, you might wonder why you didn't tune in sooner!
Joker Fancy Dress Accessories
They say that the devil is in the details and for someone who plans ahead as much as the Joker, that's truer with him than usual! It's pretty hard to convince anyone of a faux background story if you don't have the hair to look like you've seen things. And unless you're going for an especially creepy look where the Joker blends into his environment, a solid Joker makeup job is paramount. (Especially if you're going for Heath Ledger's Joker cosplay with that gradually dissolving look!) And gadgets?! Can you imagine the Joker showing up to a scene without something hidden up his sleeves? Heck, when your archnemesis is Batman—who is pretty much famous for his utility belt just filled to the brim with random gizmos and accessories for every possible situation—it goes without saying that you better show up to the party with your own toys, too! (Of course, the Joker is also pretty likely to have some toy weapons.) Anyway, you can see where we're going. The purple suit and maniacal laugh will get you close, but it is the Joker Halloween makeup and accessories that will give you the look of the Gotham goon!
Joker Mask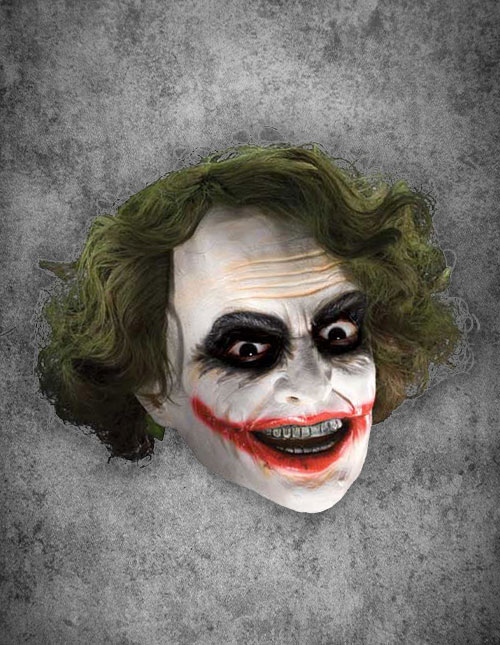 There aren't many who are willing to go the distance to really transform their face into the deformed disaster that is the Joker's mug. That's…probably a good thing or we'd have quite a few more nutters in the area! But, if you want to go for a real transformation into your favourite Clown Prince of Gotham, a Joker face mask that doubles as a wig is the way to go!
Green Joker Wig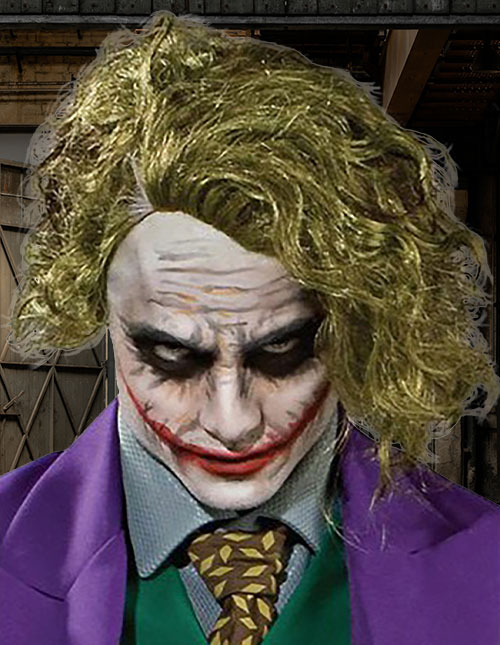 If you watch the Joker's slow transformation into madness over the course of The Dark Knight, you can pretty much spot by how dishevelled he looks when things are about to get really crazy. Replicating that look could take you a few hours of teasing your naturally green hair. (Oh, your hair isn't naturally green?) Well, then we can save you two steps with a perfect Joker wig!