Main Content
How to Enter
Thank you for submitting your Halloween Costume idea for inclusion in the 2015 HalloweenCostumes.com costume contest! For more information, please see our FAQ page. Winners will be announced on or around November 20, 2015 12:00 PM CST!
2015 Costume Ideas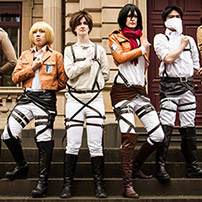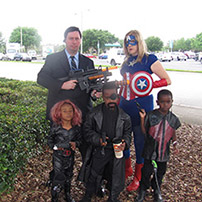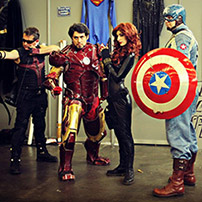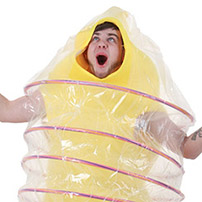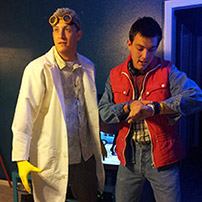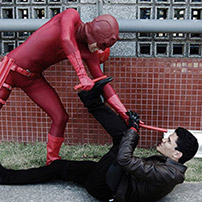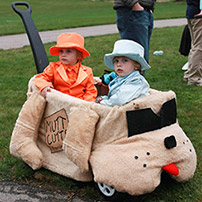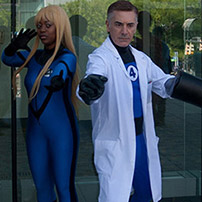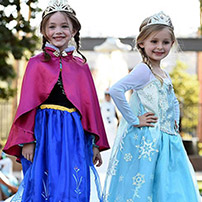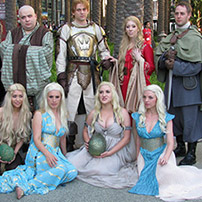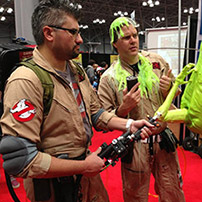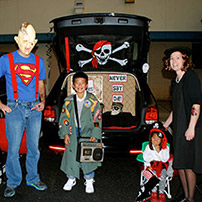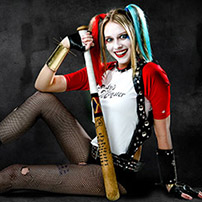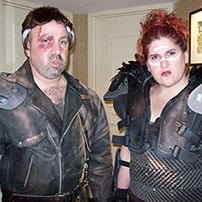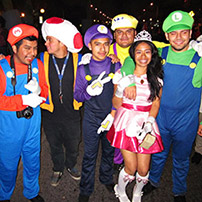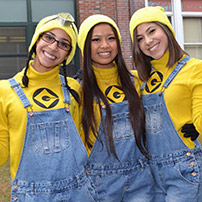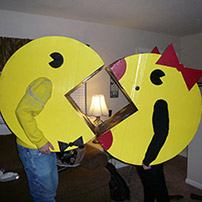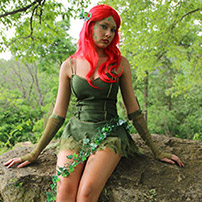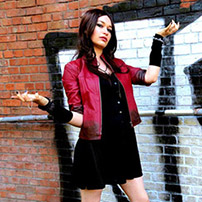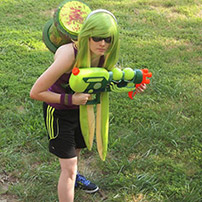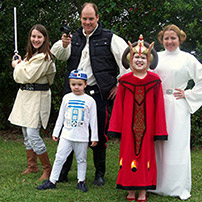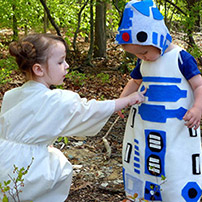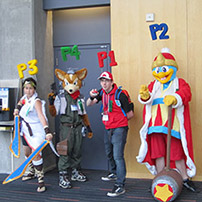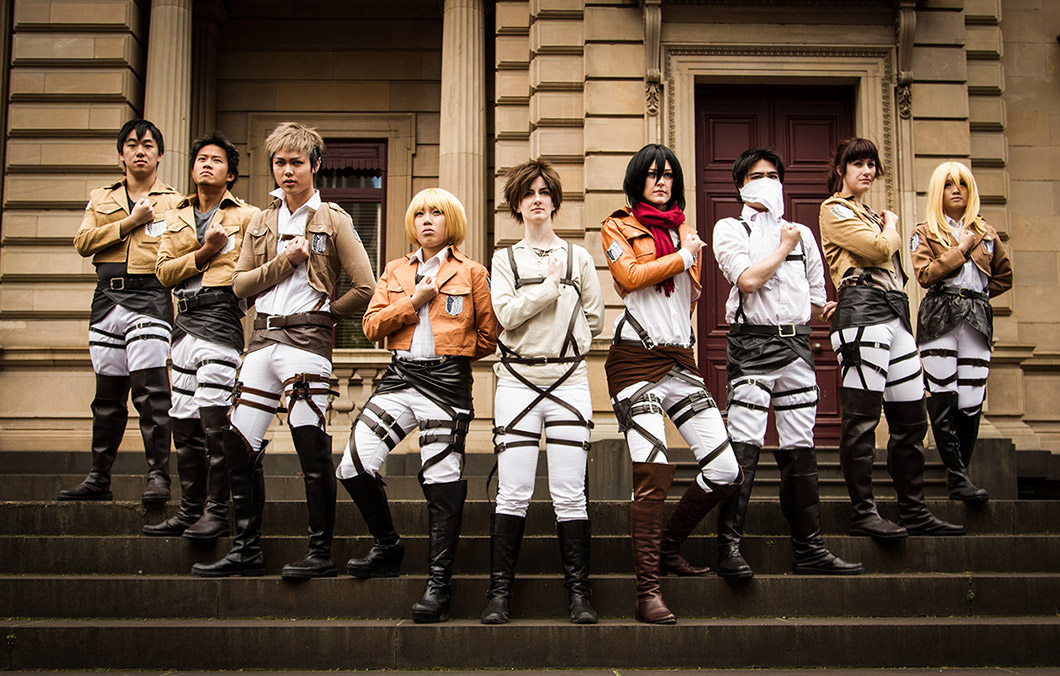 Attack on Titan Group Costume
Gather your closest friends and dress as the finest Titan killers the world has ever known with this Attack on Titan group costume. With the upcoming release of season 2 on the horizon, this idea is as relevant in 2015 as it was on the show's original release in 2013. Collaborate with like-minded Attack on Titan fans and enter the party as the courageous members of the Survey Corps thanks to this awesome 2015 costume idea.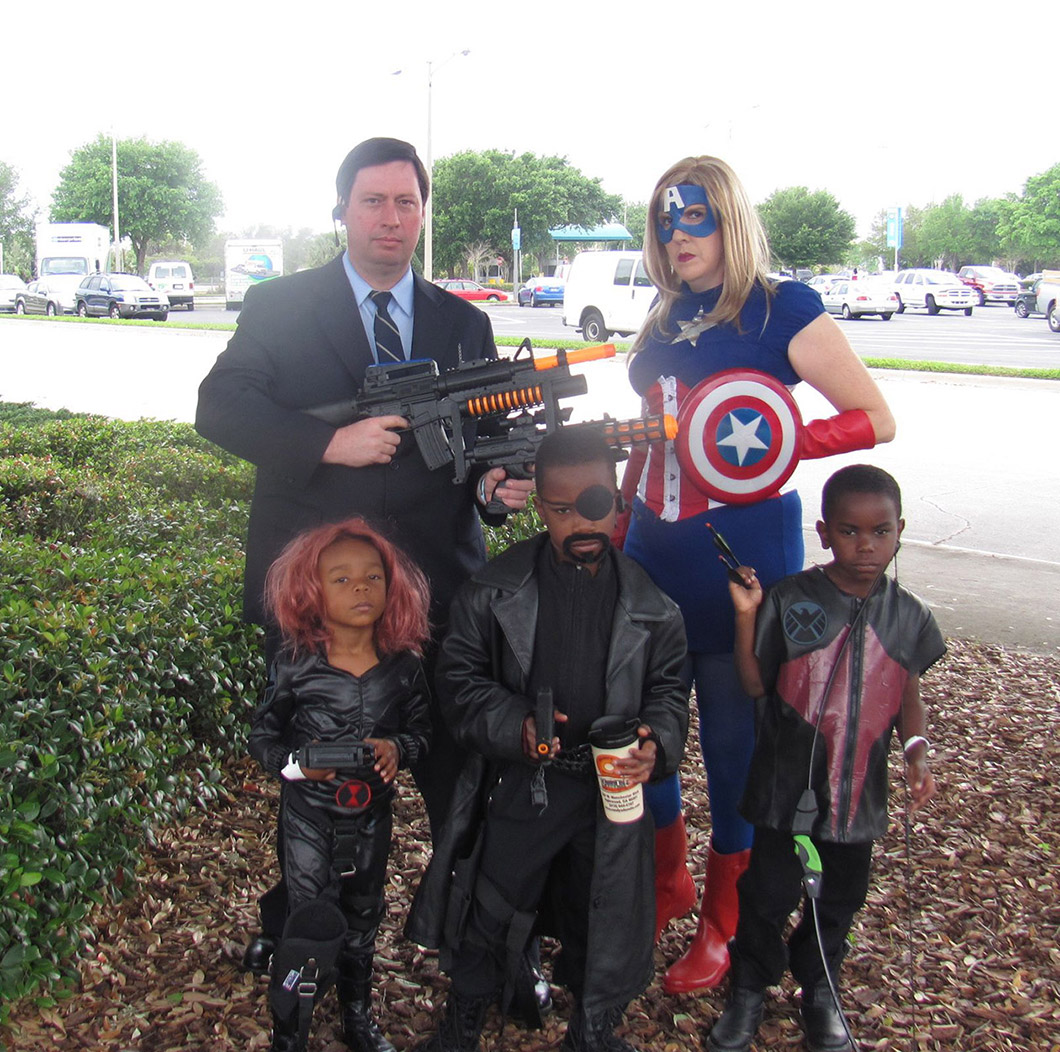 The Avengers Family Costumes
Going to see the Avengers in theaters in 2015 was a family event, so why not transfer that excitement to your Halloween costume this year? There are plenty of awesome characters to choose from! Don't worry if there aren't enough girl characters, too - you can always make a female version of your favorite Avenger, like this mom's Captain America costume. You know there will be plenty of Age of Ultron inspired Halloween group costumes this year, so you better start now on making yours the best!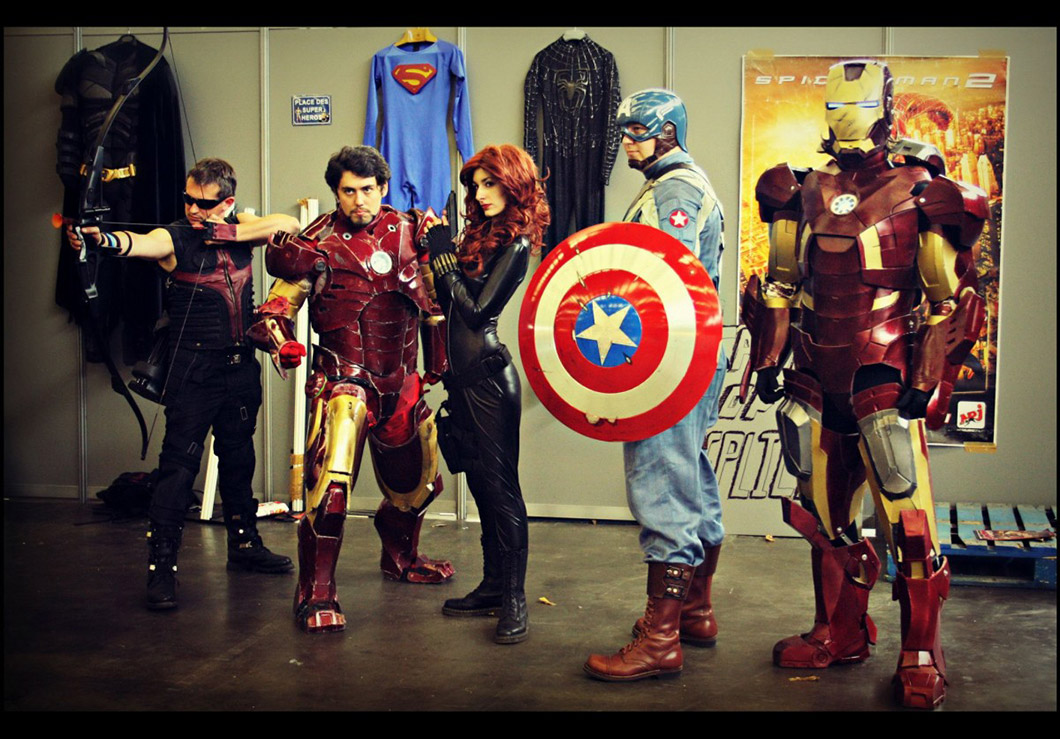 The Avengers Group Costume
Girls and boys as well as men and women everywhere can all agree on their shared love for one thing—the Avengers. There is a reason the Avengers films have become one of the biggest cinematic franchises in recent years and its diverse cast is one of the key factors. Some of the Avengers are easier to dress up as than others, such as Hawkeye and Captain America. But the challenge of Iron Man and Hulk is part of the fun of dressing up. Don't be afraid to take liberties with the character and create something new and fun. So gather your closest, Earth-saving superhero friends and fight over who gets to dress as whom with this awesome 2015 group costume idea.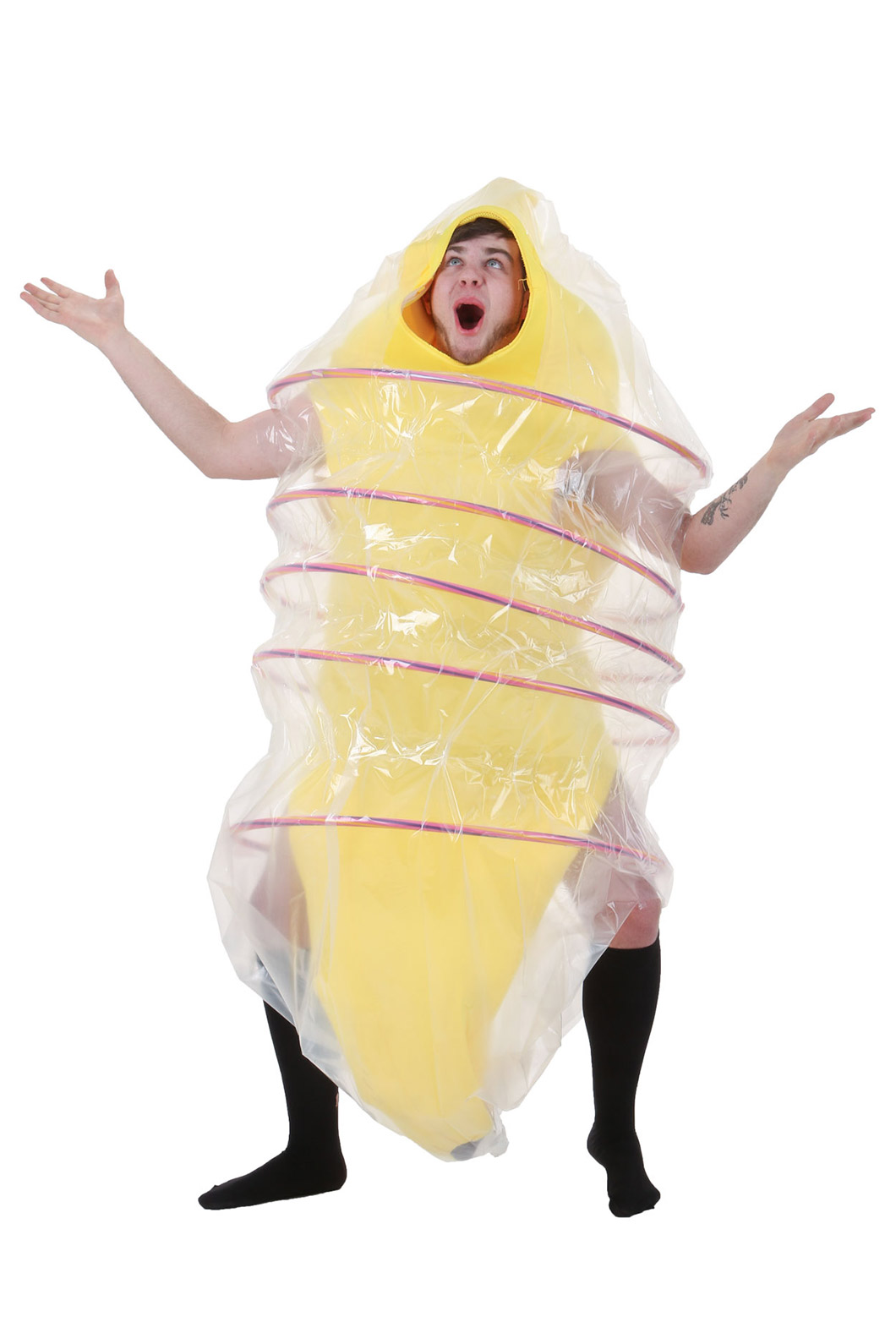 DIY Banana Bunker Halloween Costume
There were plenty of viral stories that took over our social media feeds in 2015, but we have to say that the banana bunker was one of the weirdest. This spring, Groupon featured this item that, uh, kind of looked like something else. Besides, you know, a banana in a see-through case. Whatever YOUR mind jumped to when you saw the infamous banana bunker, you have to admit that dressing as one would be a pretty clever Halloween costume idea.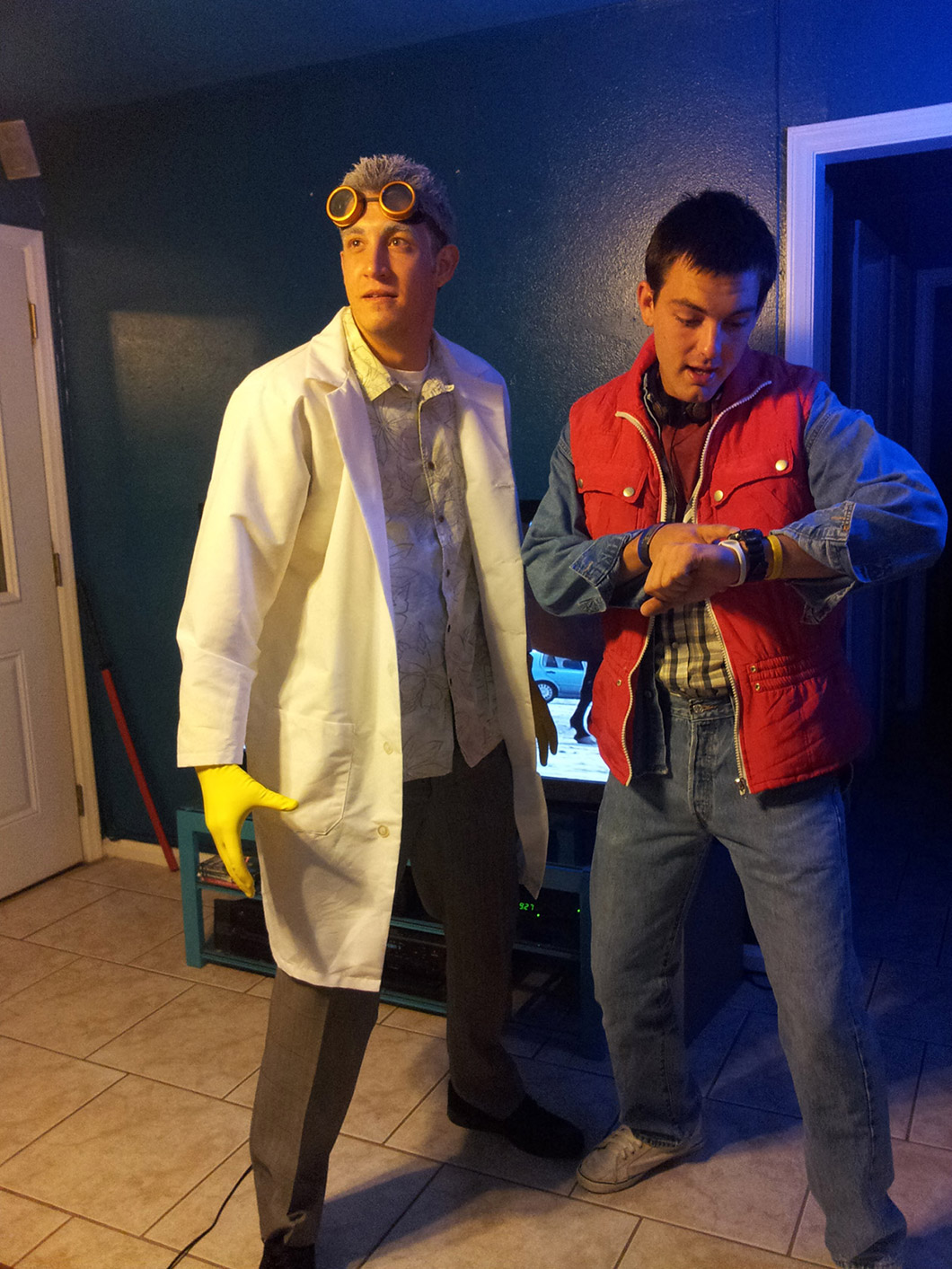 Back to the Future Costume
Great Scott, this is it! 2015 is the year that Marty McFly and Doc Brown travel into the future to right all of Biff Tannen's wrongs. We have to admit, the future looks a little different than predicted in the film (no flying cars), but some things did come true. We CAN video chat! That's pretty futuristic. Either way, 2015 is the perfect year to dress up as the time-travelling duo to celebrate one of the best movie franchises in cinema history. Now make like a tree and get out of here!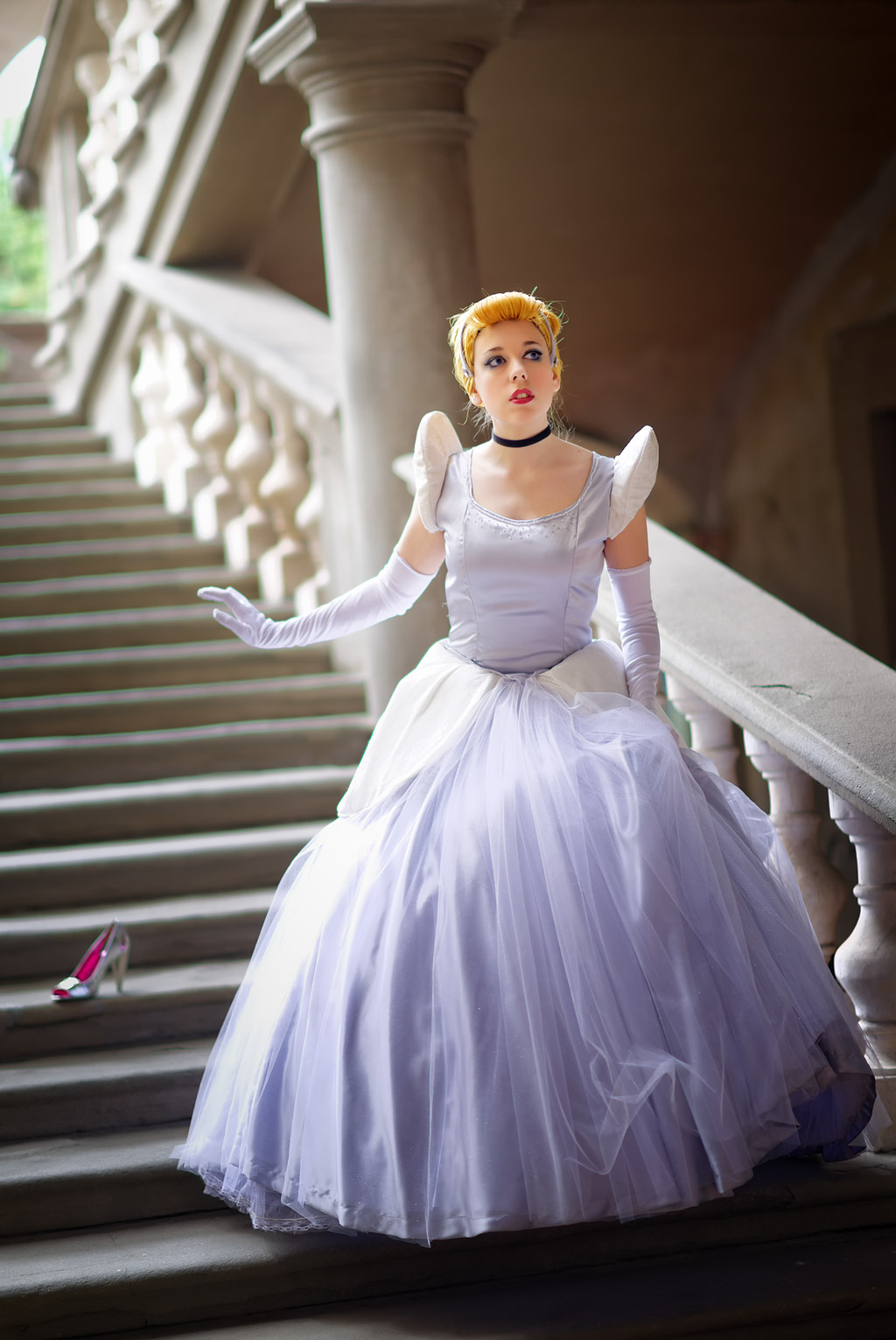 Cinderella Halloween Costume
Dressing like a Disney princess is always a great Halloween costume idea no matter what year it is, but with the release of the live action film in March 2015, Cinderella is definitely the choice to make in 2015. You can either go with the classic look from the animated movie or try to recreate the elegant gown worn by actress, Lily James. If you need any couples or group costume ideas, you could have your friends or partner dress up as Prince Charming or Ella's Fairy Godmother, played by Helena Bonham Carter in the movie. Just be home by midnight, or you know what will happen!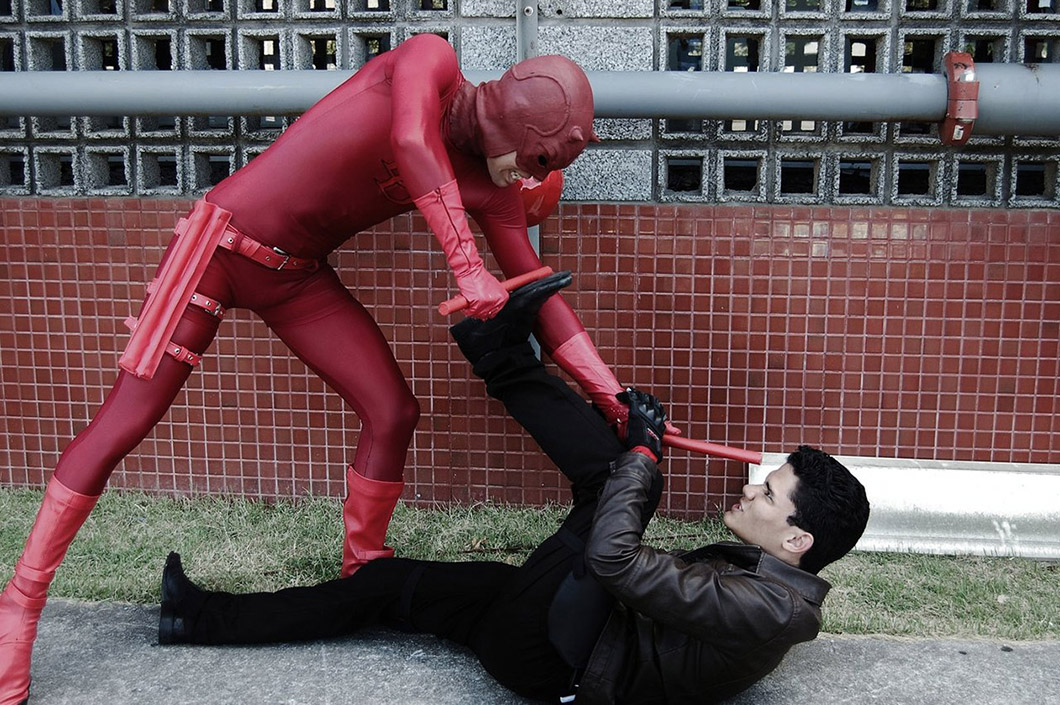 Daredevil Halloween Costume
When Netflix released the first season of its original series Daredevil this April, it's like an entire nation of comic book fans forgot about the 2003 movie adaptation all at once. The Netflix show is just really, seriously that good. If you, too, binge-watched all 13 episodes of Daredevil, perhaps a Halloween costume inspired by the superhero is in order. Matt Murdock is a lawyer by day and Daredevil by night, solving crime in New York City.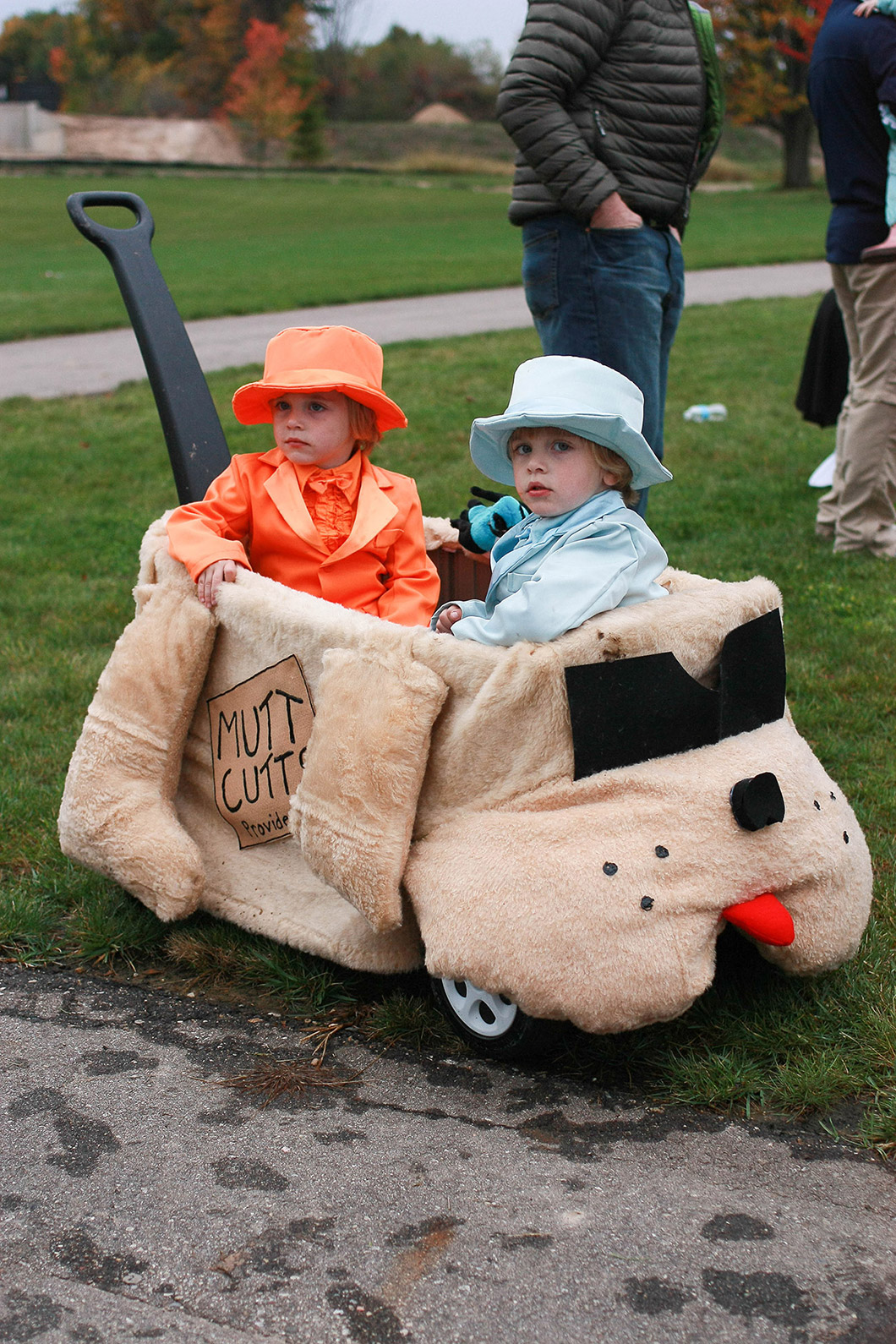 Dumb and Dumber Kids Costumes
"We got no food, we got no jobs, our pets' heads are falling off!" This saying is all too true for Lloyd and Harry and perhaps some cute little kids this year for Halloween. Get the littlest orange and blue tuxedos you can find and turn your wagon into the Mutts Cutts van. Whether you are traveling to Aspen to return a briefcase or heading just around the block, two little cuties will be riding in style. Even though the Dumb and Dumber To sequel came out last year, it wasn't until after Halloween. Dumb and Dumber inspired costumes is one Halloween costume idea that would be hard to beat!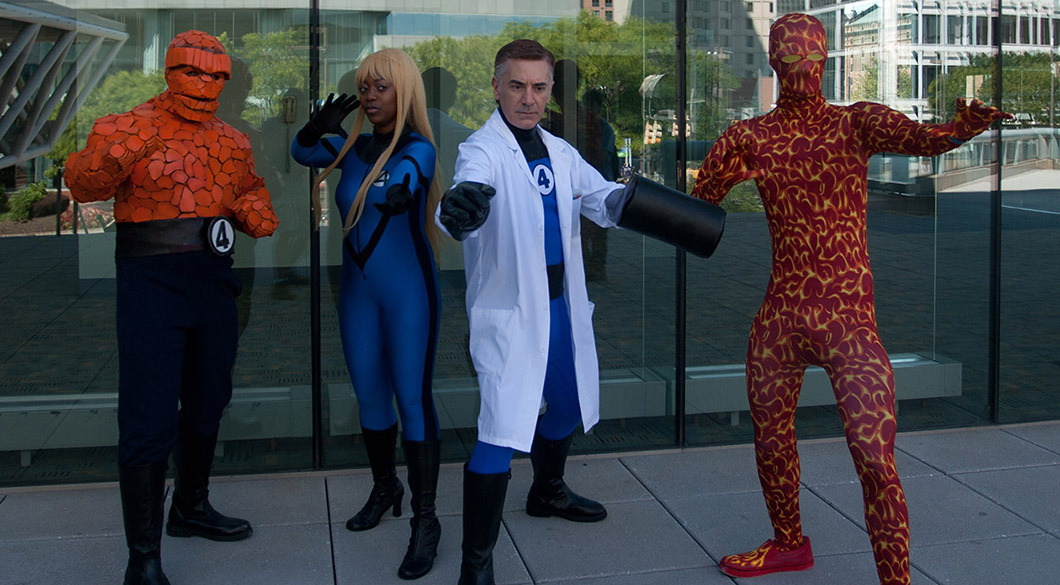 Fantastic Four Group Costume
It seems like every few weeks, a new reboot is released or announced. This summer, it's Fantastic Four! This new superhero movie comes out this August and is ripe for the group costume picking. Each of the four have pretty distinct features - perfect for coming up with an easily recognizable costume. The Thing costume in this group Halloween costume is pretty impressive, but we have a feeling you might be able to come up with some other ideas for the Human Torch. Or not, a flame-colored skin suit is totally okay, too.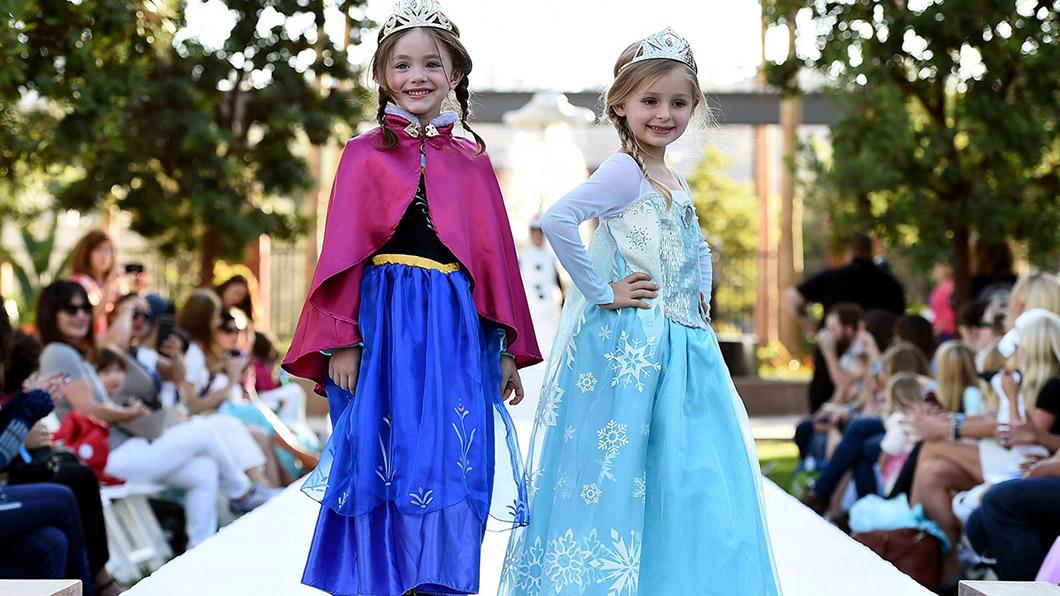 Frozen Costumes for Kids
Anna and Elsa hit the scene in 2013 and all of the young girls out there still haven't looked back. Even after 2 years, Frozen costumes are still going strong and the trend is very much alive especially after the most recent Frozen Fever short. The best part is, it's a great Halloween costume idea and so much more. Who knows, maybe your little girl doesn't take her Elsa dress off? It could be daily attire. Whatever the occasion, these Anna and Elsa costumes will be the best part of your little girl's day! Don't forget to throw Olaf in the mix if you are looking to make it a group Halloween costume this year.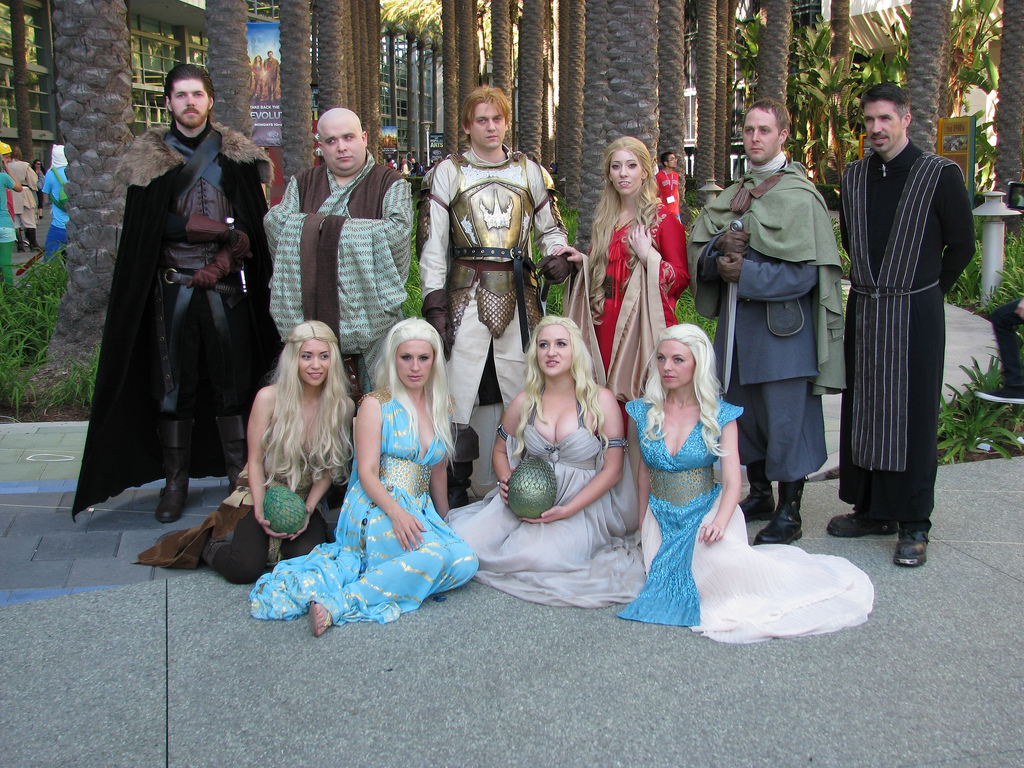 Game of Thrones Group Costume
As this image clearly shows, you can never have too many Daenerys Targaryen cosplayers. Dress up as your favorite character from the most popular dragon-themed television show in the world with this awesome group Halloween costume idea. From Jon Snow to Varys the Spider, you can never go wrong with an authentic Game of Thrones costume. Your favorite character from the HBO series might be dead soon, so put together your 2015 adult costume before it's too late.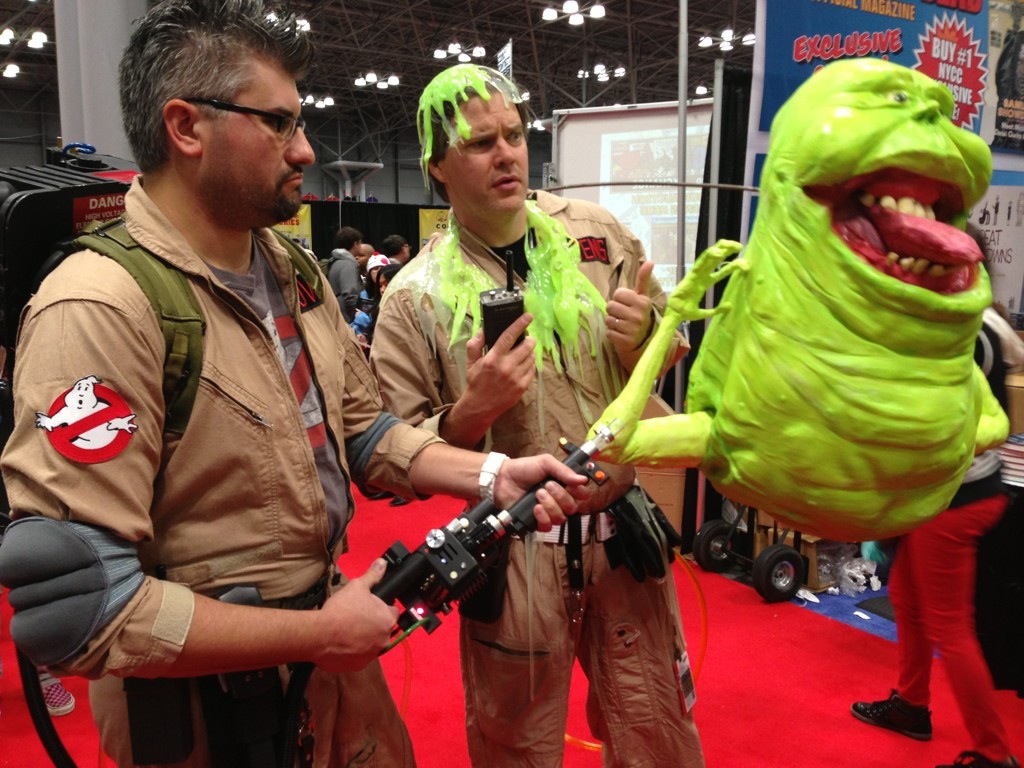 Ghostbusters Costumes
As if we need any excuse to dress up like the Ghostbusters, 2015 brought the exciting news of the reboot of the classic 80s film on the horizon. It was announced that all four of the leads would be played by female comedians, including Kristen Wiig and Melissa McCarthy. Dress up with your girlfriends in your tan jumpsuits and proton packs for awesome Halloween costume for a group of four. Have a fifth friend? Have you considered Slimer?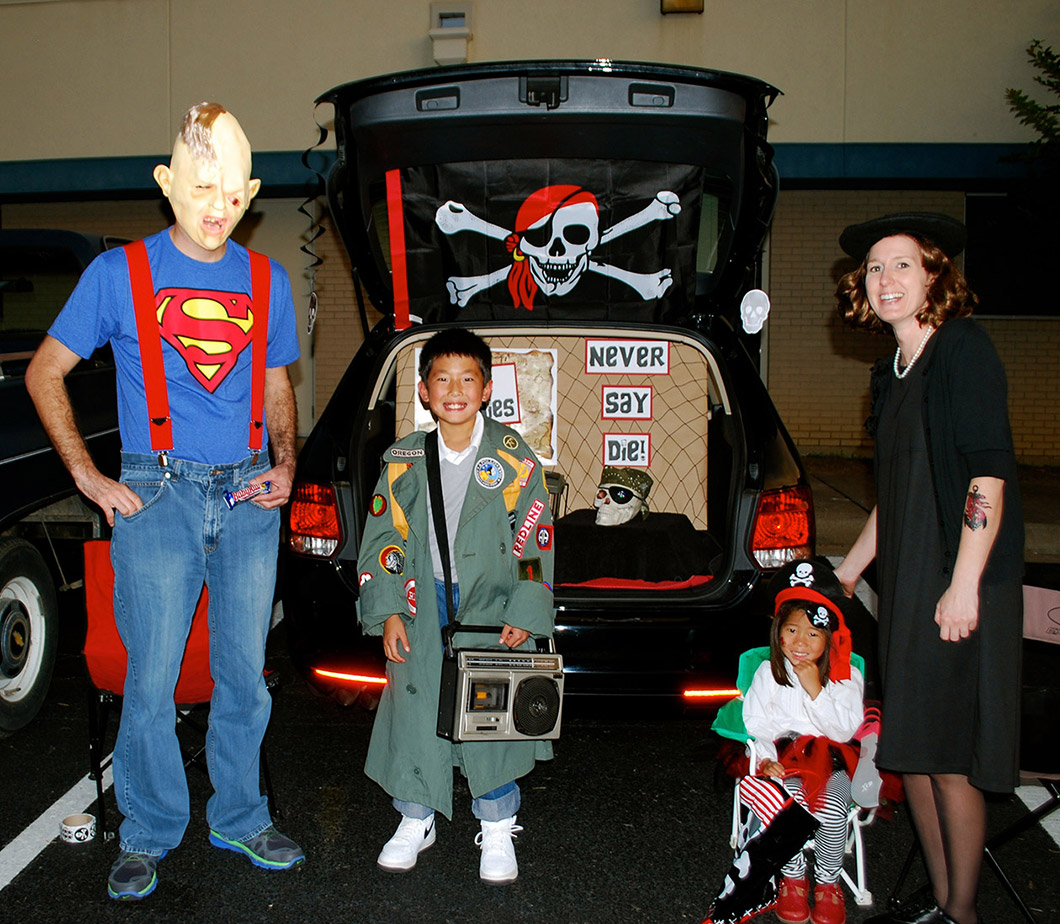 Goonies Halloween Costume
Hey, you guys!! Get the crew together for a fun Halloween costume idea this year in celebration of the 30th anniversary since it's premiere. Data, Mikey, Mouth, Chunk, and the rest of the gang can head out for a treasure hunt around the neighborhood. Chances are you won't end up in the Fratelli's basement, get locked in a freezer filled with ice cream and dead bodies, or come face to face with One-Eyed Willy, but a kid can dream, right? Bonus: Free candy for all of those who can do the truffle shuffle.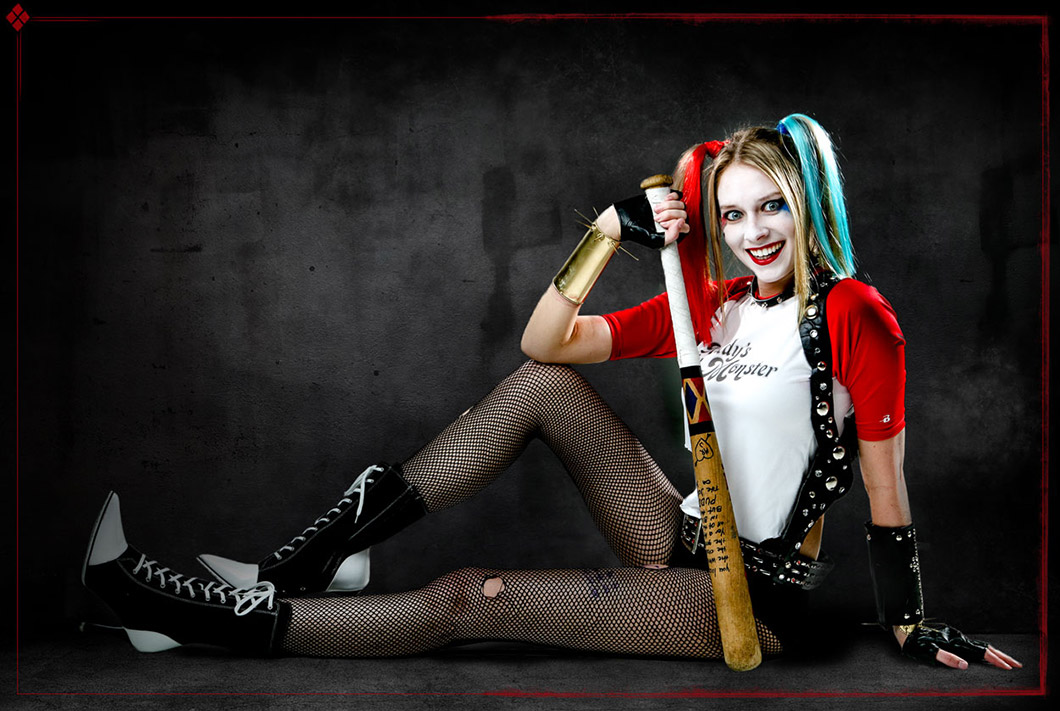 Harley Quinn Suicide Squad Costume
If you need a reason to act a little batty this Halloween, this costume is for you, puddin'! Not only is Harley Quinn the better "batter" half of Gotham City's legendary Clown Prince of Crime, she has more looks and costumes to choose from than just about any other Batman villain. Especially with Suicide Squad hitting theatres in 2016, Daddy's 'Lil Slugger is sure to be the toast of the town - or at the very least, the belle of the Arkham Asylum ball. Throw this in the mix with the rest of the Gotham City vixens for a Gotham Girls or Gotham City Sirens group costume and you'll really bring down the house!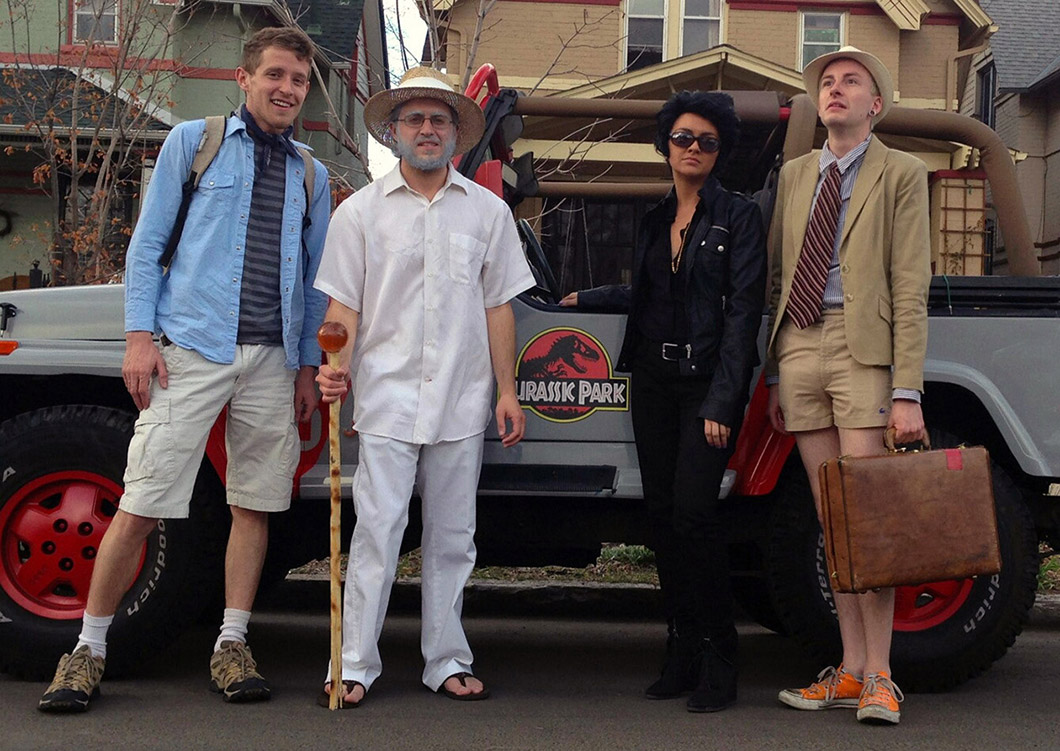 Jurassic Park Group Halloween Costume
Spare no expense on your Halloween costume this year and dress up with your friends as your favorite character from the original Jurassic Park. With Jurassic World hitting theaters in 2015, interest in the franchise is at a frenzy, making this a great group costume to really turn heads at your next Halloween party or convention. As the picture shows, don't be afraid to do some gender swapping with the characters. Most costumes have been done to death, so bring your own flair and creativity to make things interesting.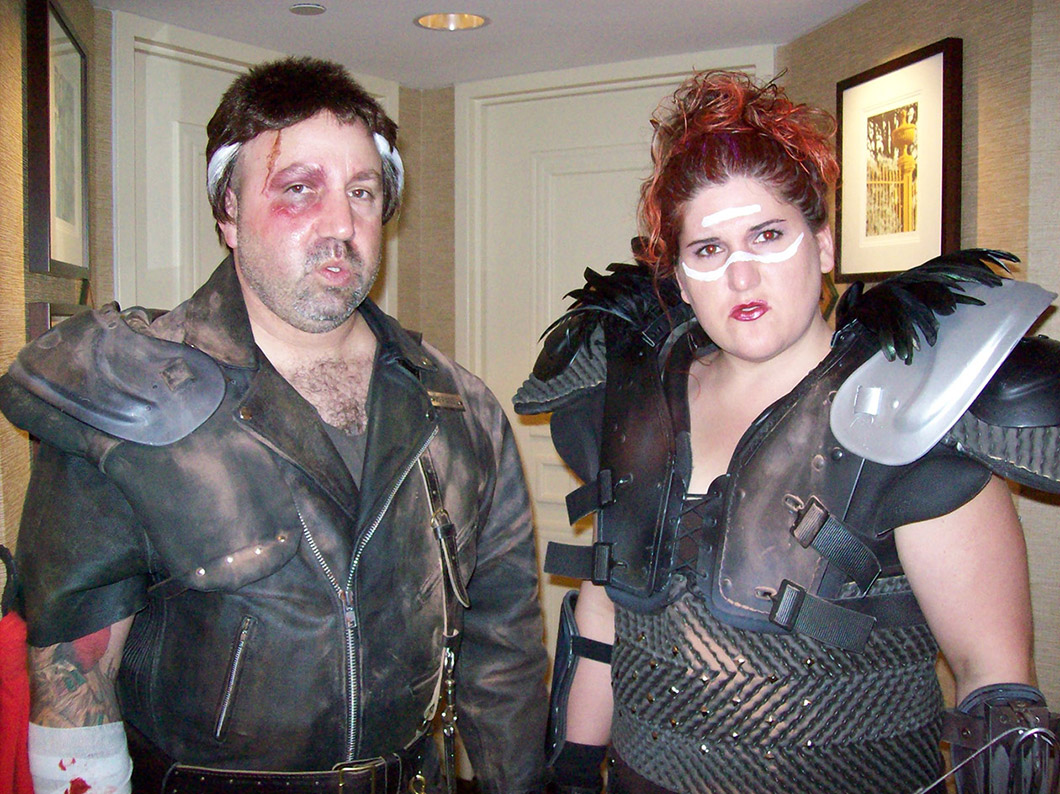 Mad Max Halloween Costumes
Mad Max Fury Road was the first film in the Australian franchise in 30 years, and fans were more than ready to welcome Max, the Interceptor, and the wasteland back to the big screen. This Halloween, dress up in your desert best and pay tribute to one of the biggest films of 2015. You could go old school and wear a Halloween costume inspired by previous installments starring Mel Gibson, or come up with a cosplay of Tom Hardy and Charlize Theron. Imperator Furiosa had some great makeup, don't you think?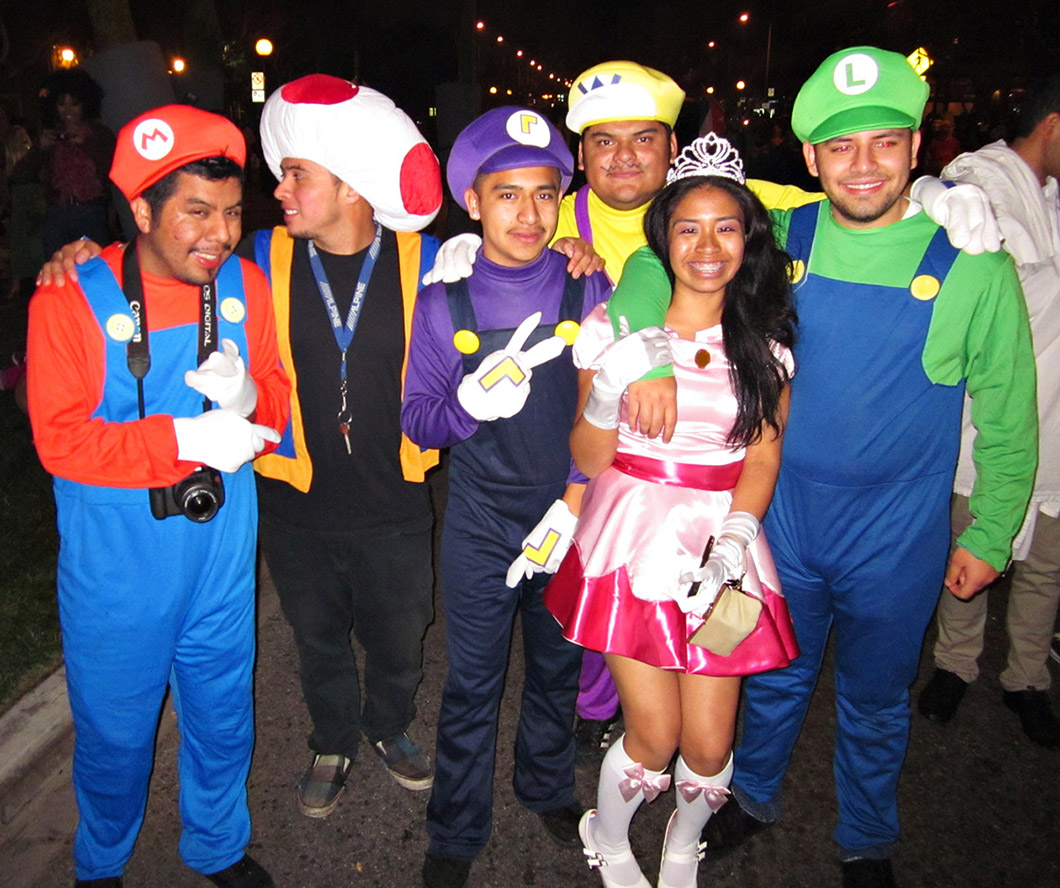 Mario Party Costumes
The 10th rendition of Mario Party was released this year and it is also the first version for the Wii U. This popular video series has been around since 1998 when it was first created for the Nintendo 64 console and our favorite characters have been back with each new release. A memorable Halloween costume idea for 2015 would be to dress up as some fan favorite characters like Mario, Luigi, Toad, Princess Peach, and so many more and hit the town as you recreate some of your favorite mini game scenes. Who will prevail in the competition this Halloween?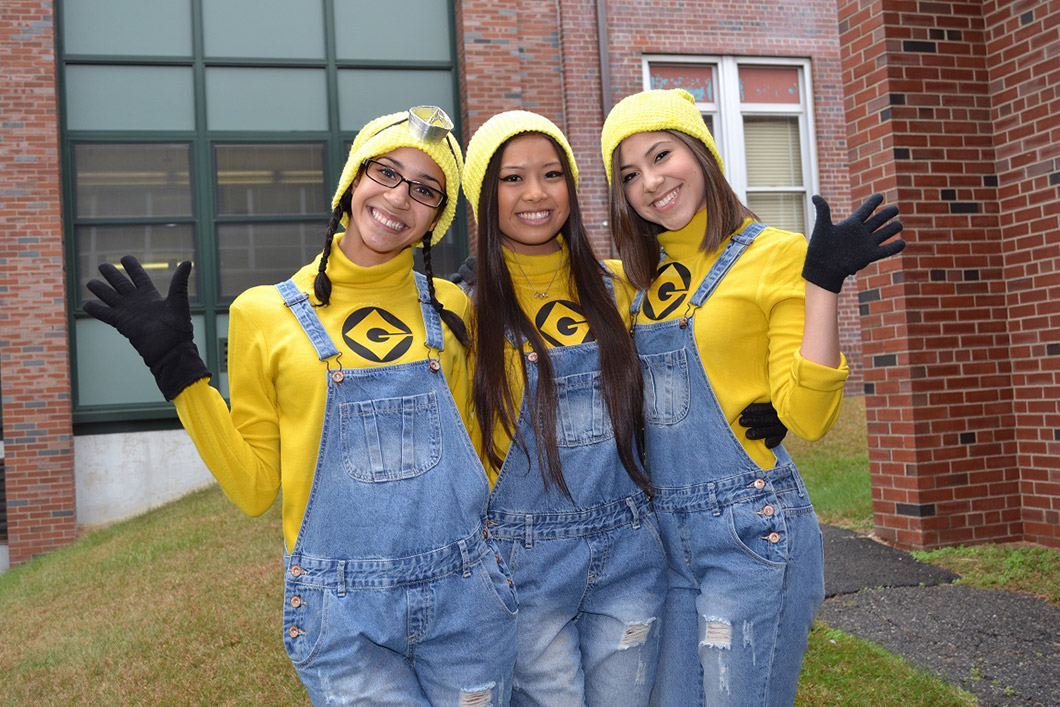 Minion Group Costumes
There is nothing cuter than Minions, except maybe a cute human dressed as a Minion. Everyone loves these clumsy, sentient… bananas? They're bananas, right? Well, whatever they are, the Minions have become so popular from their appearances in the Despicable Me films that they have their own 3D animated film coming out in 2015. The great thing about dressing up as a Minion is that it works great as a group or solo costume, and you can accessorize to make the character unique. Add some funny glasses, a ukulele or a bullhorn to take the character further and really make an impression.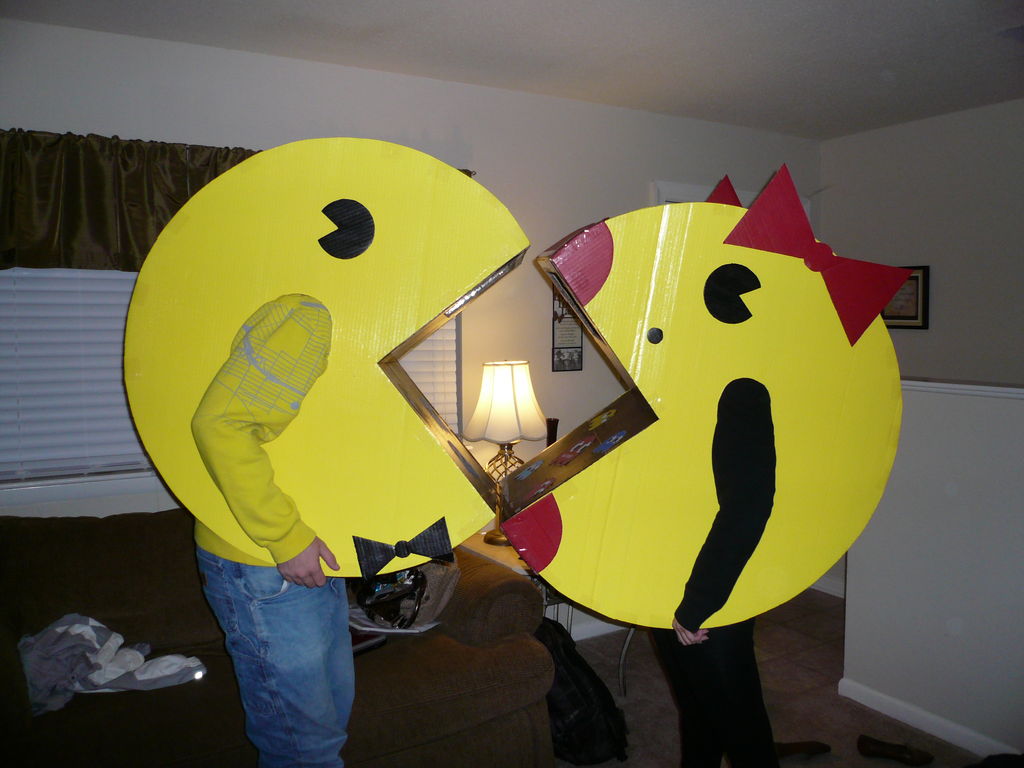 Pac-Man Costumes
Pac-Man turned 35 this May and, boy, he doesn't look a pixel older than the day he was born. While the costumes shown here are pretty elaborate (and quite a commitment for a night of partying!), there are many ways you can pay homage to one of the first video game characters to earn international fame status. Find your Ms. Pac-Man for a couples Halloween costume idea. Need to fill a few more spots with your big group of friends? There are plenty of fruits and ghosts to go around! Waka, waka, waka!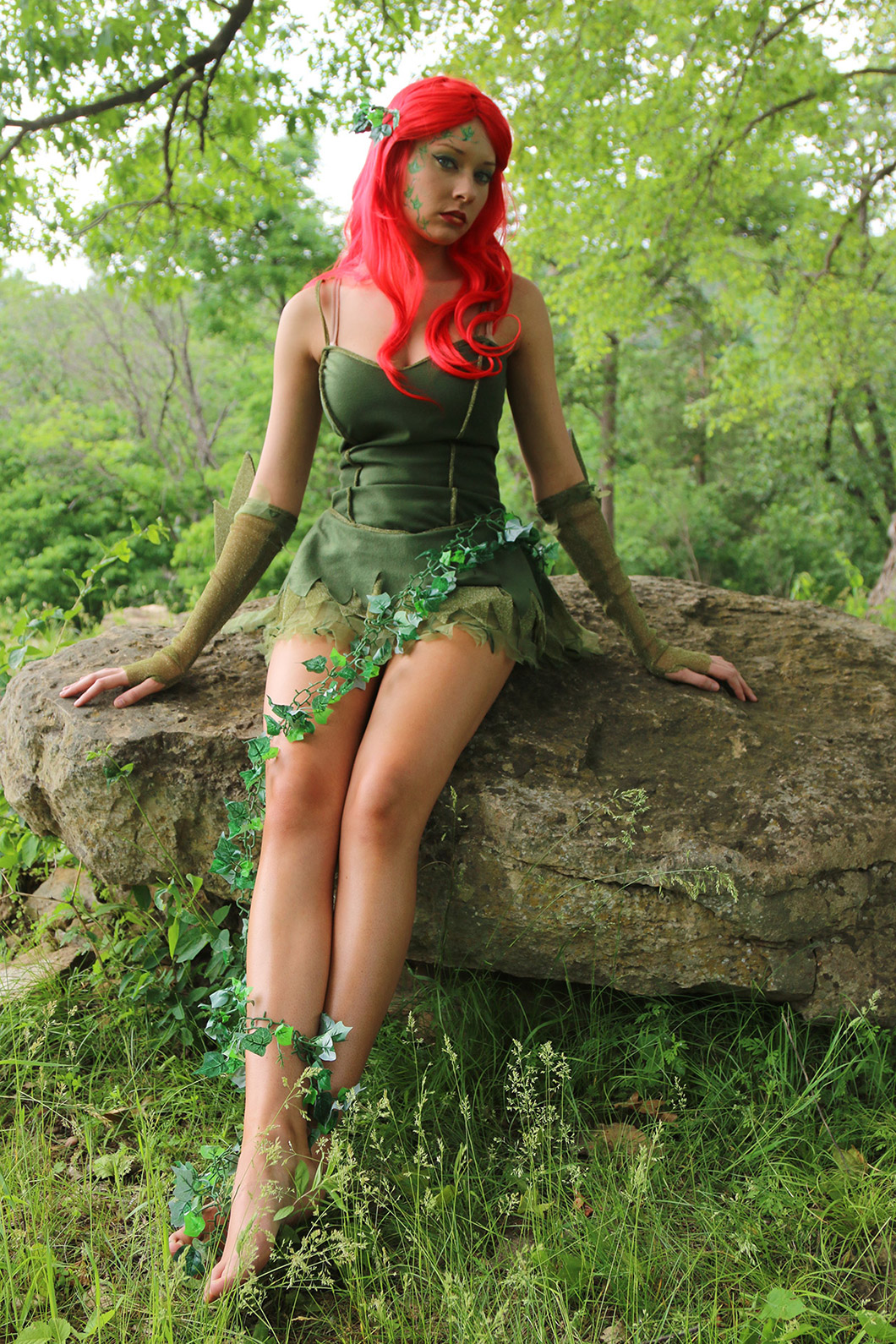 Poison Ivy Costume
On Fox's Gotham, the show-runners tell the back stories of the cities' most notorious criminals. This includes the oh-so-dangerous Poison Ivy, appearing in the show as Ivy Pepper. Dress up this year as this villain, and you'll definitely put everyone under your spell. You have plenty of options to choose from when deciding on your Halloween costume, from the young Ivy Pepper in Gotham to the sexy Uma Thurman in Batman & Robin. One thing will always stay the same, though - the villainess will have a penchant for all things plant-related.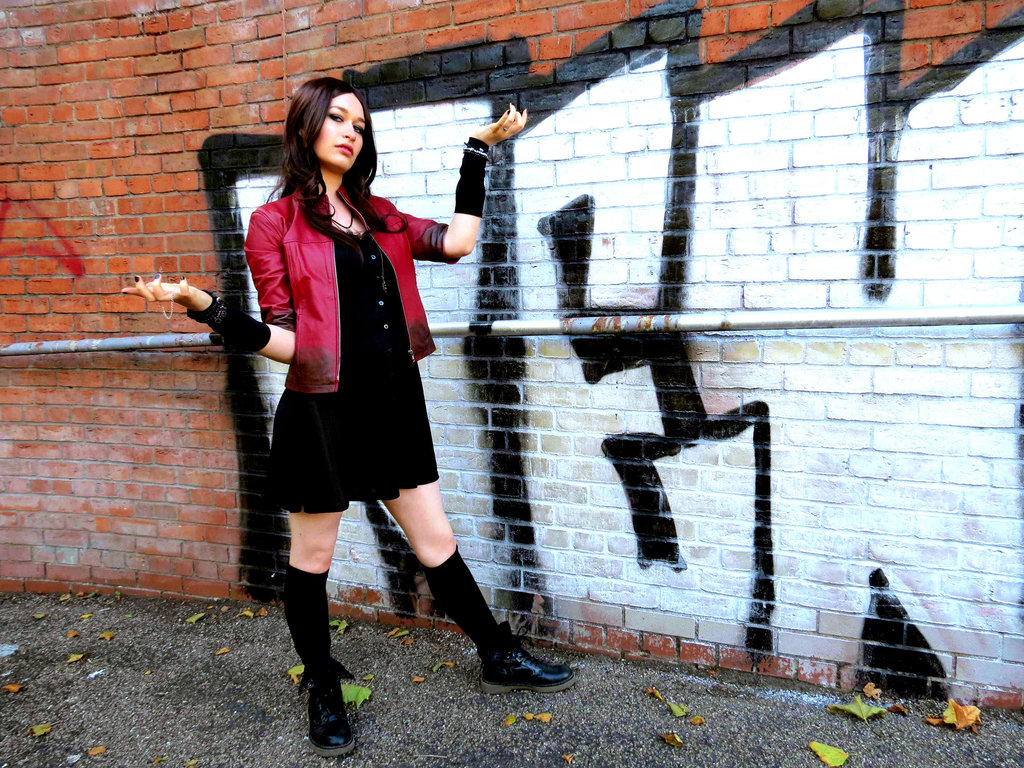 Scarlet Witch Halloween Costume
In Avengers: Age of Ultron, we were introduced to a few new characters, one of which was Wanda Maximoff, also known as the Scarlet Witch. Twin to another newcomer, Quicksilver, Scarlet Witch is a mutant who can control minds and objects. For Halloween this year, you can either dress as Wanda in her superhero garb, like in the comics, or as pictured here in her outfit from the 2015 Marvel movie. Easy to pull together - just a red jacket, black dress, and black boots - this Scarlet Witch Halloween costume idea will be sure to turn heads.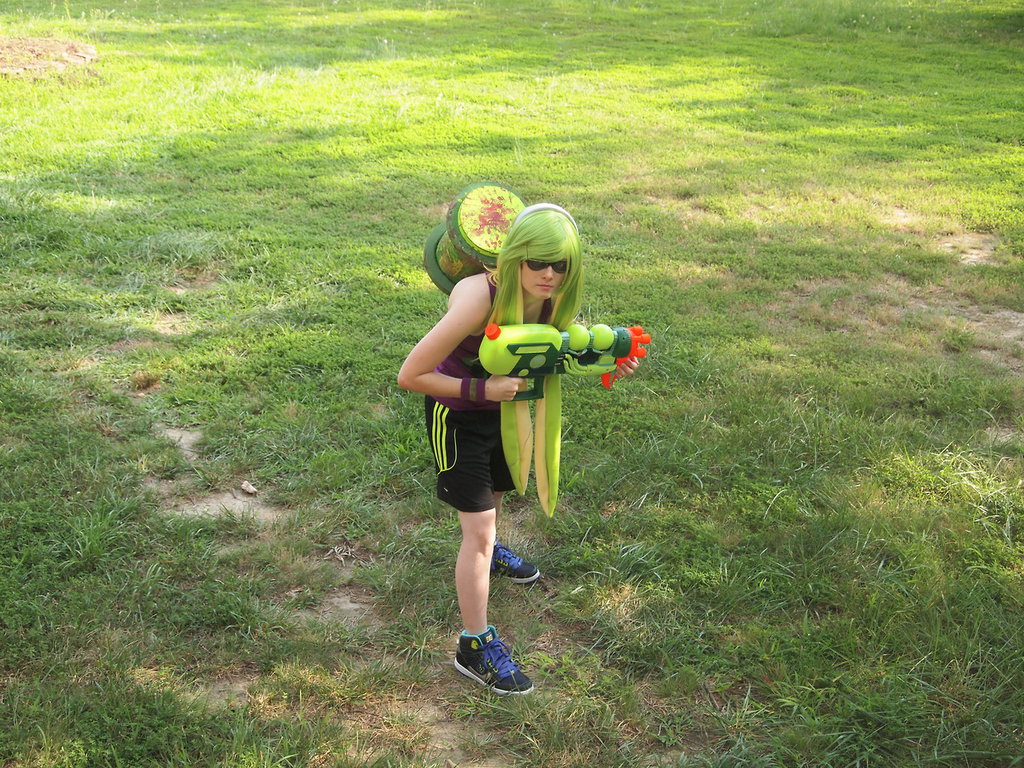 Splatoon Halloween Costume
Splatoon has only been out in the US since the end of May, but the third-person shooter has already made quite an impression on the video game world. You play as an Inkling, characters that can transform from humanoid to squid, and shoot ink out of your weapons. To dress as a character from the Wii U game this Halloween, you have to make sure to get a few key details right: colorful, neon hair, a weapon to shoot ink from, and darkened eyes. Need an accessory idea? How about a graffiti sign to hold, showing your favorite in-game Miiverse drawing. Let's play!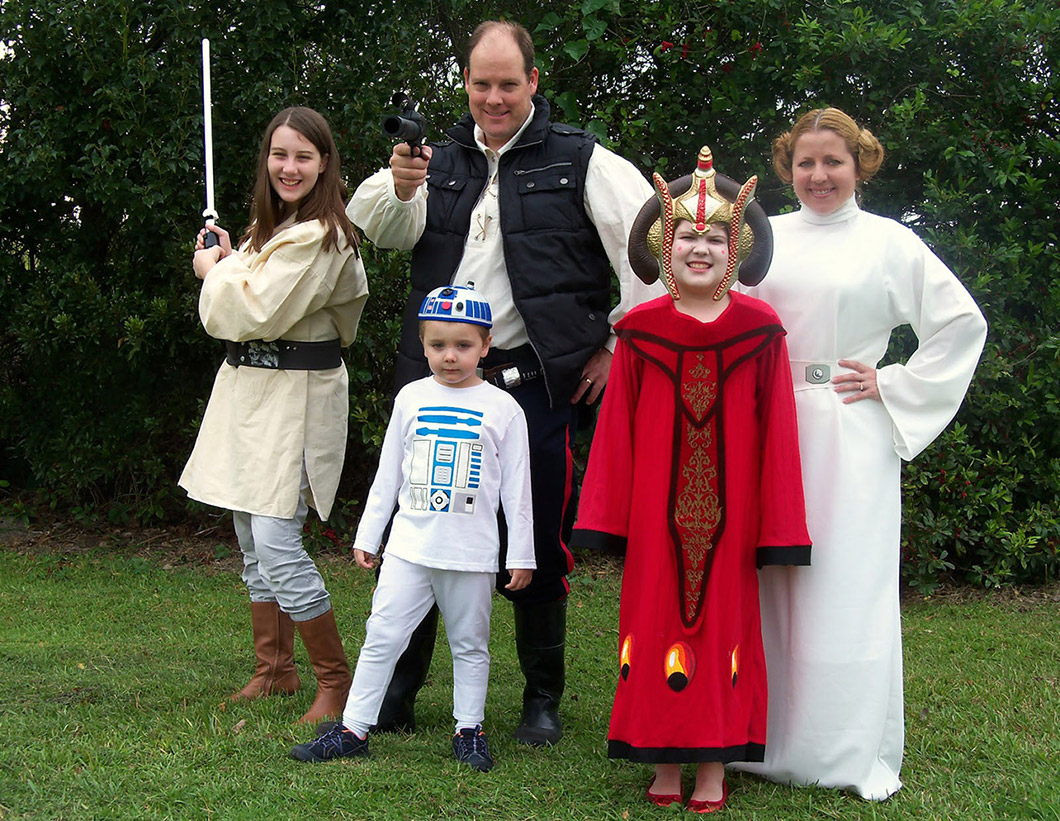 Star Wars Family Halloween Costumes
Let's not lie to ourselves, Star Wars is always relevant. However, with the impending release of Star Wars: Episode VII - The Force Awakens, you can have a legitimate reason to constantly talk about, obsess about, think about, that story that took place a long time ago in a galaxy far, far away. Get everyone involved this October with this galactic Halloween costume idea for families. Maybe you don't have a Kylo Ren costume laying about quite yet, but any character will do. Yes, even Jar Jar.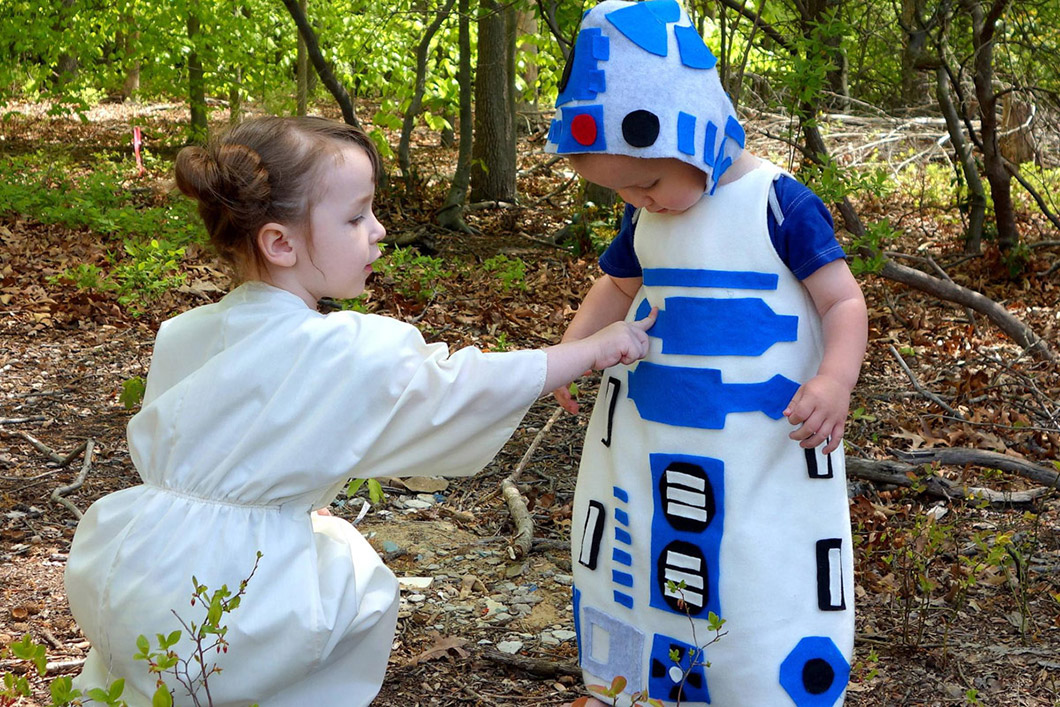 Kid's Star Wars Costumes
It's never too early to start the young ones on the classics. Star Wars, that is! Maybe they're a little too young to drag along to the midnight release of Star Wars: Episode VII - The Force Awakens, but trick-or-treating is another story. These Star Wars Halloween costumes look super easy to put together, comfy to wear while collecting candy from the neighbors, and will serve as great ways to show off how cool they were after they grew up. "Look, I really DID dress as R2-D2 when I was 3!"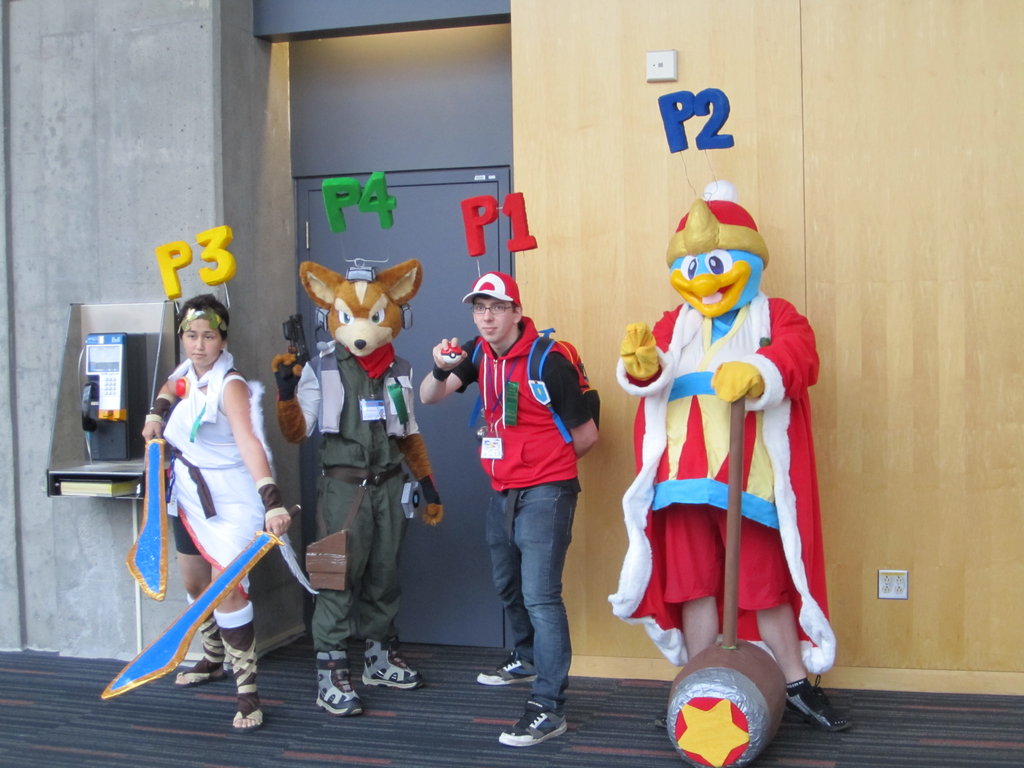 Super Smash Bros Halloween Costume
Settle it in Smash! Okay, okay, so maybe Super Smash Bros. came out on Wii U and 3DS last year, but it was RIGHT at the end of the year, which totally makes it okay to be a 2015 Halloween costume idea, right? We mean, we're not done playing it yet. This group costume is really clever, especially when it includes the P1-P4 signs above each player's head. And with over 50 playable characters in the video game, this group costume allows everyone to pick exactly who they want to dress as.
Easy/Last Minute Costume Ideas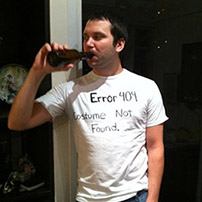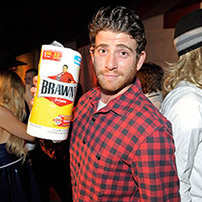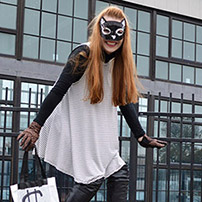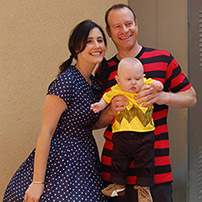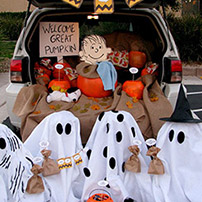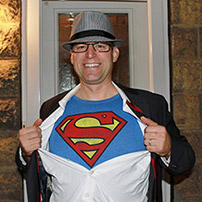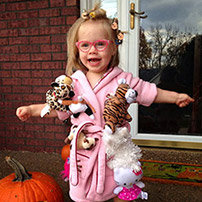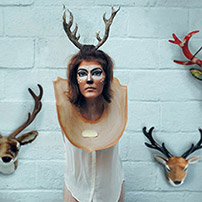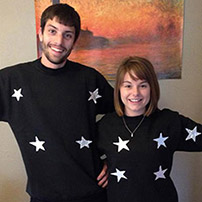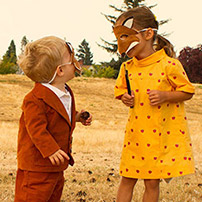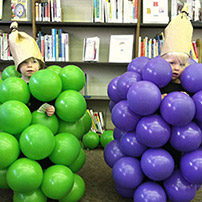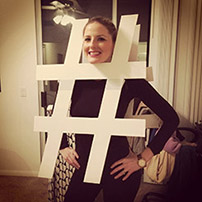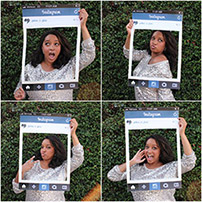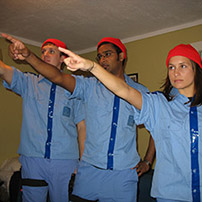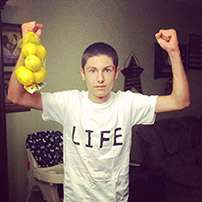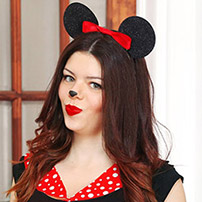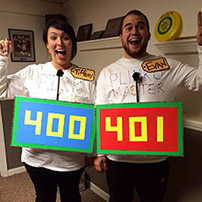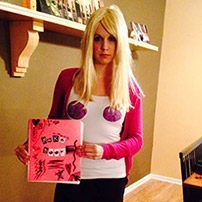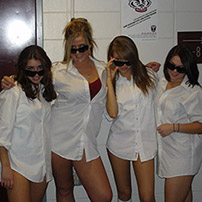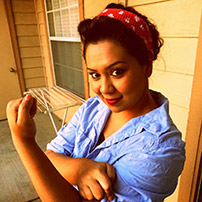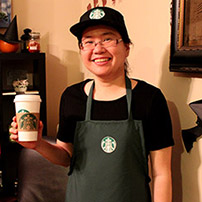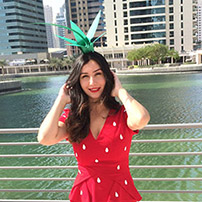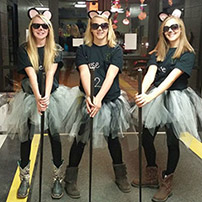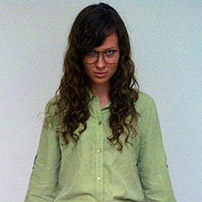 404 Costume Not Found
We all know what happens when we visit a page on a site that has been taken down or moved - we get an error! With this quick and easy Halloween costume idea, you can have people reading errors all night. "404 Costume Not Found" is quite possibly the most simple and humorous costume idea in this age of technology and internet supremacy. Now when you find the creepiest person at the party you might want to have a back up plan: "301 Redirect" coming right up!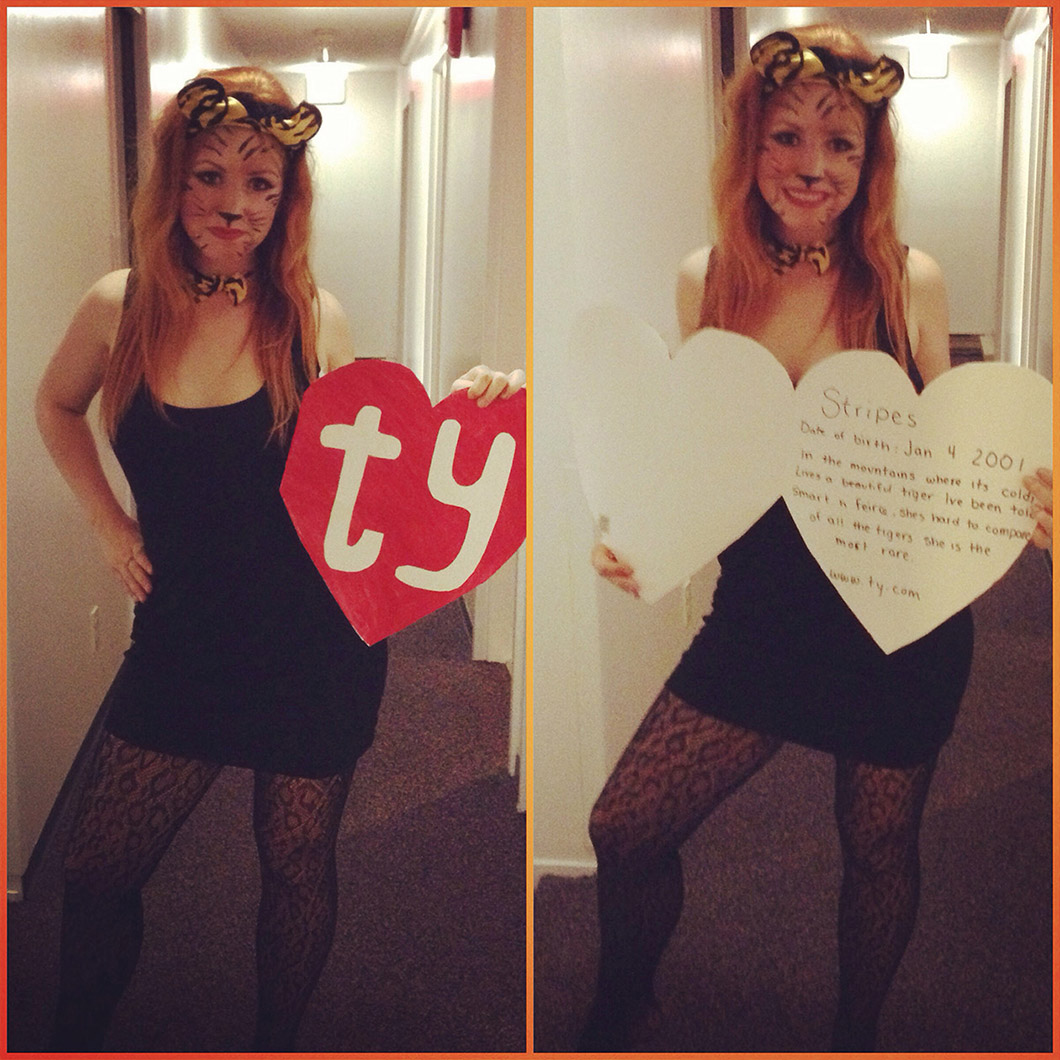 Beanie Baby Halloween Costume
Beanie Babies are the collector's item that has the creator screaming "gotcha"! Beginning in 1995, Beanie Babies were created in limited quantities and were thus inferred to be worth a lot of money down the road so people shelled out hundreds of dollars in an attempt to collect them all. This year, you can dress just like any of the many retired Beanie Babies and create a red, little Ty tag for yourself or just take one off of an old Beanie Baby. They aren't worth a dime anyway! Now, to dig through your box of a thousand Beanie Babies to decide which one you will be...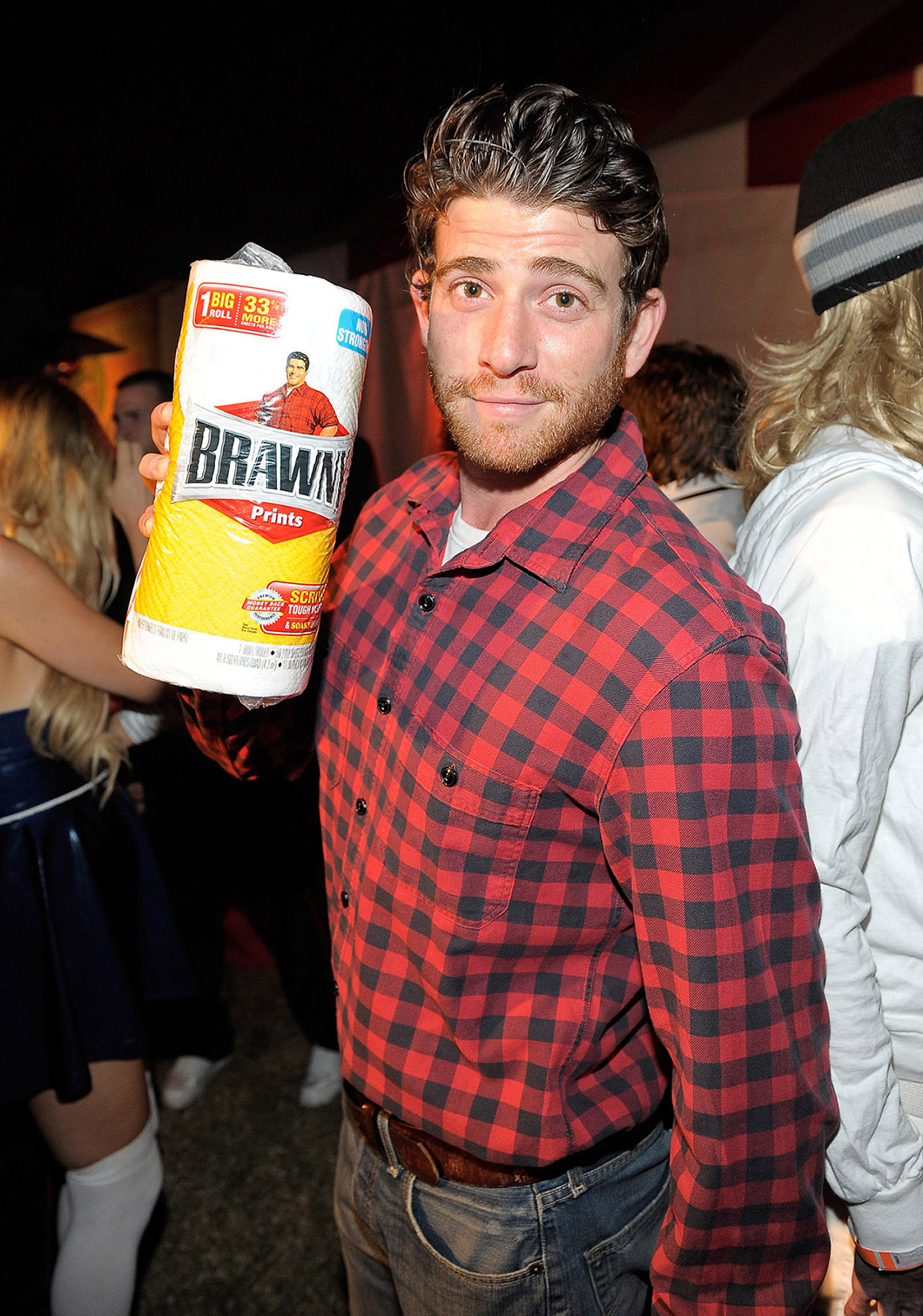 Brawny Man Halloween Costume
Nothing says cleanliness like a burly dude with a beard wearing flannel. Brawny brand paper towels agrees, so much so that that they made the lumberjack-looking guy their brand's mascot. Lucky for you, this provides you with an instantly recognizable Halloween costume using items that you already have in your house. If you're a man with a beard, just put that red shirt on and grab a roll of paper towels. If you're someone without a beard, do the same and paint some facial hair on that mug of yours. Done! And if someone spills a drink at the party, you'll be there to save the day.
Cat Burglar Costume
If you're looking for last minute Halloween costume ideas, look no further than this "cat" burglar. Check your closet for a black long-sleeve shirt, pants or boots. Throw on a black-and-white striped shirt and some gloves. If you're crafty, you can make a mask from a paper plate, glue, glitter, and a rubber band. If you're not crafty, check dollar stores and you might get lucky! To complete the costume, draw a money symbol ($) on your candy bag, but make sure it's durable, because you'll be getting a lot of treats this year!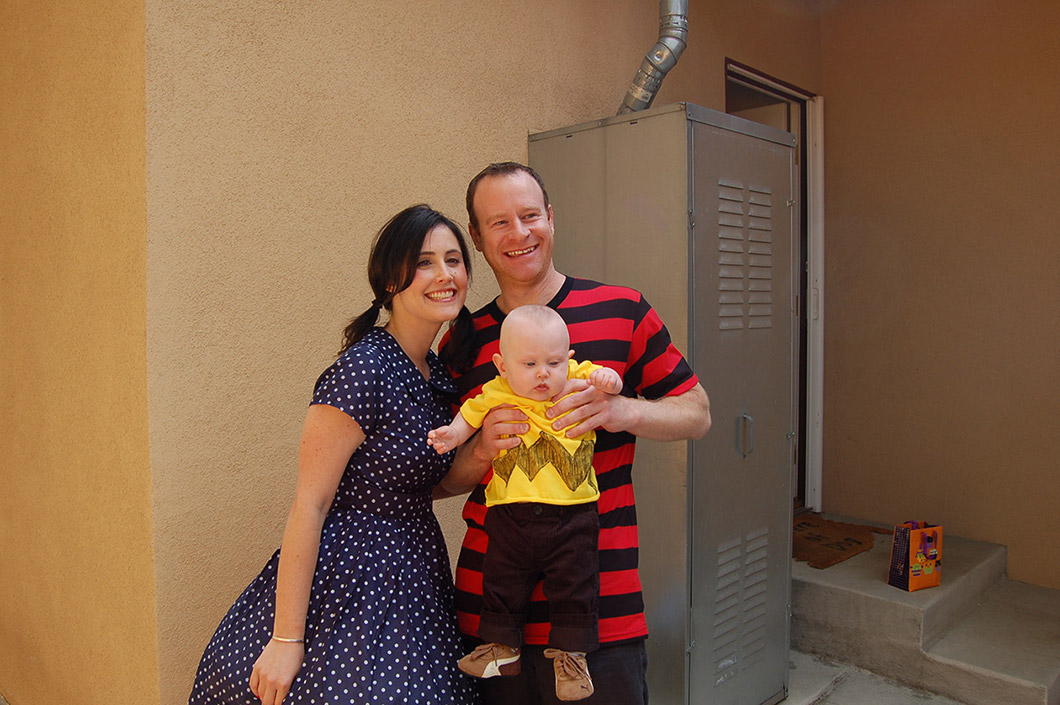 Peanuts Family Costumes
For this easy and nostalgic family Halloween costume, look no further than Charlie Brown and his gang. Clearly, the baby always has the be Charlie Brown - the head is perfect! A red striped shirt instantly transforms the wearer into Linus, and bonus points if he brings a security blanket with him. Lastly, a blue 1950s-inspired dress worn by a brunette - now you're Lucy! There are other choices, however, but if you're crunched on time, go with what's in your closet. And don't be afraid to pull on that permanent marker for Charlie Brown's iconic chevron shirt.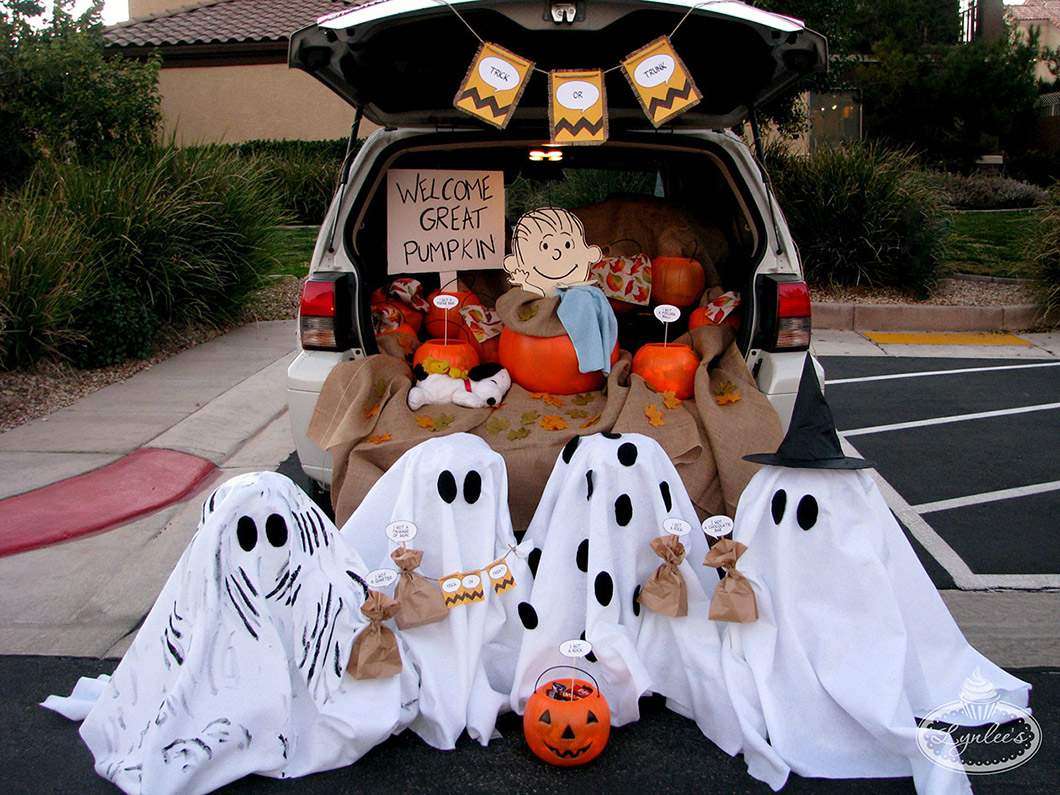 Charlie Brown Ghost Costumes
"I got five pieces of candy!" "I got a chocolate bar!" …. "I got a rock." Poor, poor Charlie Brown. That blockhead has some bad luck, huh? Hopefully your clever Peanuts-inspired costume will provide a much better candy haul than Charlie Brown. Can you point out which ghost is Charlie in this photo? Yes, that's right! The one with a million holes in it. This is an easy, last-minute Halloween costume, but will garner some chuckles from all of those who have stayed up waiting for the Great Pumpkin on Halloween night.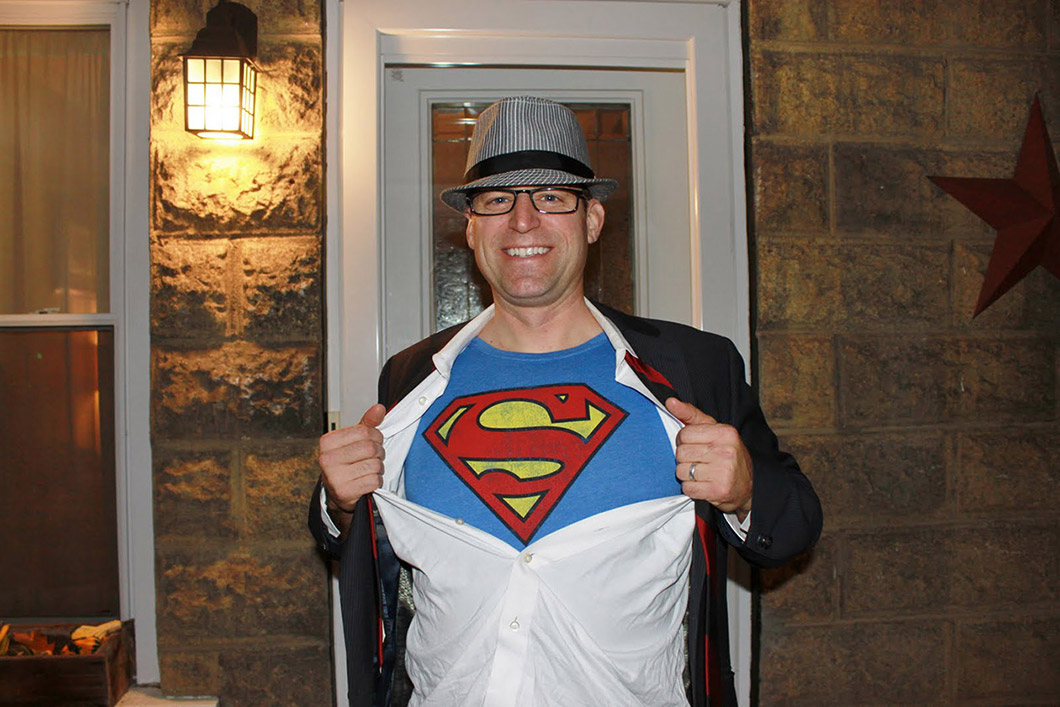 Clark Kent Halloween Costume
While it might seem strange that a guy who can shoot lasers from his eyes needs glasses to write for the Daily Planet, keep in mind that Clark Kent has maintained two identities with the simple addition of some square frames for over nearly eight decades. Now if that "gift" of misdirection isn't a super power in itself, what is?! Fly under the radar this Halloween with this super easy Clark Kent Halloween costume and be the less predictable half of this time-tested character.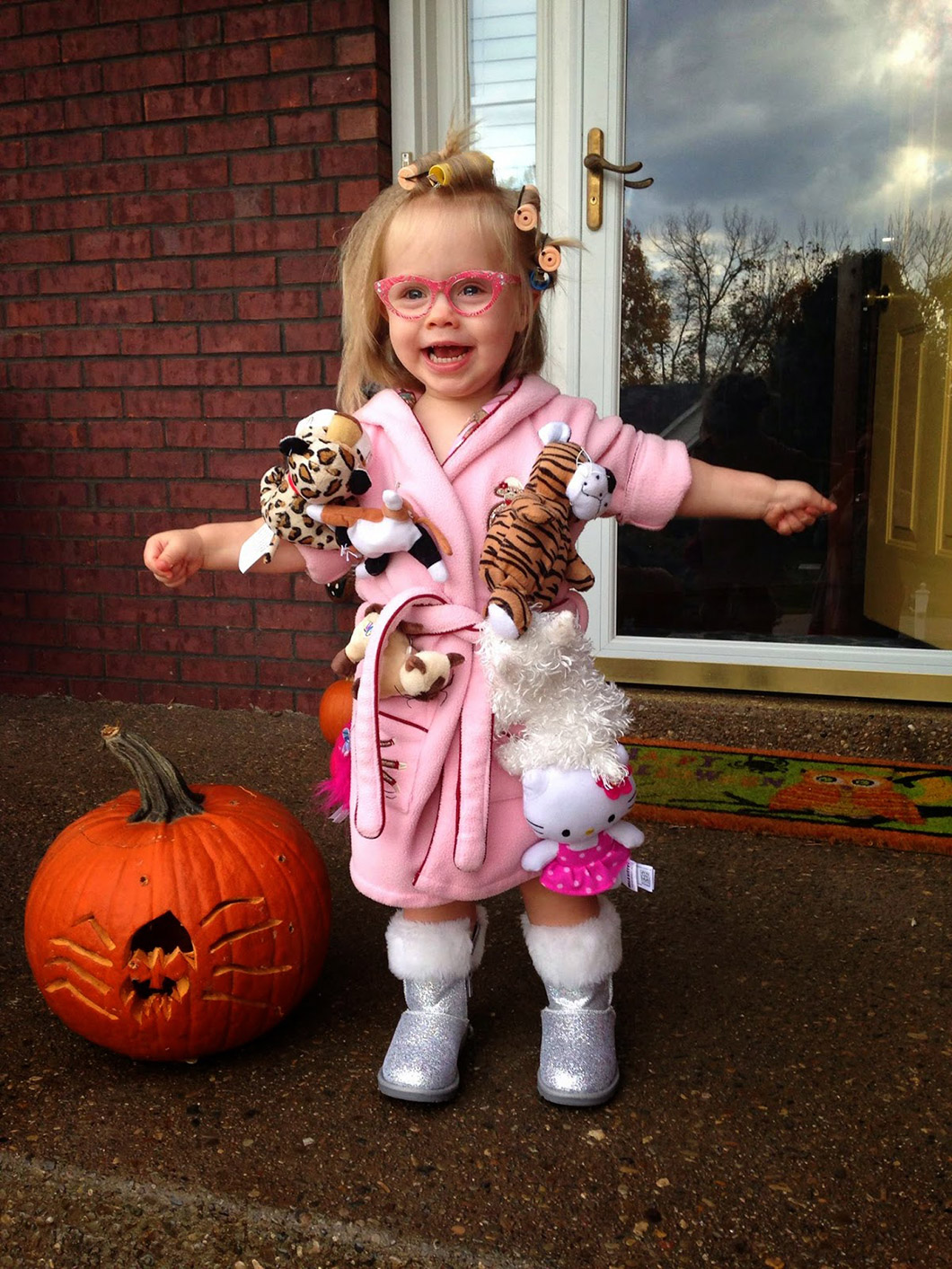 Crazy Cat Lady Costume
Let's see, we've got Mittens, Whiskers, Boots and the whole crew together for a "crazy cat lady" costume. Of course, the disheveled, half-curled hair and outdated glasses are a must. In fact, everything you see here is included except for that unescapable cat lady smell. Fortunately for everyone in whiff-distance, that is sold separately. Make sure to bring along plenty of cat videos on your smart phone, along with cat puns and jokes and in no time, you will be the cat's meow at this year's Halloween party.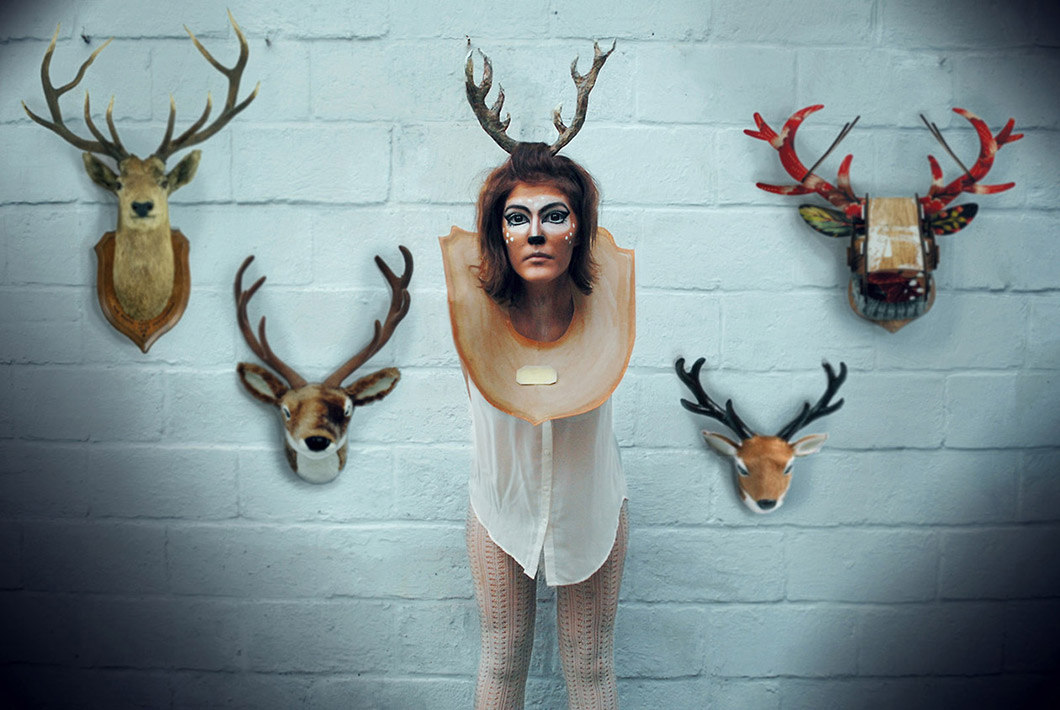 Mounted Deer Head Halloween Costume
This mounted deer head is one of the most clever Halloween costume ideas we've ever seen! If you're crafty, you can make antlers out of papier-mâché and earth-toned paints. If you're near any forests, some twigs might make a convincing substitute. Paint some sturdy paper to look like a wood plaque and add more paper painted like an engraved metal plate. Finish it off with some Halloween or stage makeup and some neutral clothing to blend in with a wall and you're good to go!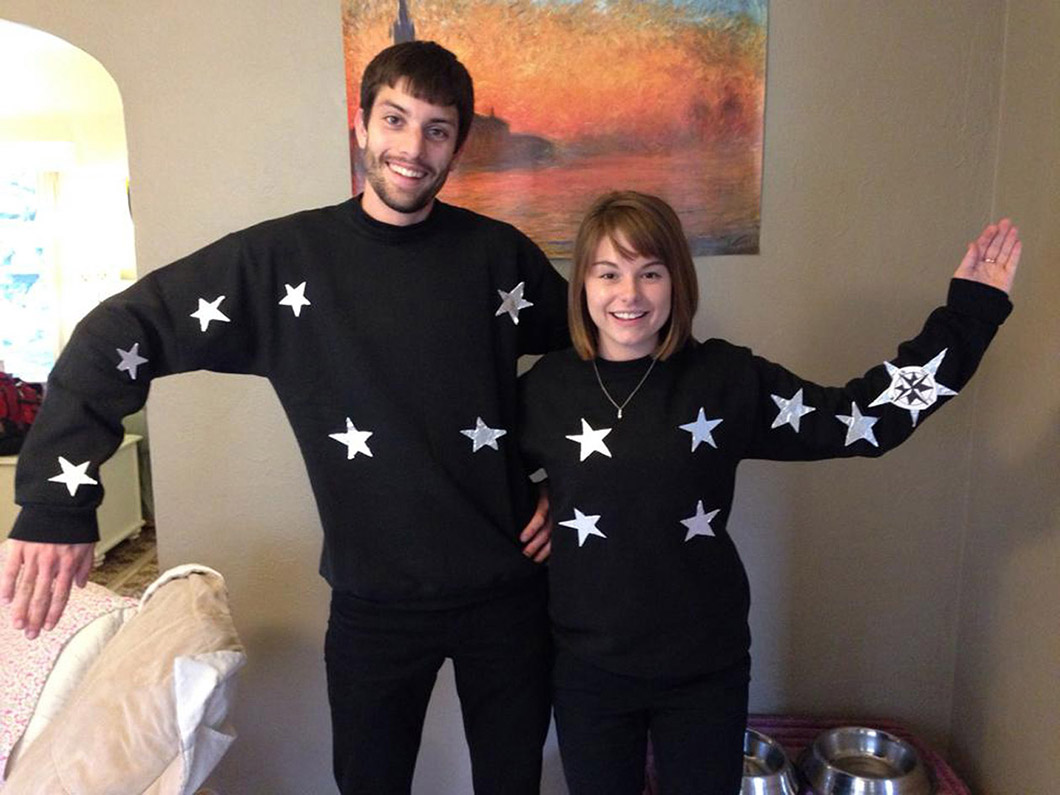 Little and Big Dipper Halloween Costumes
If you're looking for a last-minute costume that literally takes only minutes to create, this stellar couples Halloween costume is in the stars for you. Dress in all black, tape some silver stars to your body and arm in the shape of the famous two constellations, and you're ready to head out the door. Some pros to this costume? You have a pose set for you for the entire night! However, if you get lost on the way to the party, people might be asking you to show the way. You know, since you have the North Star on your arm, and all.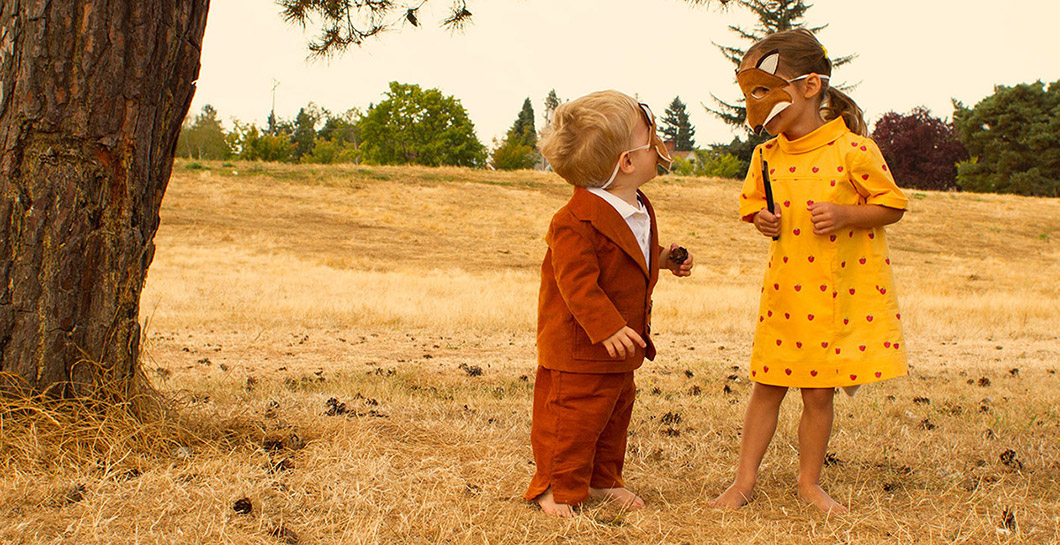 Mr. and Mrs. Fox Costumes
Kids love masks, but did you know they're also an easy Halloween accessory? Craft and fabric stores sometimes have patterns, but you can easily find them online and print one yourself. For the fox mask, you'll need three colors of paper or fabric: brown, black, and white. Materials like felt are great for durability, or you can just reuse old clothes. Plain white glue works on construction paper, but for paper, you're better off using specialty fabric glue or sewing the edges. An elastic or rubber band stapled to the sides completes the mask.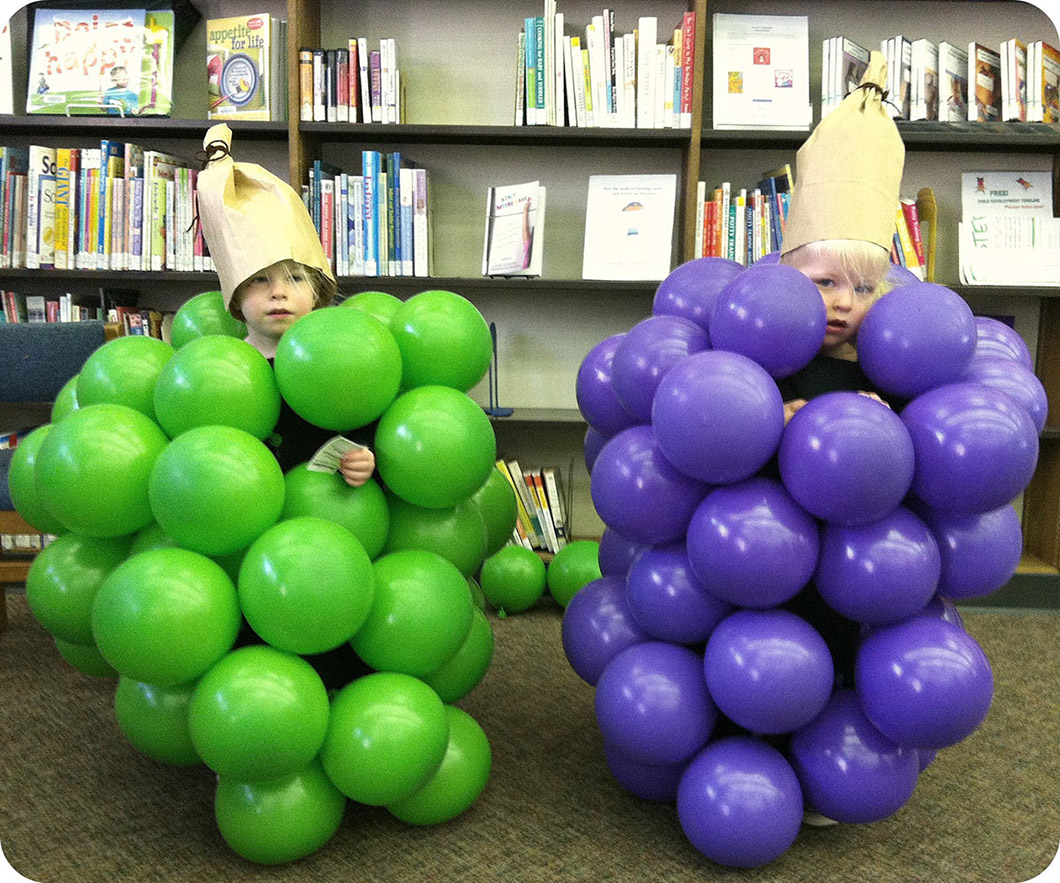 Bunch of Grapes Halloween Costumes
We heard through the grapevine that this last minute Halloween costume might do the trick. Whether you are teaching your tikes about the Grapes of Wrath or just prefer the cheap cost of your own breath to fill up some balloons for $3, well this costume is a no brainer. While these sprouts are not ready to be mushed into a fine wine just yet, to the other penny pinchers in the crowd you will still be the toast of the town!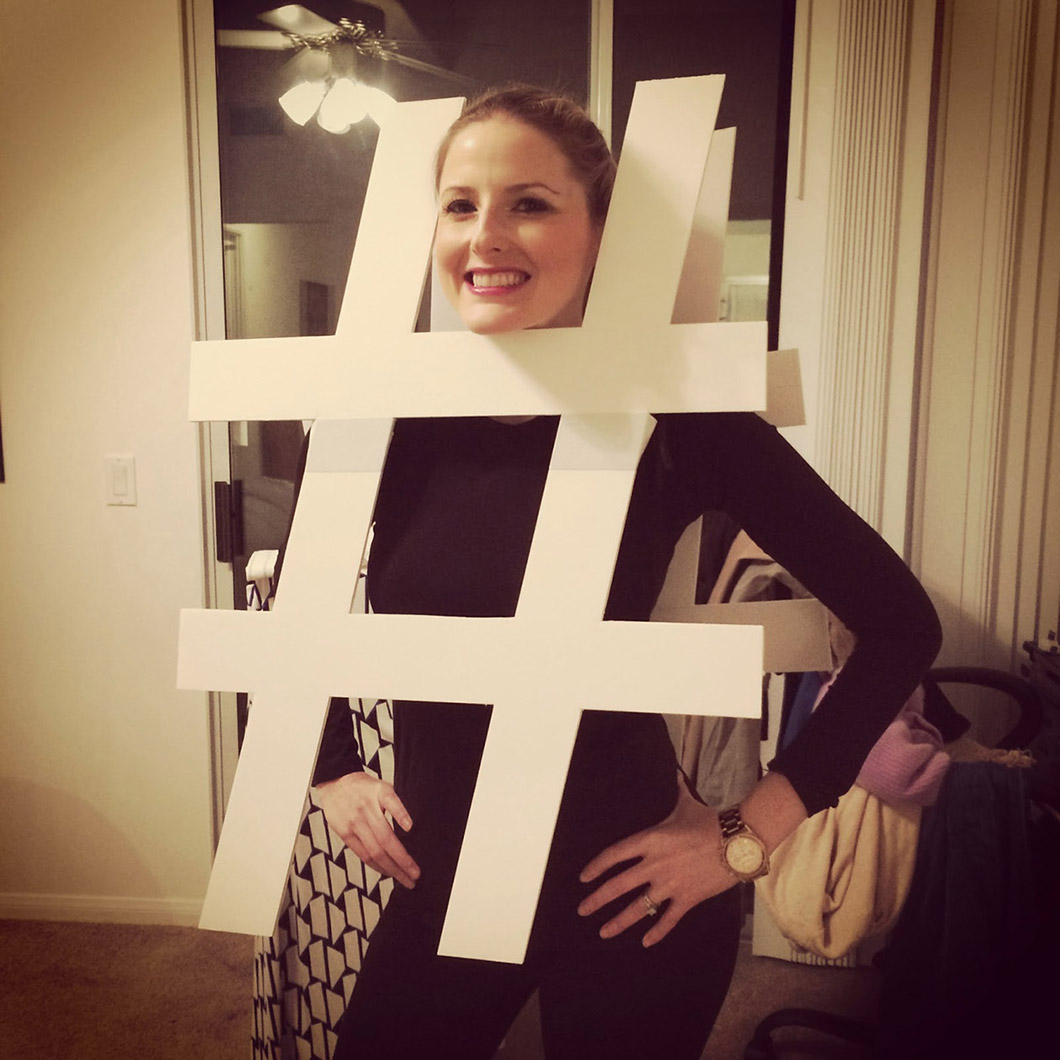 Hashtag Halloween Costume
These days it seems like everything is made into a hashtag. Even complete sentences - who can read that? Seriously! Now you can outsmart the costume competition this year with a cheap and easy Hashtag Halloween costume. You can be anything you want to be all night long, #getmeadrink, #lifeoftheparty, #hangoveronthehorizon. If you have a date for the costume party this year, the beauty of it is that this costume can be paired with just about any other costume out there. Come Halloween, one thing is for certain #costumecontestwinner!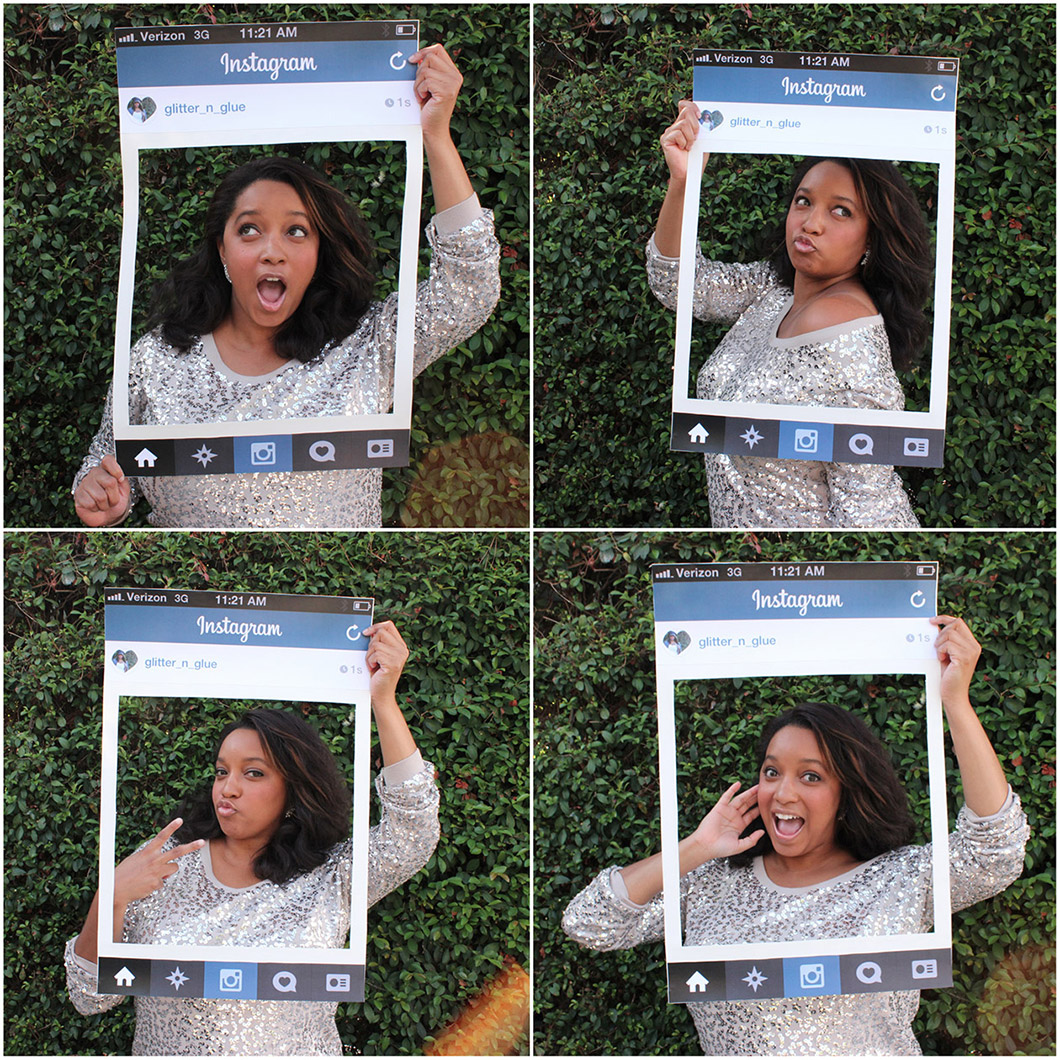 Instagram Selfie Costume
It's amazing what one little prop can do to make a noteworthy Halloween costume. Take a piece of cardboard, print out a screen shot of your Instagram feed, do a little magic with glue sticks and scissors, and voila! Suddenly, you're a selfie. #nofilter. The best part is that you don't have to worry about your outfit. Anything you would normally wear is perfect for the look. Don't be afraid to pose all night and, ahem, tag your friends, please.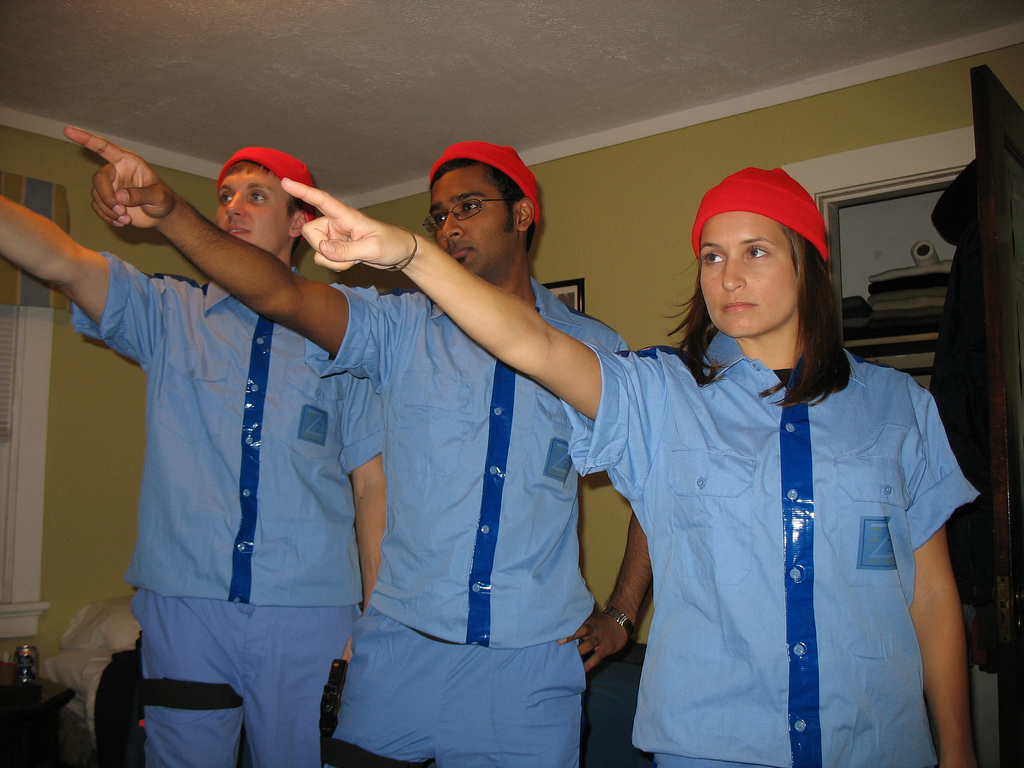 The Life Aquatic with Steve Zissou Halloween Costumes
For all the hipsters out there, a simple Steve Zissou and crew Halloween costume is a great idea if you don't have a lot of time to spend crafting. A blue shirt and pants, some blue electrical tape, and a red beanie is all you need to create this look from Wes Anderson's The Life Aquatic with Steve Zissou. Sure, you can get a little crazy and add a custom "Z" patch to your pocket, but as long as you have the hat and the shirt, you're set. (The pose helps, too.)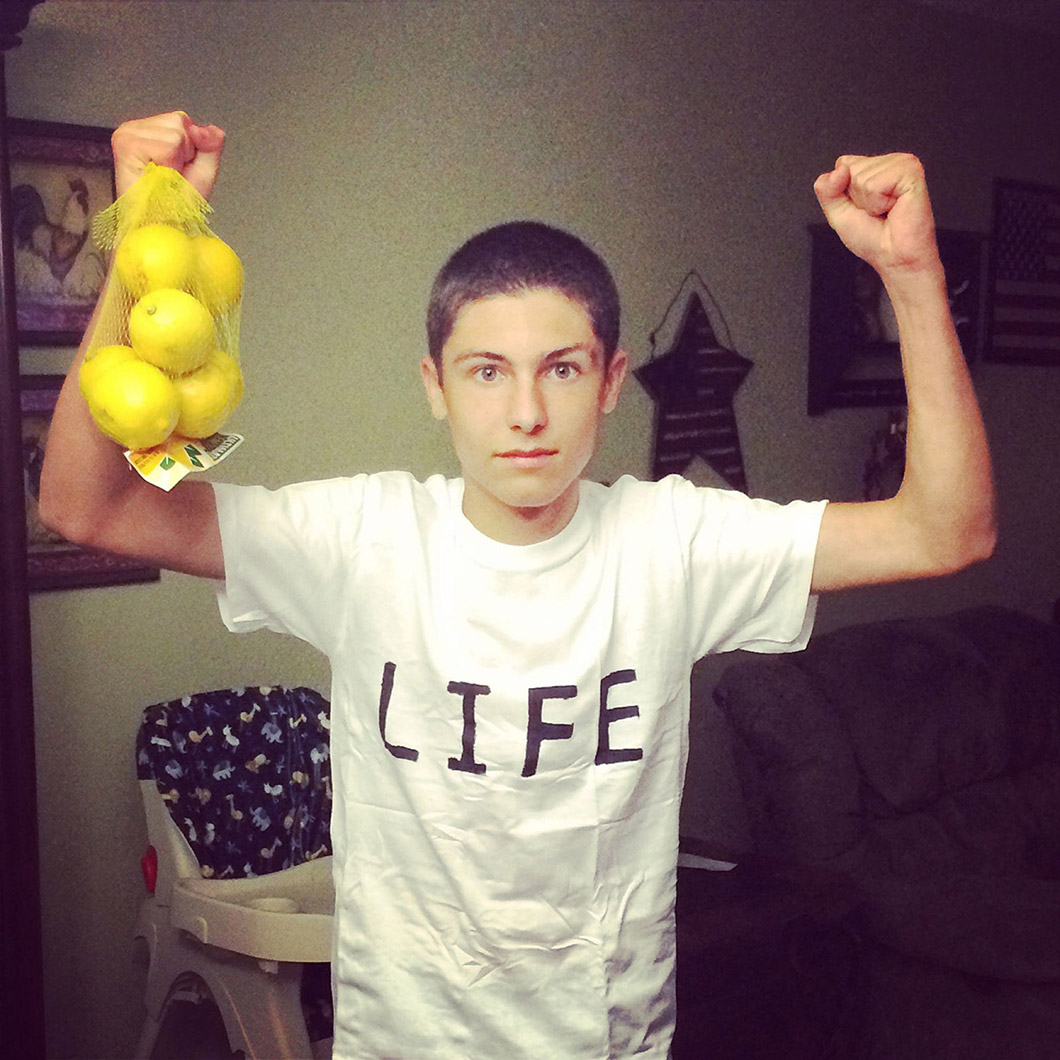 When Life Hands You Lemons Punny Costume
When a pun is involved, your leftover groceries can become a passable costume and here's the living proof. So when life hands you lemons, errrrm, make a Halloween costume!? Sure, why not? Maybe the "lemons" were you were broke. Or maybe the "lemons" were you forgot to buy a costume until everything was sold out. Either way, this costume proves that you were rich with creativity all along. So here's to finding the sweet in the sour this Halloween.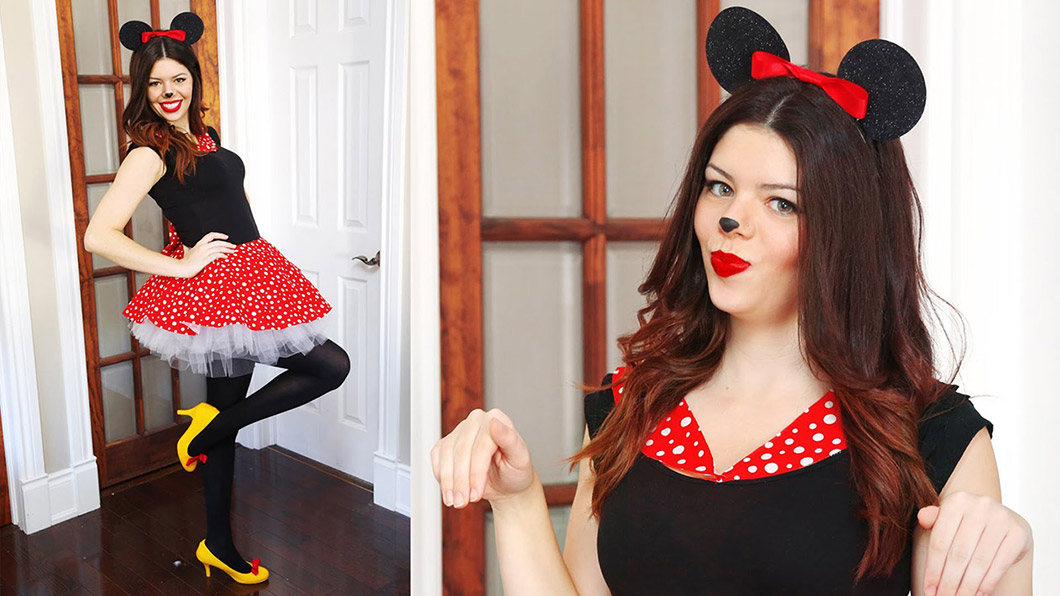 Minnie Mouse Halloween Costume
The first lady of Disney World, Minnie Mouse is a great last-minute Halloween costume idea, and she's cute to boot. The only extra prop that you need to have laying around are the classic mouse ears. However, that accessory would be a cinch to craft - all you need is some black cardboard, a headband, and some glue! After that, red polka dots, black tights, some beautiful yellow shoes, and your easy Minnie Mouse costume will be ready. Oh, yeah! Don't forget the mouse nose!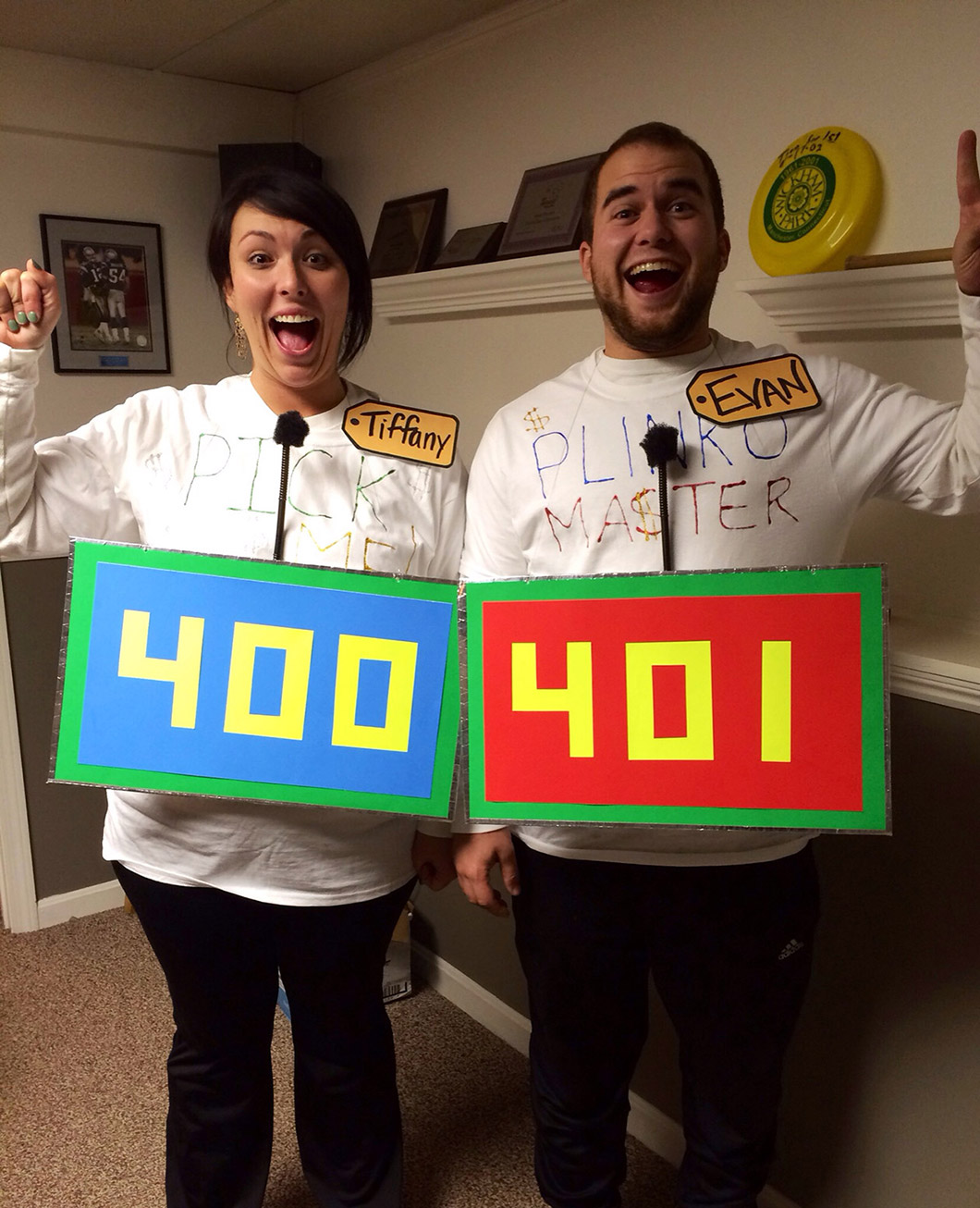 Price is Right Couples Costume
The Price is Right contestant costume is remarkably easy! Contestants on the Price is Right are known for accessorizing their own clothes, so this part is a cinch: using a fabric marker or puffy paint, write the name of your favorite game. "We miss you, Bob!" is another classic option. Whip up a name tag and bid sign with some cardboard and construction paper, and attach a "microphone" made from a painted cotton ball and a water bottle straw. If your Halloween party has some stairs, run up and down them repeatedly while cheering!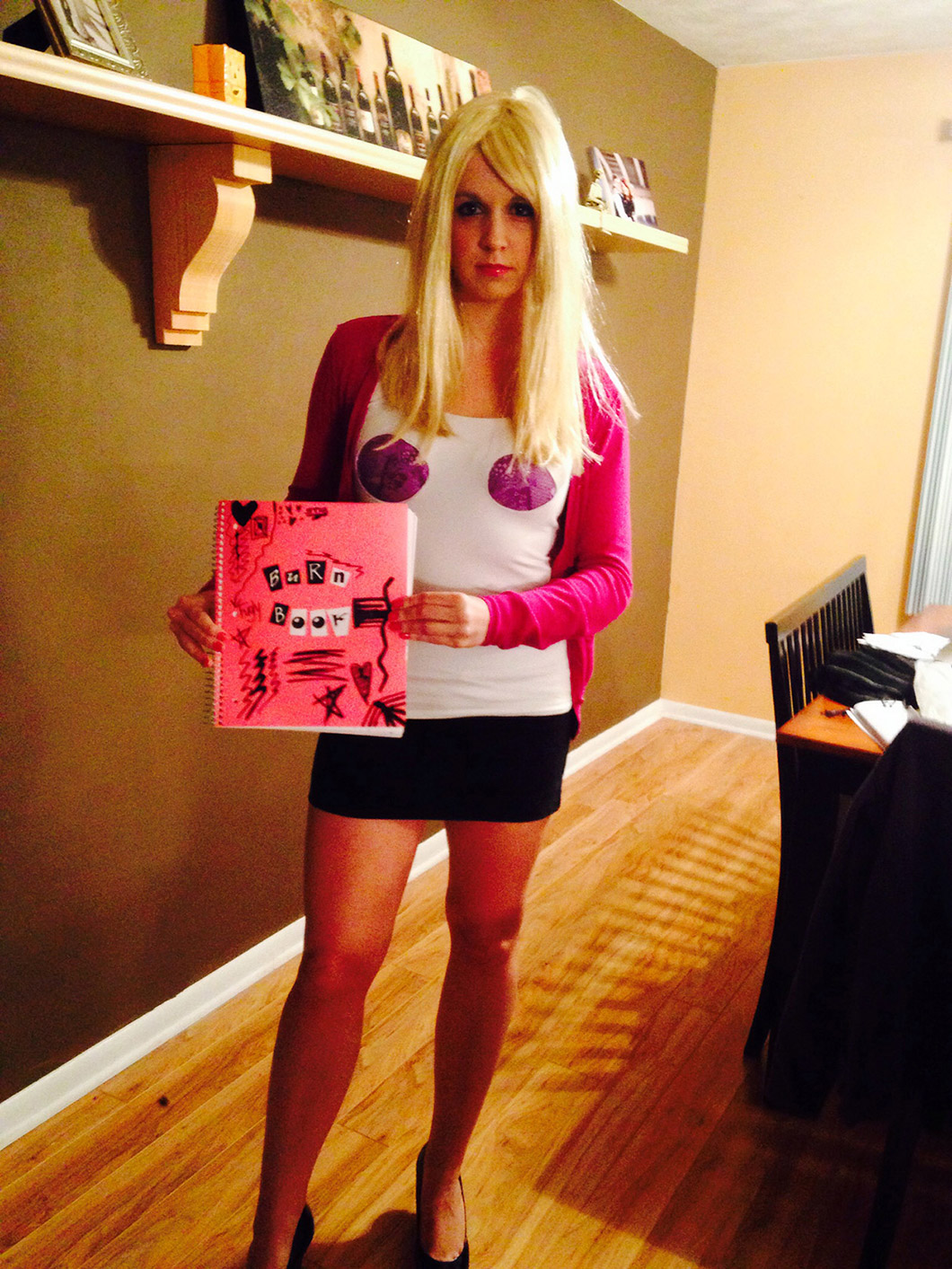 Regina George Mean Girls Halloween Costume
This Halloween costume idea is so fetch! Regina George might have been one of the most cynical teens to ever hit the big screen, but that's all part of her charm. Whether she is forcing her followers to wear pink on Wednesdays or telling them who they can and cannot date, she was proud to be the leader of the pack. Even when she was sabotaged people still envied her and this costume is proof. When she turned in the Burn Book to get back at her so called friends she ended up throwing them under the bus, until karma came around (and another bus). This costume idea is one that is sure to be packed full of laughs and pretention.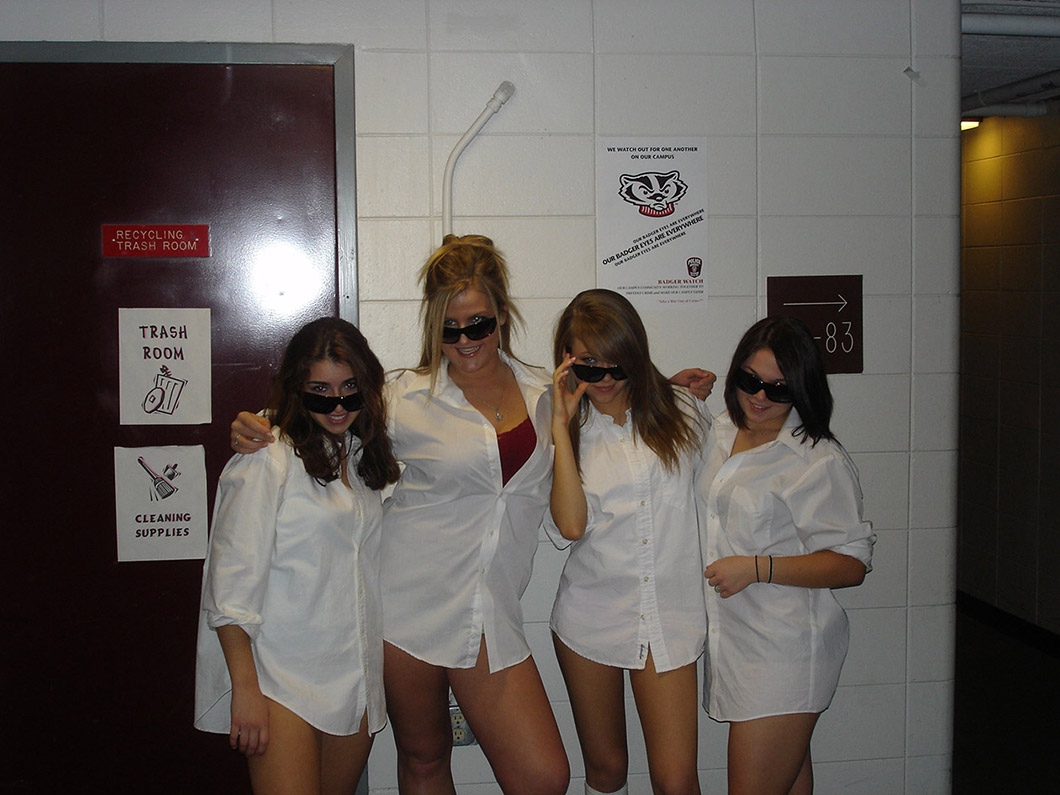 Risky Business Group Costumes
This Halloween costume is so easy, you only really need three things: a white button up shirt, a pair of sunglasses, and some super slippery socks. Slide in to every room you enter on Halloween night, and, obviously, have "Old Time Rock and Roll" loaded onto your iPod. While Tom Cruise has changed a lot since 1983, this iconic look from Risky Business will never go out of style. For those looking for an easy costume, one that you can pull together at the very last minute, this is one of the best!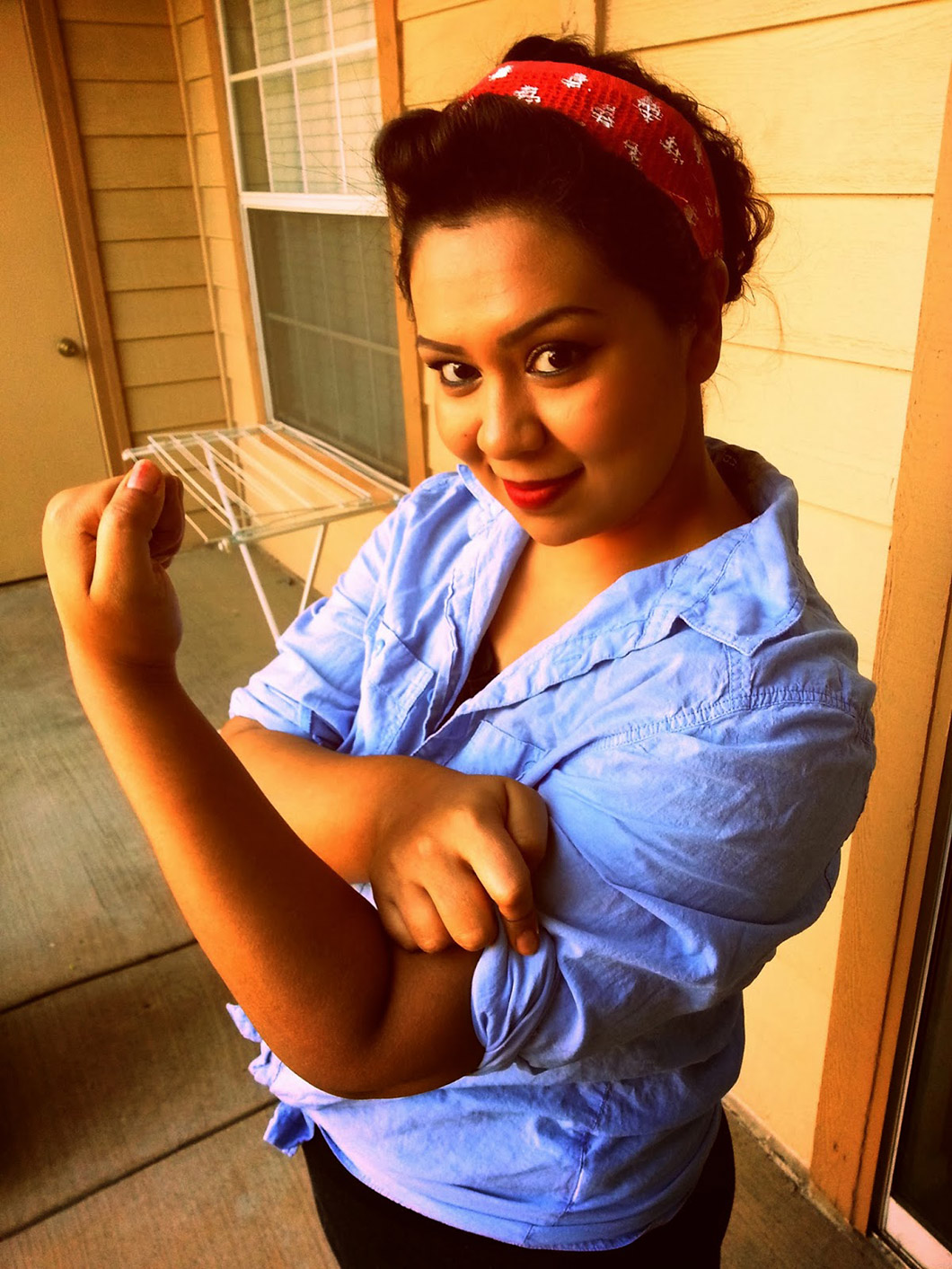 Rosie the Riveter Halloween Costume
Button-up denim shirt. Check! Red bandanna. Check! "We Can Do It!" attitude. Triple check! Rosie the Riveter was a famous image during World War II, representing all the ladies who pitched in to help. Now, Rosie is a symbol for female strength, as well as a super-simple Halloween costume idea for girls. Flex that muscle and join the ranks of all the ladies who have dressed up as this character. You can do it. Seriously!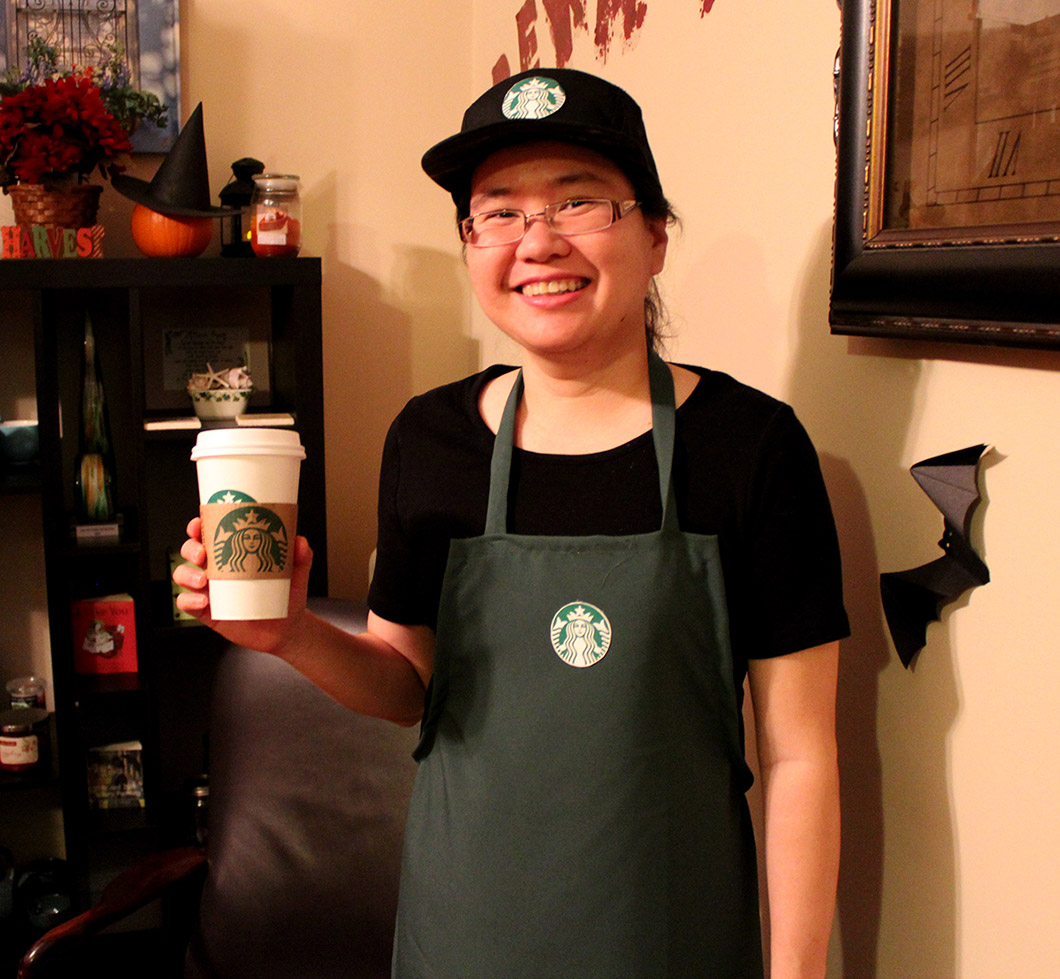 Starbucks Barista Costume
Searching for a quick and easy costume idea for this year? How about a Starbucks barista? Since the majority of us visit them multiple times a day it shouldn't be a challenge. Just grab an apron, hat, and a coffee cup and voilà, a barista you are. "Hi, welcome to Starbucks, let me take your order and horribly misspell your name." We'll have a venti iced skinny hazelnut macchiato, extra shot, light ice, no whip. Think of the funniest name you have ever had written on your cup and add that to your costume to give your friends a few laughs.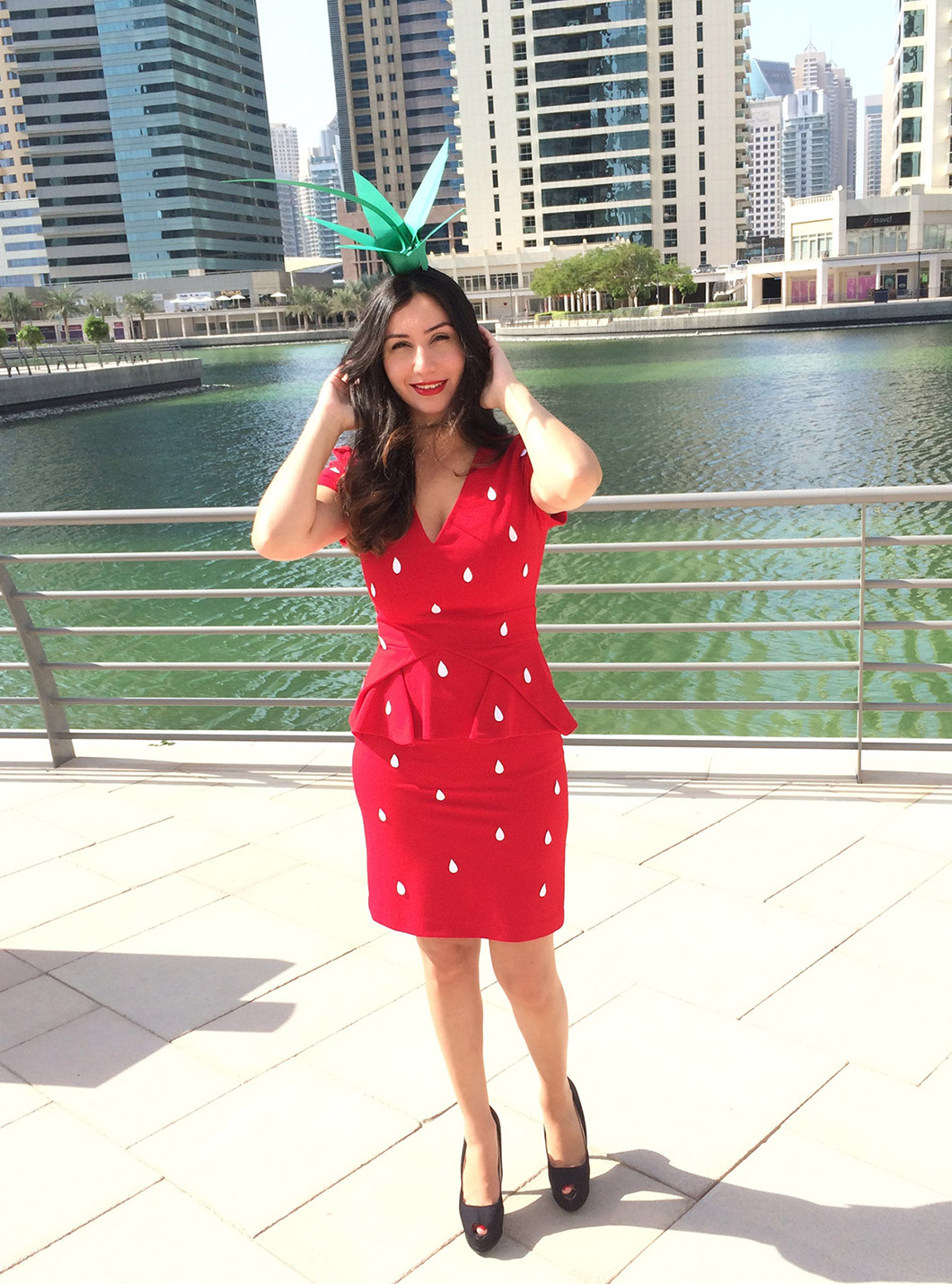 Strawberry DIY Halloween Costume
This strawberry costume is both easy and cheap. Start with any red clothing - a dress, jacket and pants, shirt and shorts, anything works as long as it's the same shade of red. If you're not planning on wearing the clothing again, you can glue on white paper or cloth cut into circles or teardrops, or even sew on white buttons. For a few dollars and a trip to the craft store, you can use small blank button/badge pins, which also means you won't have permanent "seeds" on your clothing! The hat is simply green construction paper cut into leaves. Beware: Hungry Halloween partygoers ahead!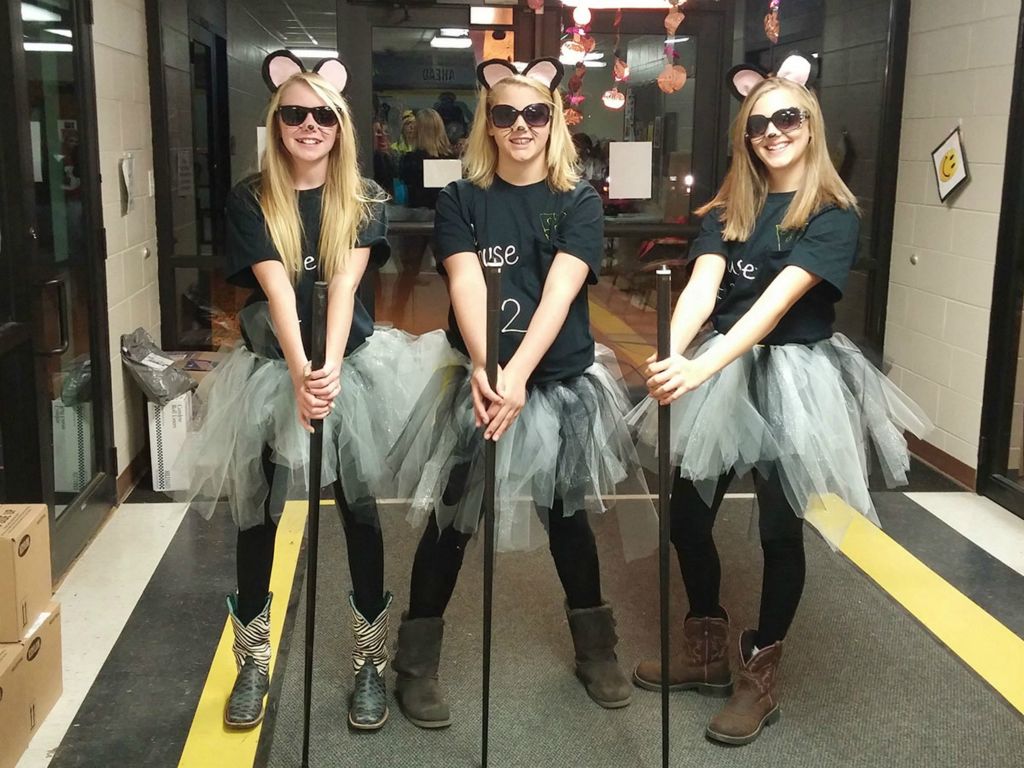 Three Blind Mice Group Costume
Originating from an old English nursery rhyme, Three Blind Mice has been a well known staple in many households for hundreds of years. The words have transformed a tad, but the concept has remained simple. For an easy group costume idea this Halloween, all you need is a pair of mouse ears, some sunglasses, and black attire to achieve this ensemble. Don't forget a tail, unless of course it has already been cut off by the farmer's wife's carving knife. Ouch!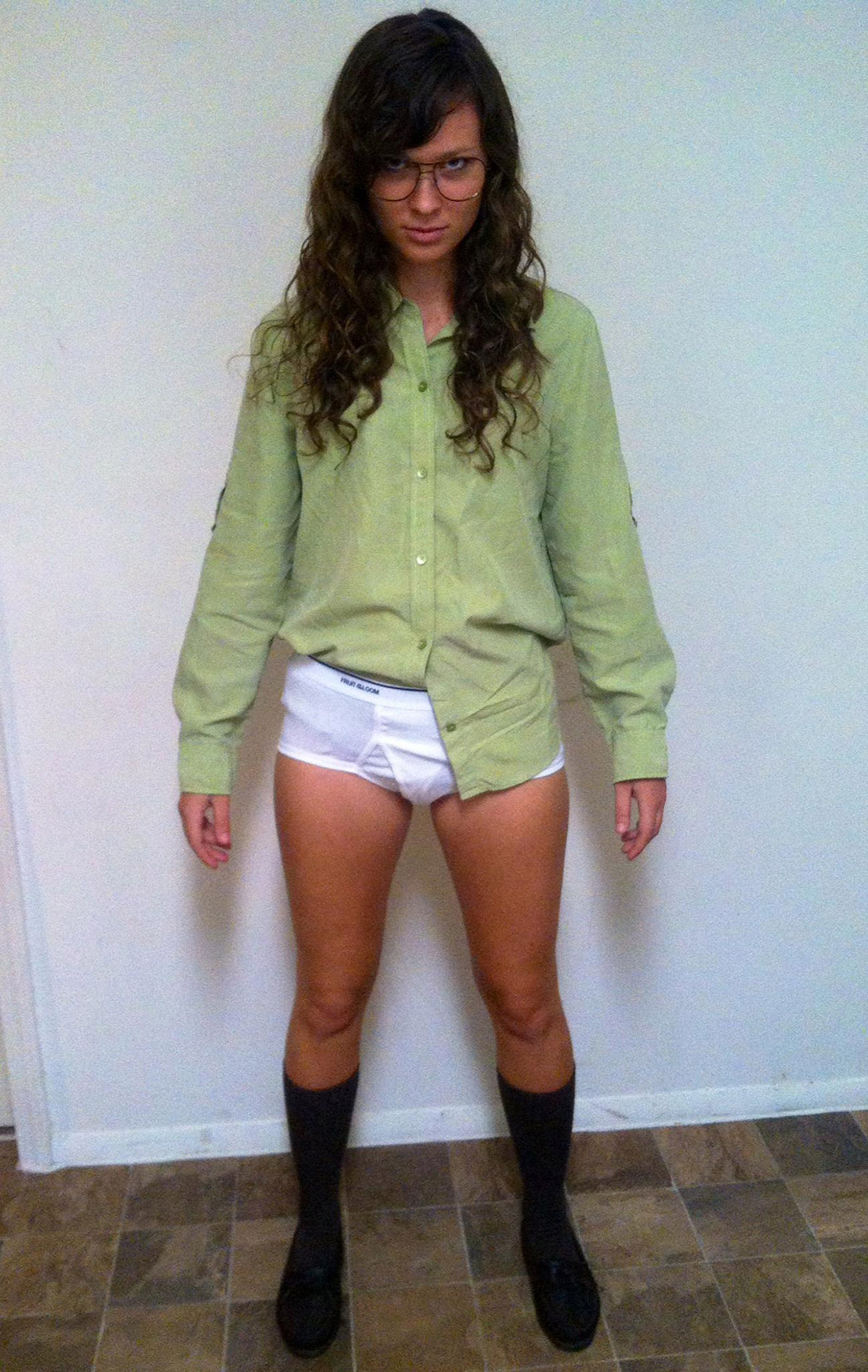 Walter White Costume
Much of the world got to know and really like Walter White during five season of AMC's hit Breaking Bad. When the show ended, many of the show's memorabilia was placed on an auction and the underwear from this scene went for nearly ten grand. Just like this girl, you could recreate the famous scene if you happen to be the proud owner of Walter's whitey tighties. If not, a $3 pair will suffice to achieve the look of this Halloween costume idea this year.