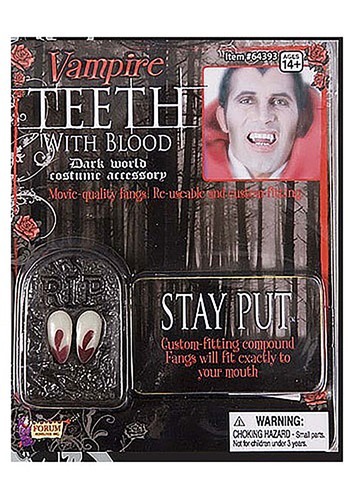 Product Description
Do you find yourself only going outside at night, or talking with a Transylvanian accent? ("I vaaaant to suck yer bluhd!" We know, our accent is really bad.) You might just be transforming into a vampire! So, how did your transformation begin? Was it as the Slavic and Chinese folklore says, an animal jumped over your lifeless corpse? Or was it a little more Hollywood: a bite on the neck from a handsome (or not so handsome depending on the movie) vampire?
If you do feel vampire-ly inclined to start feeding on your living counterparts, we have just the thing to make your transformation complete: Vampire Teeth with Blood! What good is a vampire without their fearsome fangs? These teeth will strike fear into the heart of any passerby with their bloodied tips. These vamp teeth aren't guaranteed to change anyone else into the blood sucking undead, but with the "Stay Put" compound that accompanies them they are sure to stay locked into place while you munch on some trick or treated candy!
Pair of vampire fangs

Painted red blood on the tips

Fangs can be custom fitted for multiple use

Great for a costume party
Pair of Vampire Teeth w/ Painted Blood
There are no reviews for this item yet. Be the first to write a review!
---