Check out our Alice in Wonderland Costumes
It's quite amazing, isn't it? Lewis Carroll created a whimsical world filled with wild characters and delightfully mad scenarios with nothing but ink and paper. Then he built upon the incredible world during his continued works. His clever wordplay and imaginative style have made them a revered literary work through the years, but that was far from the end of the iconic world. Disney adapted the tales into an animated film, which brought the colourful world to life on the big screen. Carroll's creations have even inspired new stories in all sorts of other media. Batman had villains based on the tale, and even the Care Bears spent an episode visiting Wonderland! All of this has led to Lewis Carroll's tale becoming a household name across the world! That's what makes it one of our most popular choices when it comes to fancy dress and Halloween costume ideas.
Of course, the real question is…what kind of character from Alice in Wonderland do you want to dress up as? Seems like a pretty tall order to fill, doesn't it? Well, this helpful guide will make selecting your Alice in Wonderland costume much easier! We'll look at some of the individual characters that Carroll brought to life. We'll walk you through some of our best options, look at some unique costumes, and give you some dazzling glimpses into the storybook world of Wonderland to help give you some costume ideas.
Alice in Wonderland Fancy Dress Ideas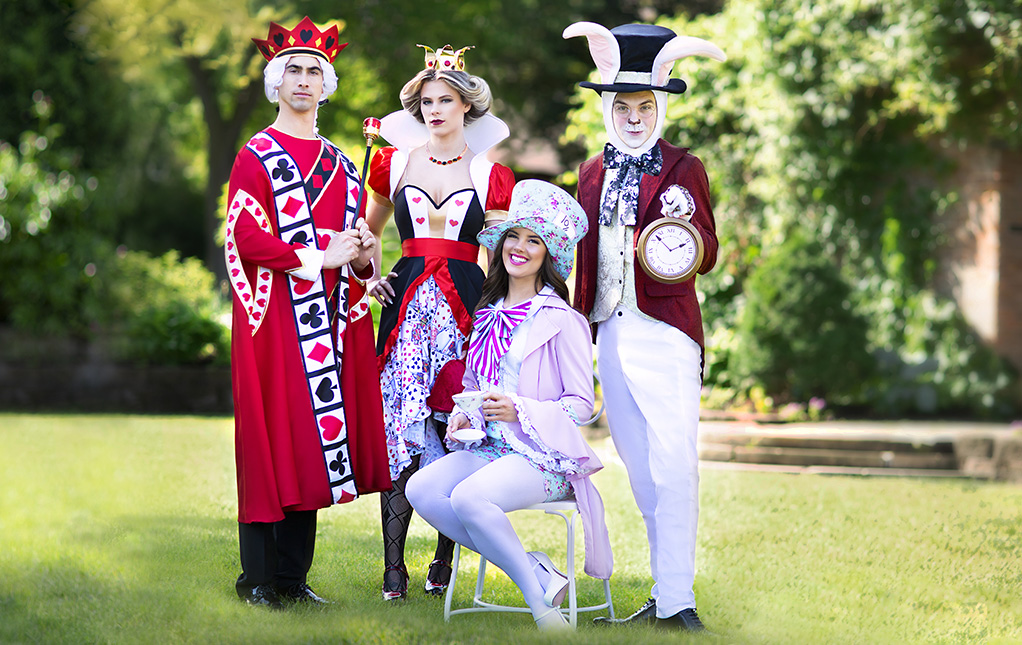 The classic tale of Alice comes with a huge cast of wacky characters! Choosing which one works for you can be as simple as picking the character that most reflects your own self. Perhaps you fancy yourself as an adventure-seeker, just like Alice. Maybe you're a complete wild-card, just like the Mad Hatter. Or maybe, you'd like to rule over the entire land as the Queen! We're always trying to stay on time, so we'd probably be the White Rabbit! Well, no matter what sort of character you see yourself as, we have a great costume to let you express yourself in true Wonderland fashion. The selections below are some of our more popular choices when it comes to Alice in Wonderland, so it seems like a great place to start when deciding on your outfit.
Alice in Wonderland Fancy Dress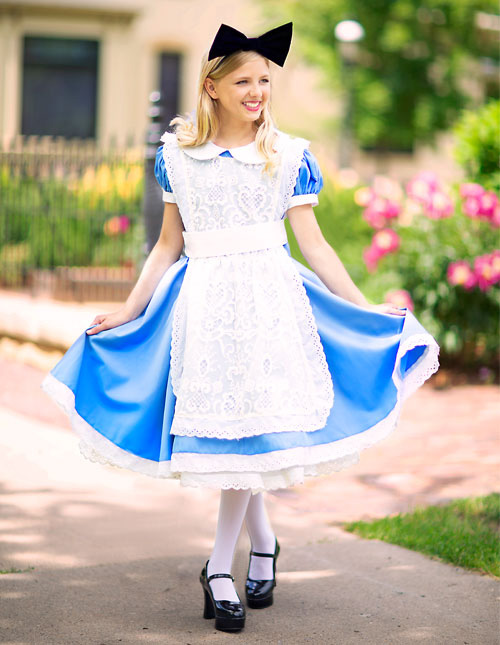 Let's start out with the main character of the tale! Alice stumbled her way into the strange world when she chased after a rabbit wearing normal clothes like a person. That's quite the unusual sight indeed! Our Alice in Wonderland costumes are perfect for adventure-seekers just like her. If you're the type who wouldn't think twice about hopping down a rabbit hole or eating mystery foods, we believe Alice is definitely the right role for you. We carry them in both standard and plus sizes, along with a ton of great accessory options to help you customise your look.
King of Hearts Costume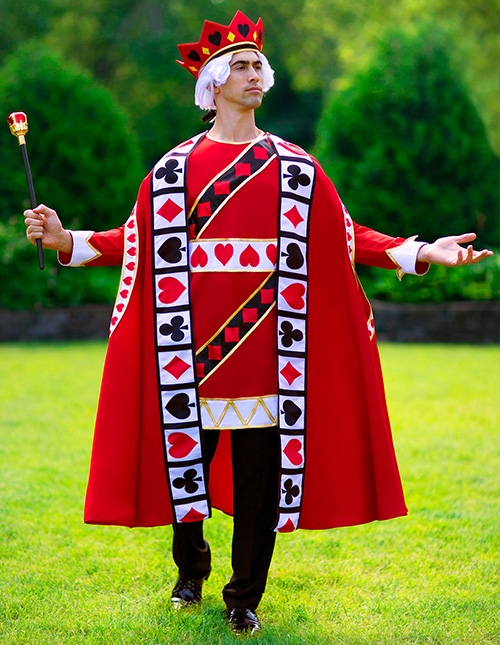 Do you want to be the king? The big cheese? You know, making important decisions and ruling the land? Having all of that pressure land squarely on your shoulders with everyone in Wonderland watching your every move? Wow, that sounds stressful! Don't worry! The King of Hearts isn't exactly that kind of ruler! He may be the reigning regent of the land, but it's quite clear that the Queen of Hearts is the one who holds the true power in that royal family. Our King of Hearts costumes let you look like the big cheese, even if you leave all the actual ruling work with the Queen. This particular King of Hearts costume has a very grand look that pairs well with any of our Queen of Hearts costumes.
Queen of Hearts Costume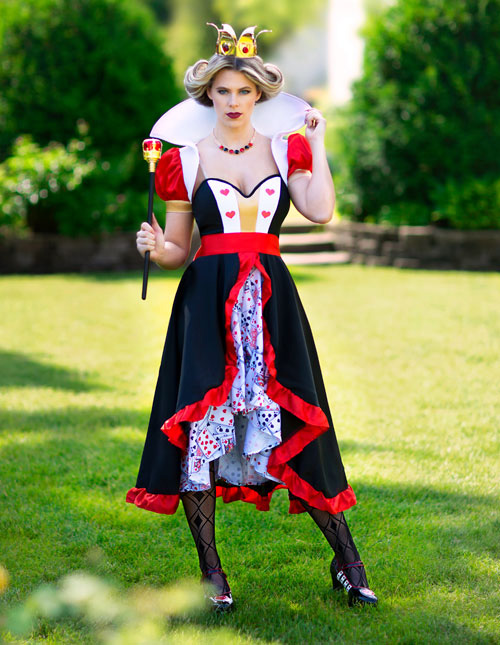 The Queen of Hearts is…passionate, to say the least. Then again, most queens in literary works are. (We're looking at you, Daenerys Targaryen!) Anyone who irritates her even a little bit could be subject to immediate head-separation! We don't recommend going to that level, but if you're quite passionate, then you might just be ready to wear one of our Queen of Hearts costumes. We carry everything from the classic look, to ones based on the live-action movie. No matter what your passion is, you'll be able to find the perfect outfit! Just make sure you brush up on your croquet skills!
Cheshire Cat Costume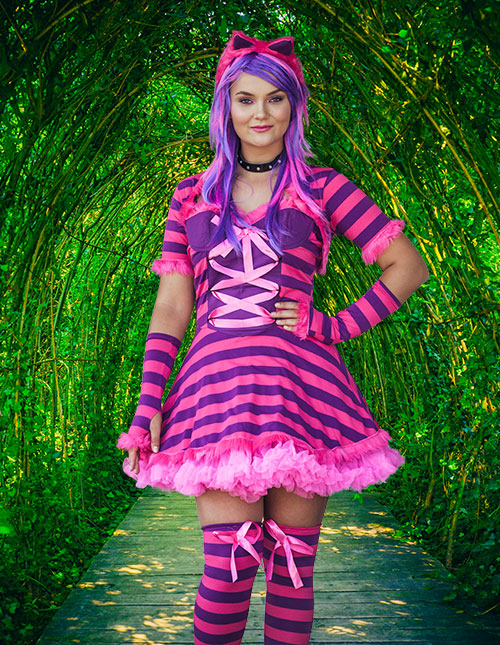 Are you a bit of a mystery? Perhaps even YOU have a tough time figuring yourself out? Well, it sounds like you're the perfect Cheshire Cat! The furry fella from Alice's Adventures in Wonderland is far from just a regular kitty cat! He has been puzzling readers and watchers for years and our Cheshire Cat costumes provide you with the opportunity to engage in the enigmatic behaviour that the friendly feline is well-known for. We have tons of versions of the character, including cute cosplay options based on the animated film and great plus-size options.
White Rabbit Costume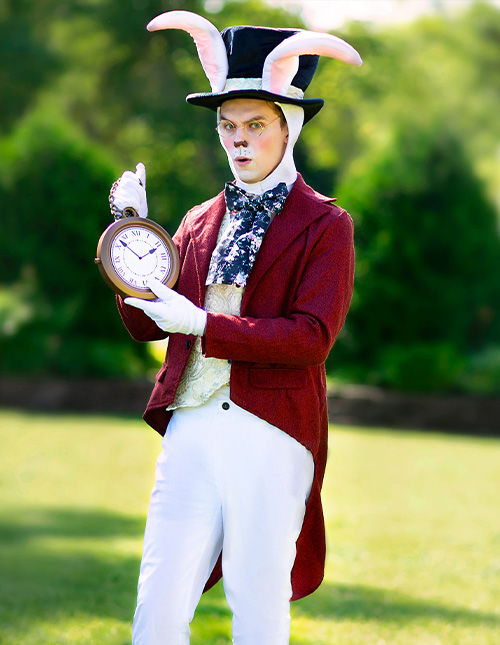 Timeliness is a virtue! At least, that's what we've always thought. We're always racing about, checking our watch, and striving not to be late for the next big event. After all, if you're on time…then you're late! That's why the White Rabbit has always sort of been our guy. Well, we have a White Rabbit costume to help you indulge in your time-conscious ways. Just make sure that you always carry a watch when you wear this kind of fancy dress outfit!
Tweedle Dee and Tweedle Dum Costumes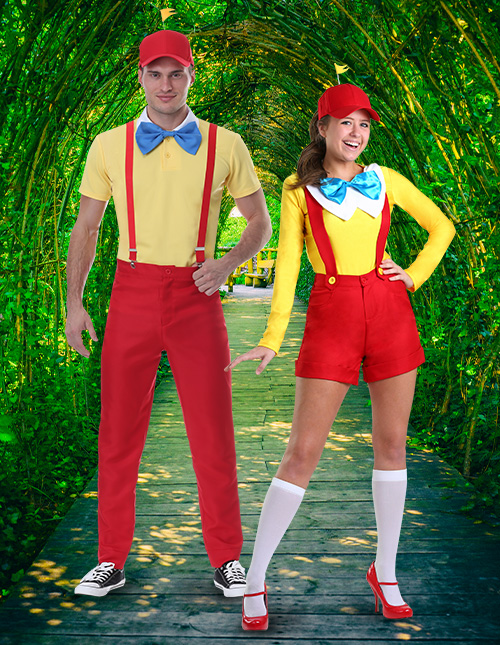 Do you always have a partner in crime? Then perhaps you and your other half are ready to jump into the role of Tweedle Dee and Tweedle Dum. The twin brothers have a bit of an argument in the classic rhyme, but end up going about their merry way after a crow swoops in to confuddle the duo. The most significant benefit of wearing one of our Tweedle Dee and Mad Hatter fancy dress options! We have plenty of styles for both men and women, so you can indulge in your Hatter-like ways.
Women's Mad Hatter Costume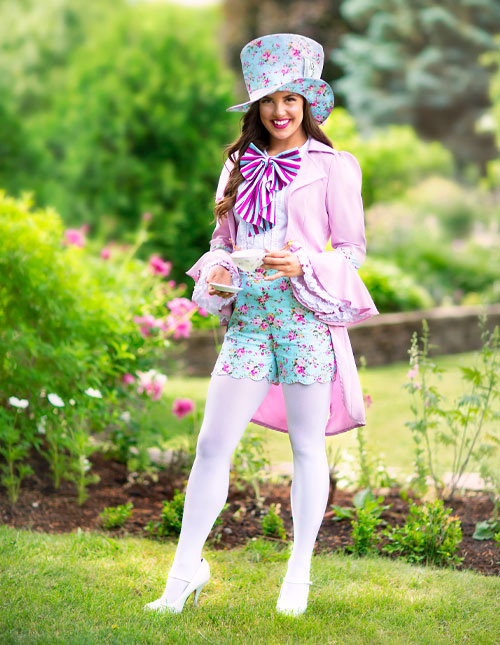 The classic Alice in Wonderland character has seen many different interpretations. From the lively Disney animated version to the Tim Burton live-action style, the Mad Hatter is quite open to interpretation. How about putting a brand new, colourful spin on the iconic character? This women's Mad Hatter costume is one of our many exclusive styles and adds a lovely splash of pink to the whole look. It blends silly style with a cute, which will have you ready for Wonderland in no time. This is the sort of look for any Mad Hatter who takes her tea with a little sugar and cream.
Mad Hatter Outfit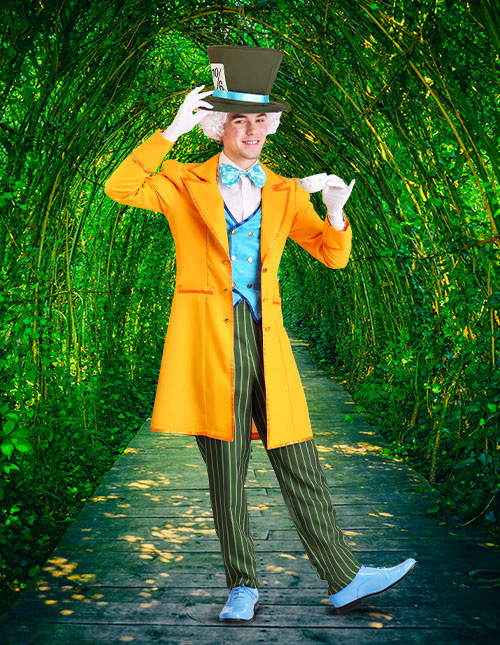 Want something a little more classic? Then you might want to look at Disney's Alice in Wonderland for inspiration. This version of the Mad Hatter combines some of the cartoonish notes from the film, but takes it in a direction that's perfect for real-life Hatters! As with each of our exclusive Made By Us options, this outfit truly is a step above the rest. This particular costume might just have you ready to call up the March Hare for a spot of tea for a very merry unbirthday party!
Mad Hatter Women's Costume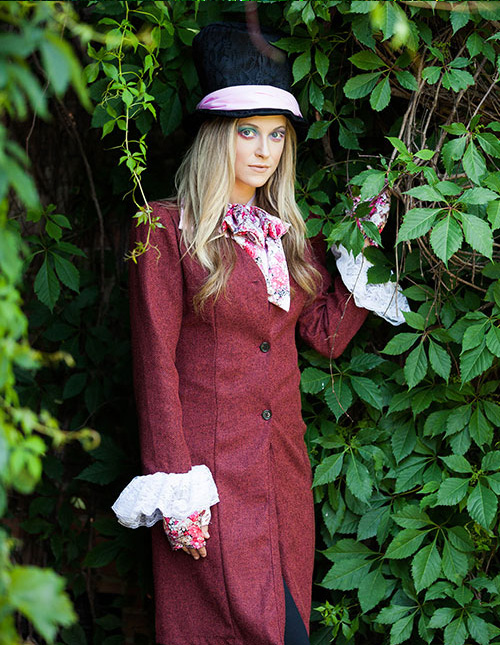 If you're a Hatter who wants some deeper colours and a more serious tone, then this Mad Hatter women's costume is what you want. It uses deeper reds and darker colour tones to help achieve a look that's a little less whimsical and a little more serious. It's the perfect look for fans of the more Tim Burton-esque styles inspired by the live-action Disney movies. We imagine this version of the Hatter takes her tea with no sugar or cream!
Authentic Mad Hatter Costume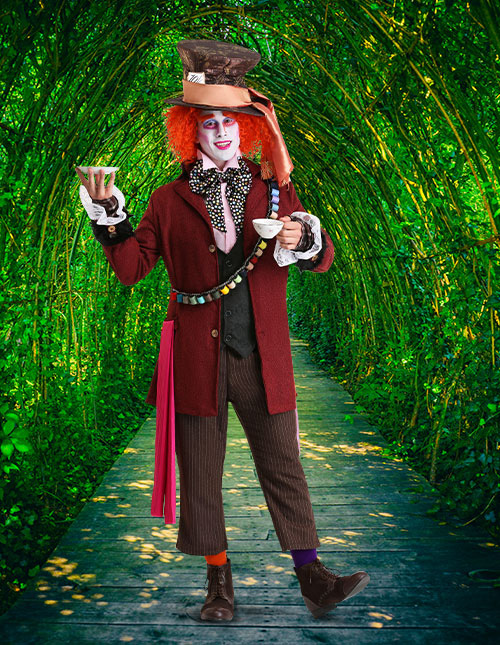 One of our most popular options crafts a look with a Tim Burton twist! The live-action film, directed by the creator of classics like Beetlejuice and a Nightmare Before Christmas, brought us a wild new Hatter, with bright orange hair and powdered white skin. Along with that was a new outfit that hinted at his craftier side! Deep hues of burgundy and a show-stopping bow and a top hat to match! This authentic Mad Hatter costume brings you all of the pieces that you need to create your own Tim Burton style look.
Alice Costume In An Illustrated Wonderland
The original Alice's Adventures in Wonderland is a surreal tale that takes Alice through odd locations and has her meeting even odder characters. Sir John Tenniel (that's right, he was knighted) even provided imaginative illustrations to help readers see the world described by Lewis Carroll. Their work provided the groundwork for how we view Wonderland today! Can you imagine yourself in the whimsical world yourself? Hmm, what might that look like…?
"Who are you?"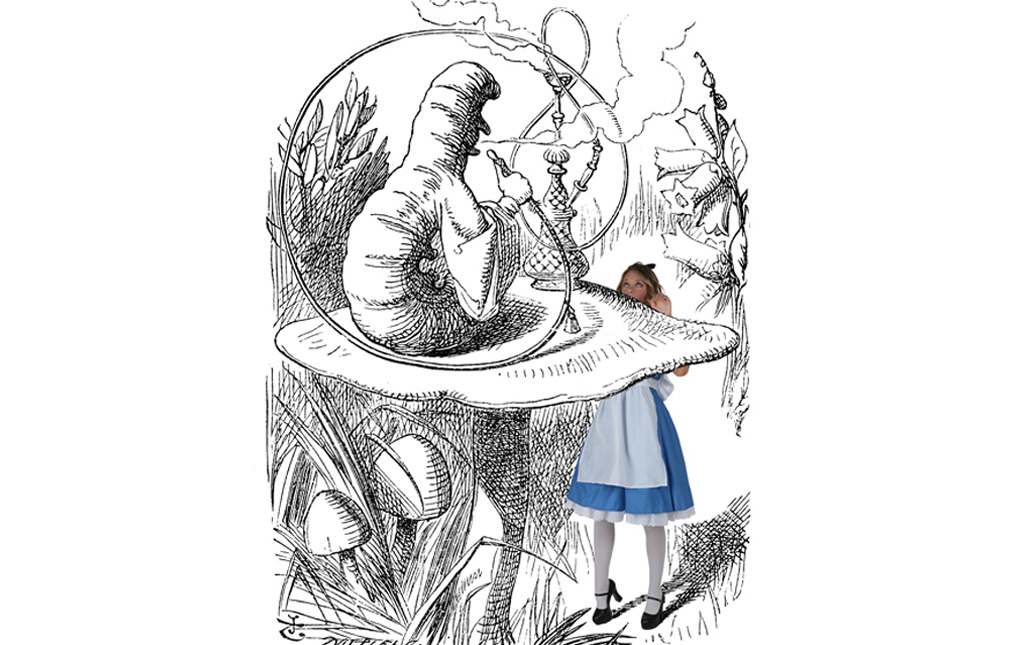 Alice meets the hookah-smoking caterpillar in the middle of Lewis Carroll's work. The rude caterpillar has a penchant for asking difficult questions. After a bit of quibbling, he informs her of a mushroom that will help her transform her size, which happens to be valuable information considering all of the size-altering snacks available in Wonderland! Actually, it'd be some useful information for the Mario Bros. now that we think about! Once she's back to her normal size, she heads off on her merry way.
"We're All Mad Here"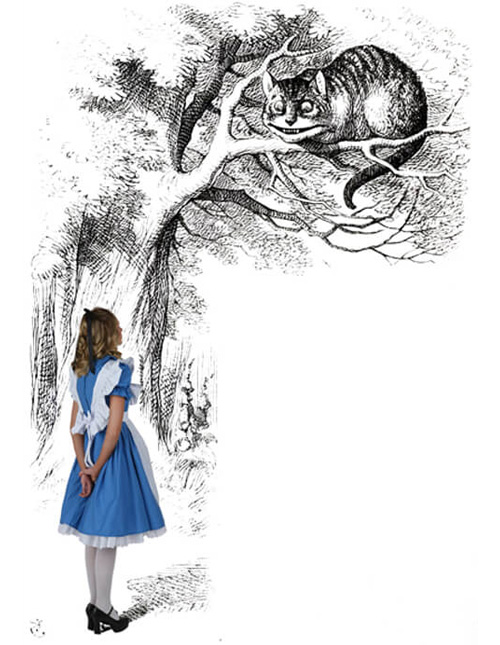 Not long after her meeting with the caterpillar, Alice stumbles upon a cat. Not an ordinary cat, mind you, but one who speaks! He also has a knack for disappearing into thin air…all but his sly grin, that is. After some back and forth, speaking in mind-twisting rhymes, the Cheshire Cat directs her to the March Hare's house. This, of course, leads to the classic tea party experience! He shows up a little later to baffle the King of Hearts and his card soldiers. Just like a cat in real life, he's an enigma not to be underestimated!
"Drink Me"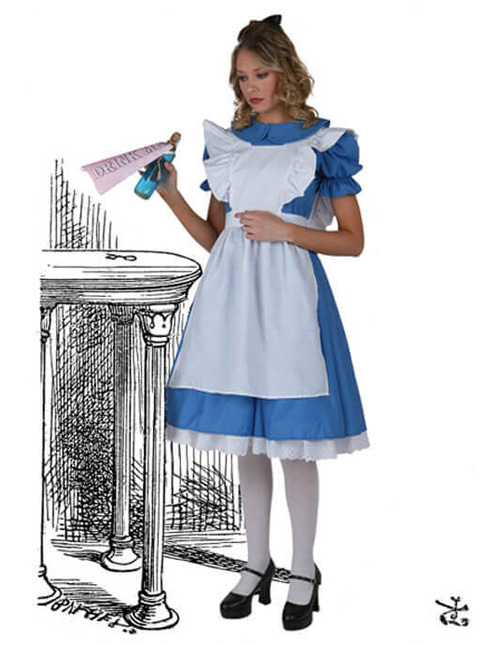 Curiosity seems to be one of the central themes of the story! Would you be brave enough to drink a mystery potion labelled "drink me" without knowing its contents? Well, Alice does just that and she's surprised with a change of perspective…quite literally! After she imbibes the enigmatic potable, her entire body shrinks in size! To an average person, it might be quite alarming, but for Alice, it allows her to travel through a curious door to her next adventure!
A Whimsical Tea Party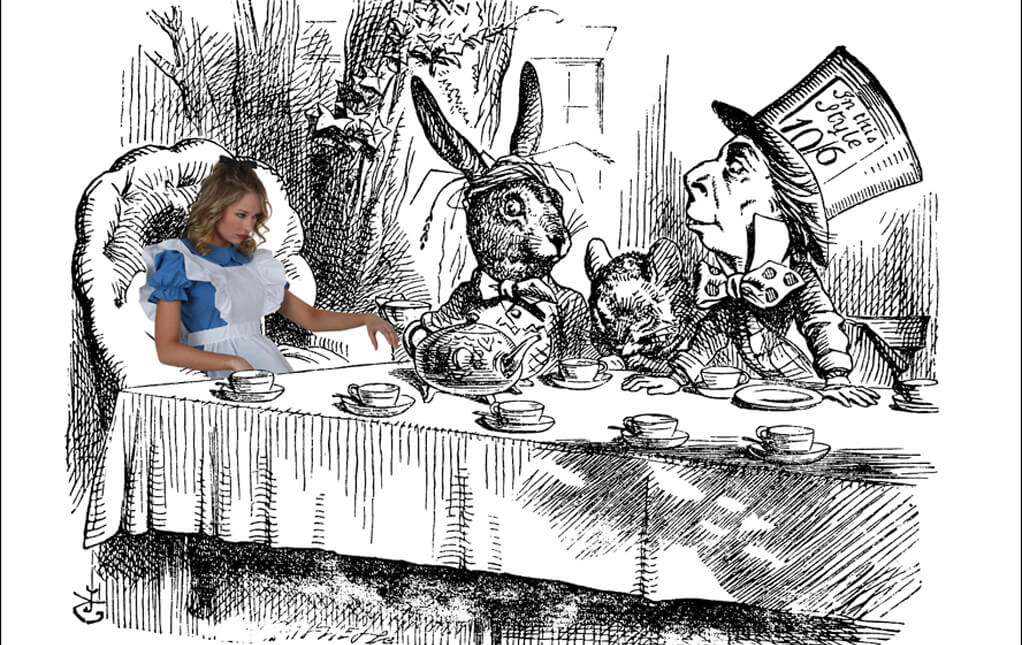 Ah, tea time! Could there be a better time of day? We'd be content if every hour of the day were tea time. Of course, if we had to take tea with the Mad Hatter and the March Hare all of the time, then we might lose our minds as well! The slightly disturbed duo has resigned to having tea time at all hours of the day due to a punishment administered to them by Time itself! Perhaps that's why the pair is so wacky! After Alice has her fill of tea (and their antics), she departs their company to continue her quest.
Wonderland Character Guide
Alice meets so many characters during her trip to Wonderland, it can be rather difficult to keep everything straight! Rabbits with pocket watches, foul-tempered caterpillars, and even a mouse who may or may not be French…it seems there's no sort of creature or character that she misses out on. We've created this visual guide, which is inspired by the Sir John Tenniel illustrations. You can see all of the kooky characters in the story and how Alice finds each one.