Harley Quinn Costumes & Fancy Dress
So you've finally done it. After many hours of mulling it over, you've decided to come over to the dark side. No, we're not talking about Star Wars. But yes, you've finally decided to join the exciting world of being a supervillain! Let us tell you, being a villain is much more fun than trying to play the hero all the time! You have so many things you need to do if you want to lead the life of a villain, but where do you even begin? Do you start cooking up some secret plans to take down Batman once and for all? Do you write a love letter to Mr. J? Do you try to adopt a pair of hyena pups named Bud and Lou? No, first you begin with the right Harley Quinn costume! It's quite possibly the most important piece to consider when becoming a notorious villain.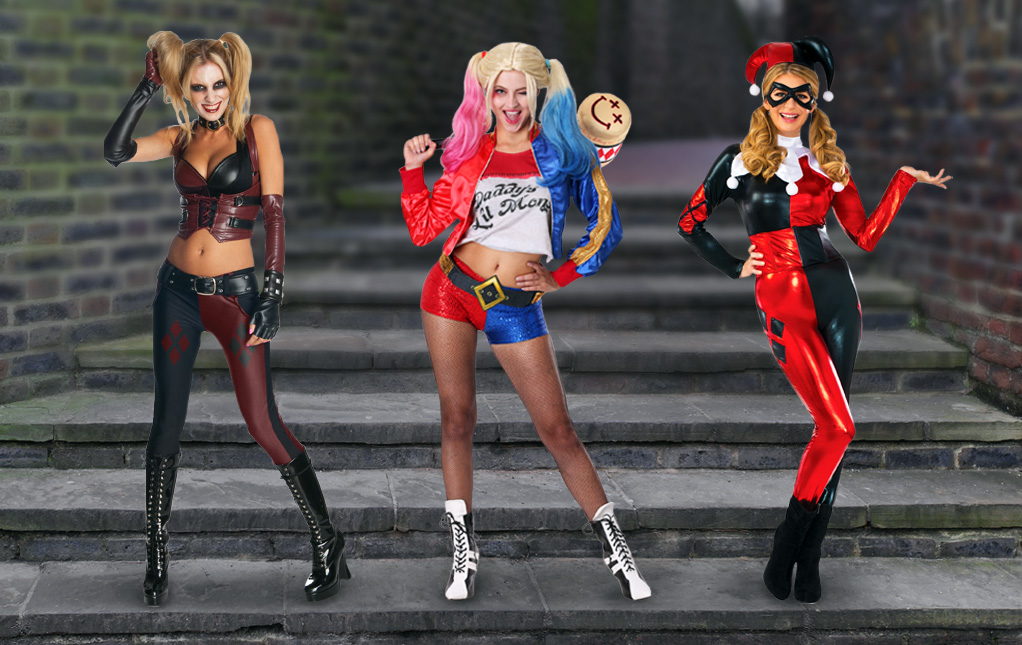 We have plenty of costumes and fancy dress to suit your needs and we'll help you go about selecting the look that's right for you! Whether you want to step into a classic Harley Quinn costume or if you're a gamer looking to find a Harley Quinn Arkham costume, we can show you the best outfits to wear when you've finally decided to embrace the villainous lifestyle. We'll go through some of our best costumes and give you a few tips on how to wear them to get the most dastardly style that Batman has ever seen!
Sexy Harley Quinn Costumes
Let's add a little spice to that supervillain style! After all, Harley is the type of girl that has a wild and unpredictable attitude, and that attitude has become a staple part of her best storylines in the comics. Her choice of outfits goes hand in hand with that! Of course, many versions of Harley's look have had a sexy spin to them, so we wouldn't be doing the character justice if we didn't talk about our sexy Harley Quinn costumes. Just check out some of our favourite ones below. With some form-fitting styles and high cut skirts, there are the types of outfits that add the right amount of sauciness to your classic Harley look.
Sexy Jester Outfit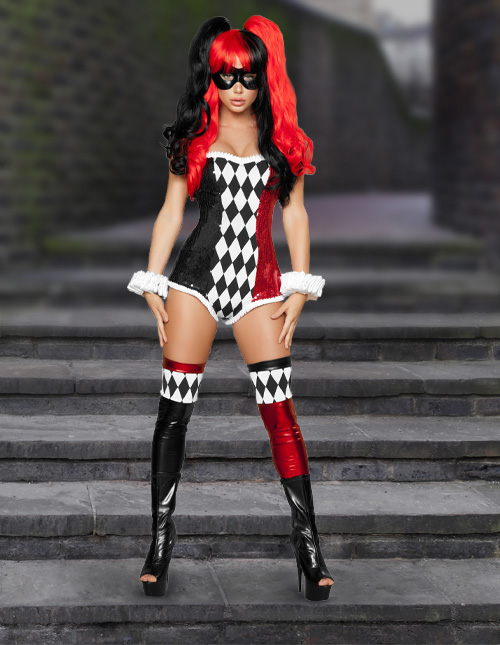 First up, let's look at a simple yet sexy bodysuit style look that any budding supervillain can feel great in. It combines sequins, black and white checkers, and a form fit to help you feel confident enough to craft your own devious plan! The Joker and Batman will both be powerless to your new bold look. Have a look at many of our clown accessories to complete the look YOUR way. This costume accessorises quite well with a colourful wig, some basic clown makeup and a pair of very sexy high heels!
Sexy Harley Quinn Dress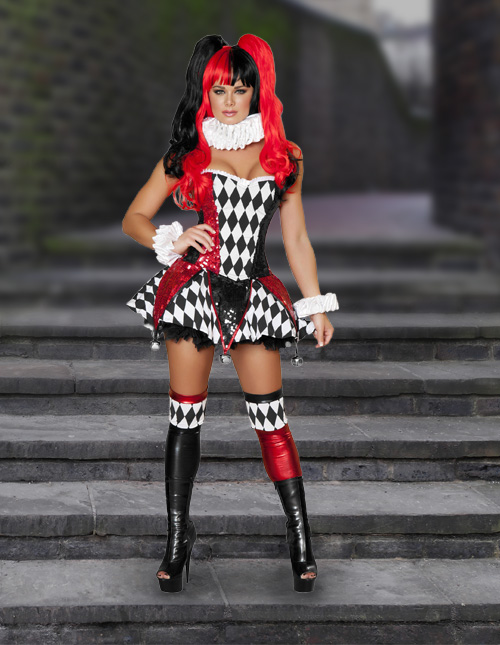 Sometimes a skirt just feels right! We have a ton of bodysuit-style Harley costumes, but some girls just need to twirl. And this sexy jester dress comes with one that you can totally twirl in! This is the kind of outfit you wear when you want some whimsical fun to go along with your villainous hunger for mayhem. Besides, some of Harley's acrobatic ninja-style moves look awesome while wearing a skirt… so that's just something to think about.
Sexy Harley Quinn Corset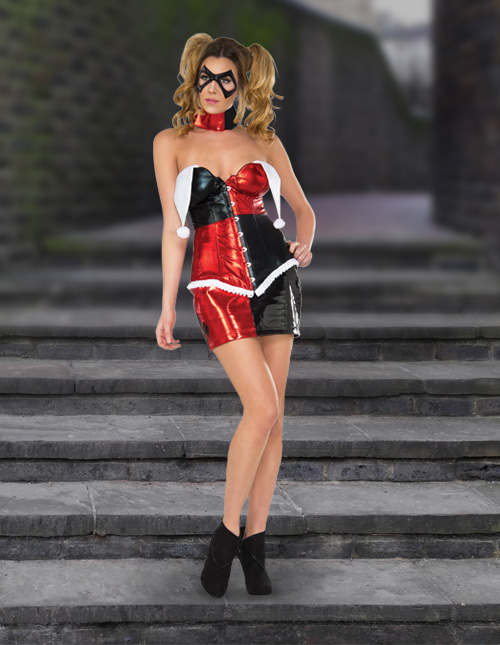 Corsets are another way to add a sexy flair to your look! Some women wear corsets to help accentuate their shape and this deluxe Harley Quinn Corset costume doesn't disappoint. Of course, it's essential to get one that can be adjusted to your liking—getting a comfortable fit is paramount if you plan on wearing one. This one, of course, brings the iconic jester style that Harley is known for, so you may just feel like having a little sparring match with Batman himself.
Sexy Harley Quinn Fancy Dress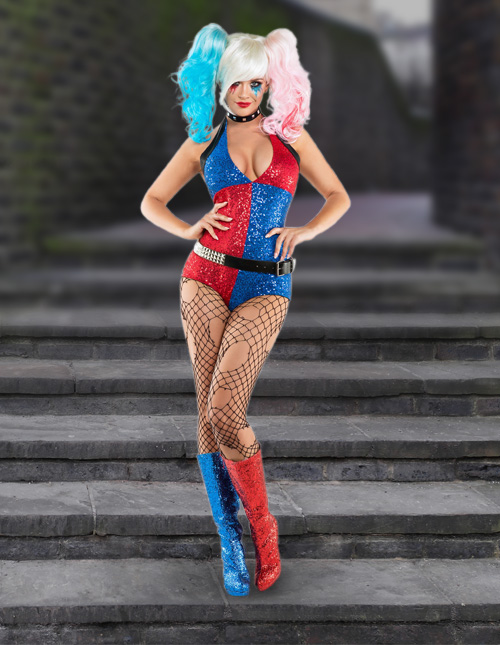 Harley Quinn's Suicide Squad put a modern twist on the look and there's plenty of room to play. This particular Daddy's Little Monster Costume turns the look into sexy, form-fitting bodysuit that rocks the red and blue colour scheme from the movie. It's a great way to cosplay as your favourite gal from Birds of Prey. Just make sure you pair this up with a baseball bat to get a look that authentic and sassy!
Harley Quinn Kids Costumes
We definitely have to bring it back to the kids! After all, even though adults can get into the mood of superheroes and villains, children are the purest fans of comic heroes. Harley did start as a character in a kid's cartoon, and now with DC Super Hero Girls, Harley has made a resurgence in popularity among kids.
DC Super Hero Girls Costume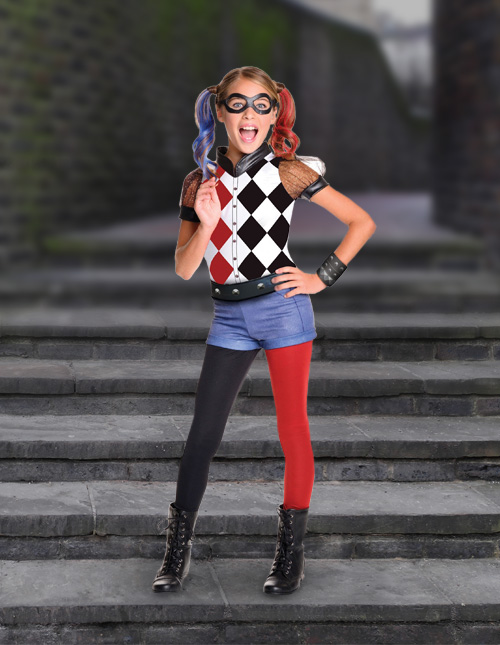 DC Super Hero Girls has really taken off! It chronicles the tale of popular DC superheroes during their rough high school days. Harley Quinn even goes to the same high school as Wonder Woman, Supergirl, and Batgirl in this wacky alternate iteration of the heroes. This superhero girls' Harley costume comes licensed from the series and is perfect for any young superhero in training.
Girls' Harley Quinn Costume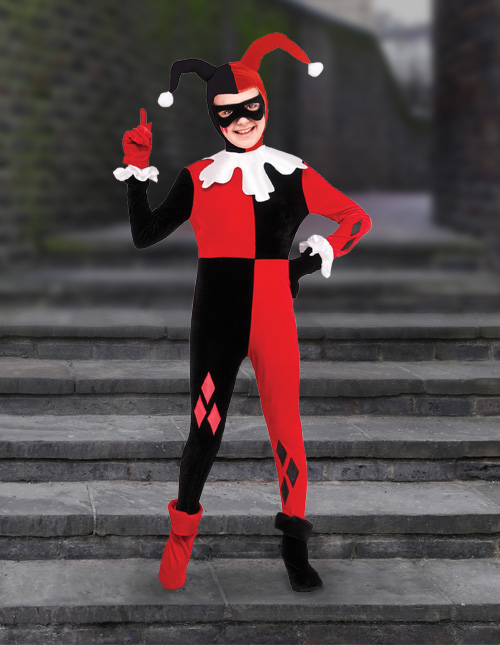 One of the best parts about Batman: The Animated Series is that you can share it with your kids when they finally start to show interest in the caped crusader. Of course, Harley Quinn is bound to be one of your child's favourite characters, so dressing up like her in this cartoon version of the Harley Quinn outfit is going to be like a dream come true.
Joker and Harley Quinn Costumes
Harley Quinn and the Joker are one wild couple. Their idea of a fun time is going on a citywide crime spree with their henchmen. Sometimes their relationship is portrayed as a chaotic mess. Other times, they're a love-struck duo bent on destruction. How will you and your significant other play the iconic couple? Well, that's entirely up to you, but here are a few suggestions.
Suicide Squad Joker and Harley Quinn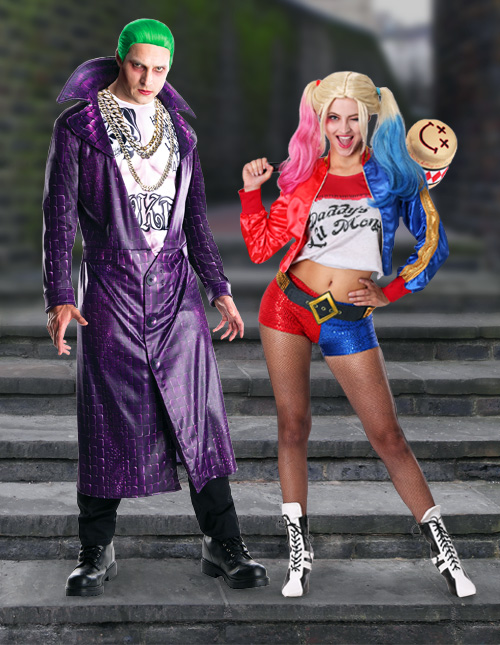 Suicide Squad turned the classic relationship on its head. Traditionally, the power dynamics put the Joker in charge of the duo, but in the 2016 movie, they shared a slightly more equal level of sovereignty in the relationship. You can recreate that modern Harley and Joker style look with these costumes, based on the film.
Classic Joker and Harley Quinn Fancy Dress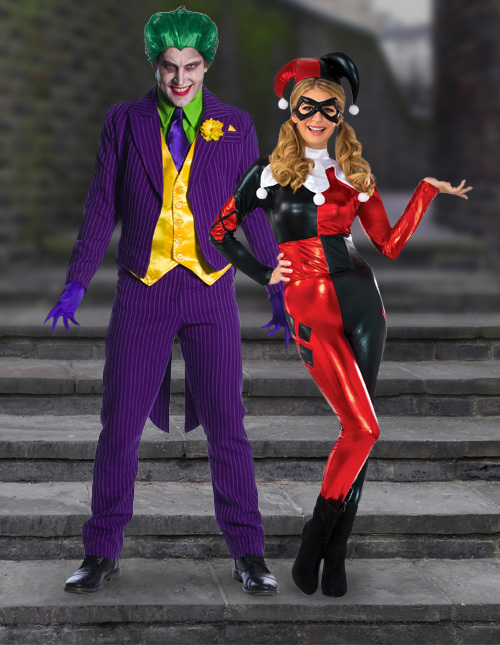 The other big look to pursue is the classic one! There's just something about the original look from Batman: The Animated Series. Maybe it's the simplified style. Maybe it's the cartoon-style antics that they engage in. Whatever it is, the classic look is always a hit at a costume party. These Harley Quinn and Joker costumes based on the series recreate that look with ease.
Harley Quinn Makeup Tutorial
Makeup is a big part of getting the Harley Quinn cosplay look down. In every version of the character, she always uses some clown makeup to craft her jester-like look. Well, we have a handy guide on how to create Harley's Suicide Squad look. Watch below to learn how to use some simple techniques to mimic the look of Margot Robbie!