Harry Potter Costume Ideas
Patronus! Wingardium leviosa! Lumos! Oh, hello there. You caught us! We were in the middle of practising our spells. Unfortunately, we haven't quite mastered how to cast them successfully, but can you blame us for trying! Ever since J.K. Rowling released the first Harry Potter book back in 1997, the world has been completely fascinated by the wizarding world. That's also the reason why we love Harry Potter costumes! Even if you're not quite skilled at the more advanced magical spells, you can still look like a professional wizard with one of our Harry Potter fancy dress ideas.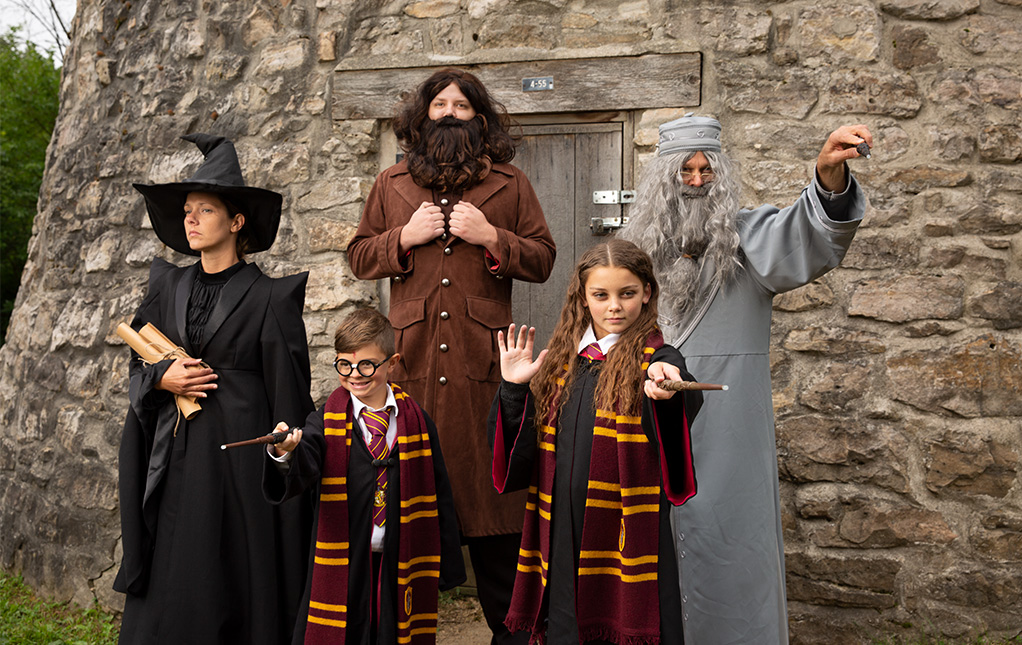 Choosing the right costume can be quite the challenge, though. Are you looking for something for yourself or perhaps you have a young one looking to walk the way of the wizard? Well, we have plenty of Harry Potter costume ideas for you to try out. No matter what size or style, we'll help you find the perfect look from your favourite fantasy series!
Get Sorted into Your House!
Being a student at Hogwarts means many years of great moments. Of course, the most significant moment that any young wizard can experience is finding out which Hogwarts House they'll be joining! Just imagine the tension as the young wizards and witches reach inside of the Sorting Hat. It's not like drawing lots out of an ordinary hat, that's for sure! We muggles have to be satisfied with doing the official test on Pottermore! Well, if you already know your house, then perhaps it's time that you began dressing for the role. Fortunately, you don't actually need to enroll at Hogwarts to acquire one of the official wizard robes when we have various ones right here!
Gryffindor Robe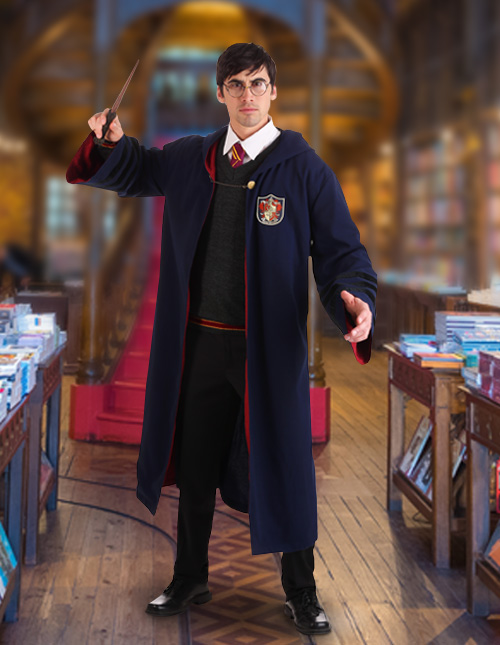 Gryffindor has to be one of the most famous houses. Why? Well, most of the heroes of the Harry Potter series are all from Gryffindor for starters! Harry, Ron, and Hermione all hail from the house. The prestigious house sports the lion as their symbolic animal, and they value traits such as bravery and determination. Quite fittingly, red and gold are the house colours, which are represented in the classic Harry Potter Gryffindor Fancy Dress Robes. If that sounds like your cup of tea, then you might just feel right at home when you slip into these wizard's robes.
Slytherin Robe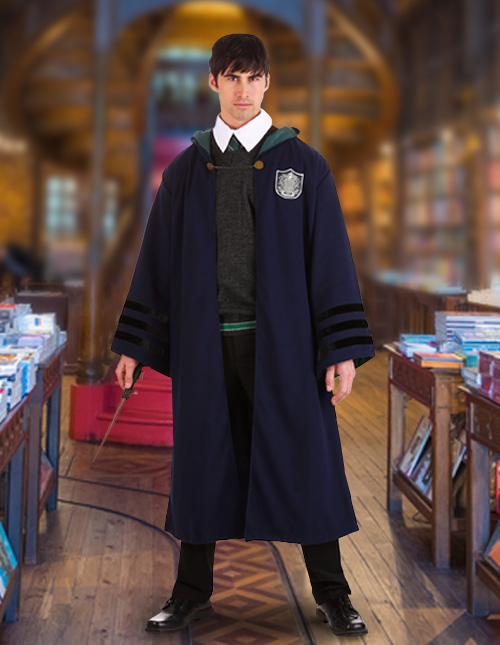 Everyone seems to misunderstand the rather sly House Slytherin students. Many dark wizards indeed came from the house (Malfoy wasn't exactly pleasant either), but that's only because of Slytherin values such as ambition and cunning. Those traits by themselves aren't malevolent…but they are traits that many scheming villains seem to gravitate toward. And yes, Voldemort DID start out as just a scheming Slytherin student, but don't let that lead you to believe that all wizards from that particular house are bad apples. Slytherin Robes carry the colours of green and silver, bringing a slightly devious colour scheme to the forefront. If you're a bit more devious than most, then perhaps Slytherin is the house for you.
Ravenclaw Robe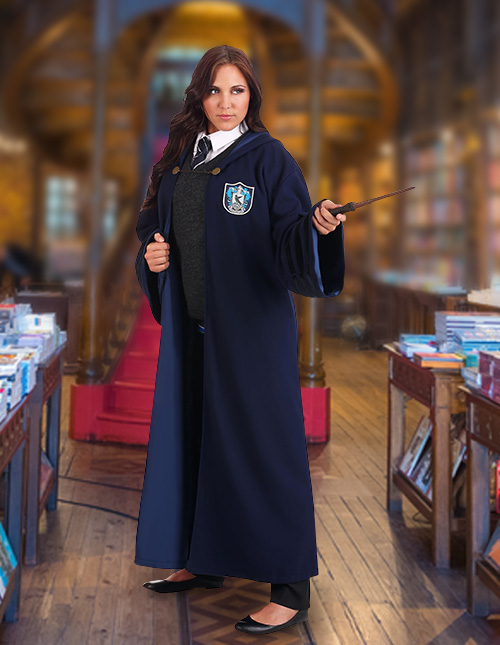 And then, there's Ravenclaw. The students of House Ravenclaw are known for their excellence in intellectual affairs and enigmatic attitudes. Those wise wizards value wit and outside the box thinking and it's probably why the mysterious bird, the raven, is the symbol of the wizard house. If you think you'd fit in with the prestigious witches of the house, then you might just want to dress yourself in their signature dark blues of these Ravenclaw Robes. Based on the ones worn by the likes of Luna Lovegood and Cho Chang, they'll help you tap into your more studious attributes!
Hufflepuff Robe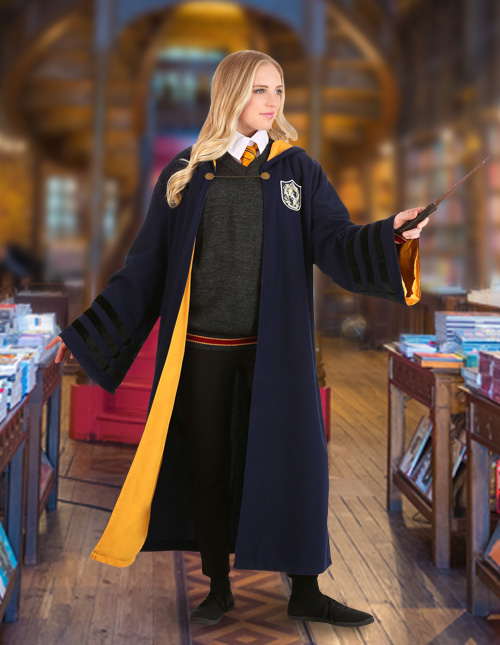 The Hufflepuff students truly are the unsung heroes of the wizarding world. They don't get caught up in unhealthy feuds. They don't generally get lured into dark magic. They're the honourable wizards who make the world go round. They're known for doing the right thing, even if it means rolling up their sleeves for a bit of hard work. Some might call them ordinary, but even ordinary wizards are capable of quite amazing things. Just take a look at Newt Scamander! If you're the type of wizard who's ready to show the world what Hufflepuff can do, then you'll want one of these Hufflepuff robes!
Harry Potter Kids' Costumes
The Harry Potter series has everything children love in a good story! It has the chosen one hero, a school that teaches magic instead of boring subjects taught to normal students, and it even has fantastic creatures! It's a series that inspires a sense of wonder into young readers to this day, and it's quite easy to see why kids would want to dress up as their favourite wizards and witches. The good news is that a Harry Potter costume for kids makes it easier than ever to make your child feel like a skilled spell caster. We've compiled a short list of our favourite ones below.
Child Hermione Granger Fancy Dress Costume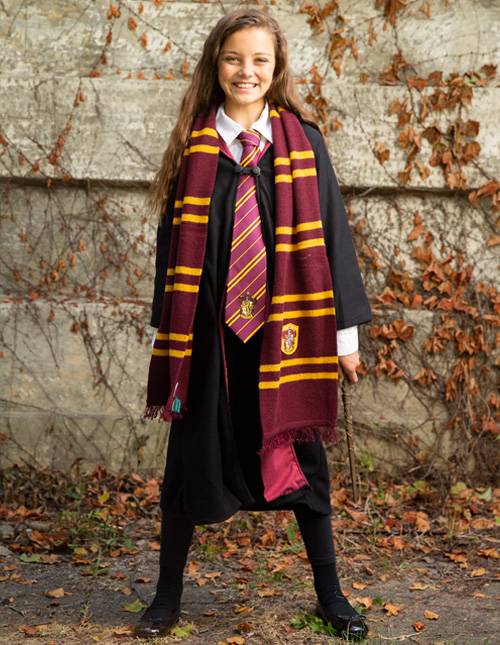 We know what you might be thinking. Shouldn't Harry be at the very top of the list? After all, he IS the main character of the book series. Well, not on our list! Hermione proved herself to be the superior wizard on many occasions, so we have no qualms about putting this child Hermione costume at the very top of our list of favourite Harry Potter costumes for kids. It comes with her Gryffindor robe, so all you have to do is add a few accessories and you can customise the look for your young wizard-in-training.
Ron Weasley Costume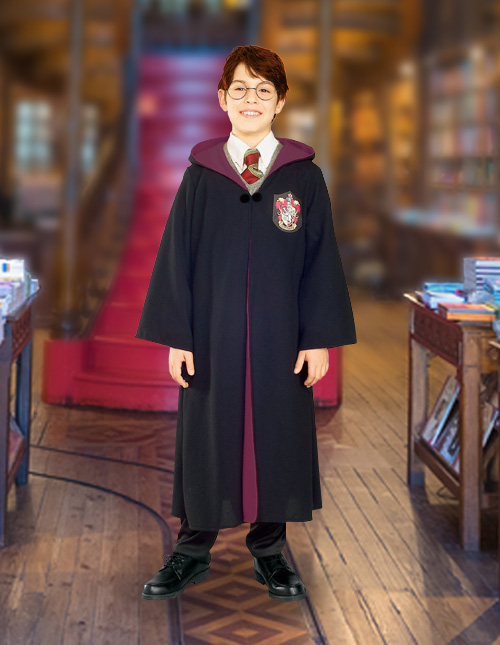 Ron might not be the brightest bulb in the bunch, but the boy has heart and he's fiercely loyal to his friends! Sometimes, that's all you need to be a good wizard. He's stuck with his pal, Harry, from the beginning, so we can't help but love the plucky young Weasley! That's why we place this Ron Weasley costume for kids next in our list. Your child will be ready to stand by Harry through thick and thin when they wear this officially licensed outfit!
Harry Potter Halloween Costume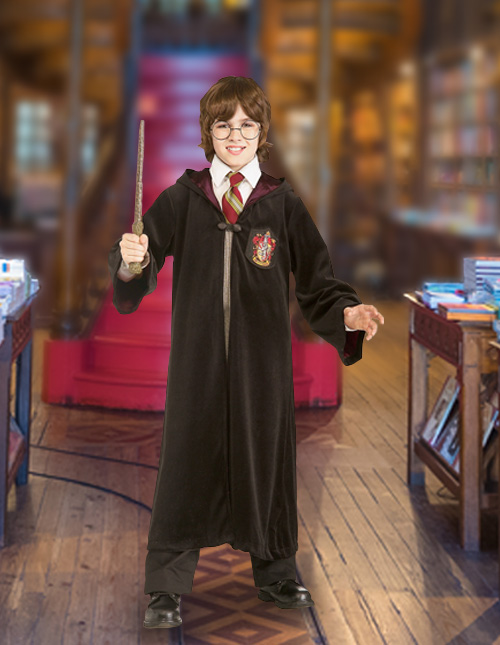 Even if we do love some of the other choices, at the end of the day, Harry Potter still is the man of the hour! Many children will want to become the chosen one himself, which is why we have this Harry Potter Halloween costume. Its simple design makes it easy for any child to transform into The Boy Who Lived. We suggest pairing it up with some of our Gryffindor accessories to craft a look that's entirely film accurate.
Newt Scamander Costume for Kids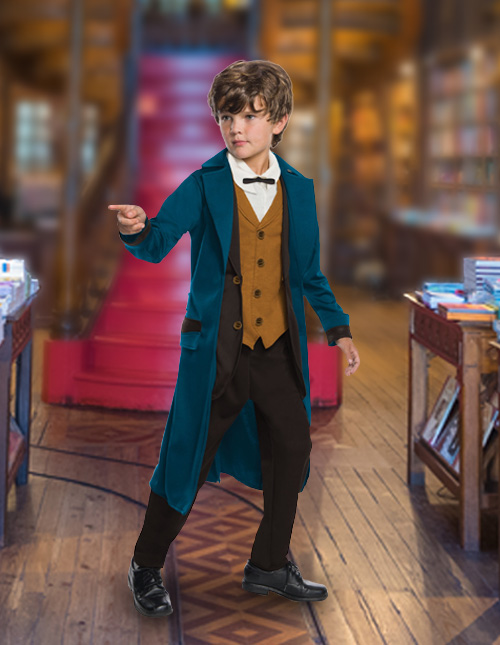 Although we didn't get a good look into Newt until Fantastic Beasts and Where to Find Them came out, we still wanted to bring him onto our list! The timid wizard has a natural affinity for animals, so this Newt Scamander costume is an excellent look for any child who loves animals. The costume captures his signature look from the films, so your little one will be ready to head out on a brand new adventure with their Bowtruckle friend!
Fantastic Beasts Costumes
When the original Harry Potter series ended, we couldn't help but feel a lingering sense of sadness, knowing that the journey had ended. Then, Fantastic Beasts and Where to Find Them came out and brought us into a whole new adventure in the world of Harry Potter! With new characters like Newt Scamander and Tina Goldstein, our love of the wizarding world has been reinvigorated. Our love of wizard costumes has been reinvigorated as well! These Fantastic Beasts Costumes bring new styles for aspiring wizards.
Newt Scamander Costume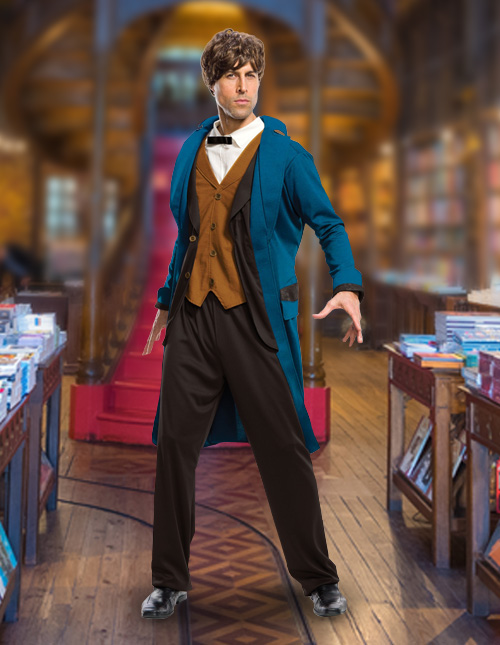 If you thought that we were done talking about Newt, then think again! The ever handsome Eddie Redmayne plays the character with such awkwardness that we can't help but love the well-meaning wizard. Our Newt Scamander costumes do a great job of capturing the look from the movie and make for a great costume for anyone who still has that awkward energy in adulthood, like our good friend, Newt.
Porpentina 'Tina' Goldstein Costume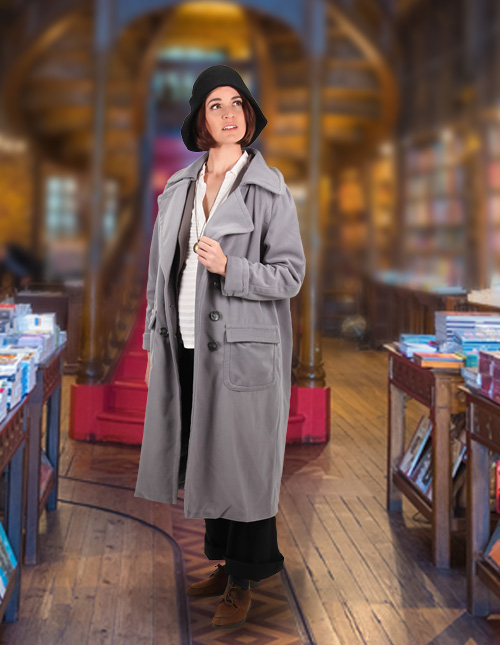 You can expect real results when Tina Goldstein is on the job! She's the best Auror in the States and she has a nose for sniffing out some of the most perplexing cases in the wizarding world. If you're looking for a unique look for your foray into magic, then you might want to consider this Tina Goldstein coat, which looks just like the one seen in the films.