Sexy Costumes
How many chances do you get to dress up every year? And when you do get to dress up in costume, how do you want to let loose? Think about it: when dressing up, we allow a different part of us to shine, a part that's different from the façade we polish up in our day to day. Whether you dress up once a year (for Halloween) or once a month (just for fun), sexy costumes are especially good at breaking people out of their shells!
Where are you going this Halloween? When you're figuring out your costume, your destination is essential to keep in mind. Will you be heading to an outdoor music festival? If so, you might want to choose a sexy Halloween costume that doesn't require high heels that will sink into the lawn or gravel. Instead, choose a costume that'll allow you to wear combat boots, like one of the sexy soldier costumes.
Or you could choose something unexpected, like wearing high top sneakers with a trendy witch costume. Of course, footwear is only a teeny part of your decision-making process. There are a lot of sexy Halloween costume ideas on this page, and each costume can be customised with accessories, layers, and costume makeup for a creative and unexpected look. Check out the rest of the selection below to whittle down your ideas to a few choice looks!
Sexy Halloween Costumes for Women
Love 'em or not, there's no denying that ladies' sexy Halloween costumes are a whole lot of fun! And even better, from club events to private parties in people's living rooms, there are plenty of reasons to let your wild side loose. If you choose the right costume, you can totally direct the vibe of the whole event.
For instance, commanding everyone to get up and dance is much more convincing when you're dressed as a powerful, sexy Cleopatra. Then again, you could choose a look that you might be able to wear throughout the year. The flapper costume is an excellent example of this. Flappers are great for New Year's Eve and 1920s themed events (a theme that will never get old). When you're scrolling through these looks, keep your own interests in mind so that you can build up your character as you like. sexy french maid with a few tricks up her sleeve? Now that sounds like a fun night!
Sexy Devil Costume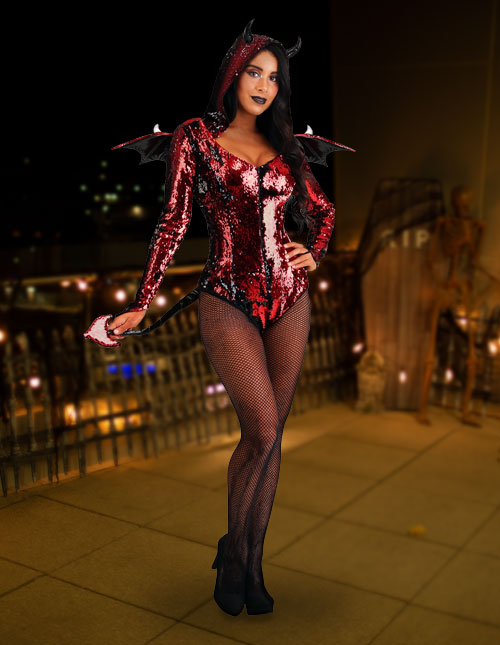 Some people have been dressing up as a devil for Halloween since they were itty bitty kiddos. And others are just getting into being mischievous. So whether this is your first devil costume or you're ramping up your basic red dress and horns for a full-on sexy jumpsuit or dress, you have options! Choose from faux red leather, gothic demon dresses, or a little sparkly number that'll wow a crowd as soon as you walk into the room.
Sexy Nurse Costume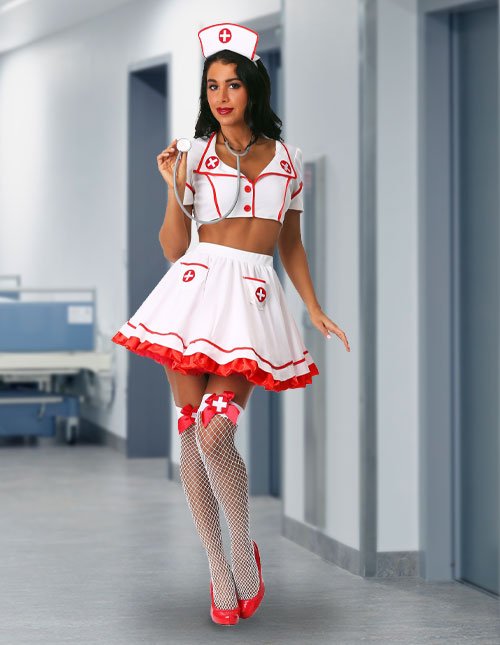 Some classics are classics for a reason. While the sexy nurse costume makes for a fun Halloween, you can also use it if your partner comes down with a cold. What a great way to make sure that cup of tea and toast comes with good memories. Different styles of nurse costumes can be accessorised to make the costume your own. From long gloves to stockings and even wigs, you can take your sexy nurse costume as far as you want. Are you looking to add a spooky twist to your costume? Add fake blood and dramatic makeup to give the nurse costume a zombie twist!
Sexy School Girl Costume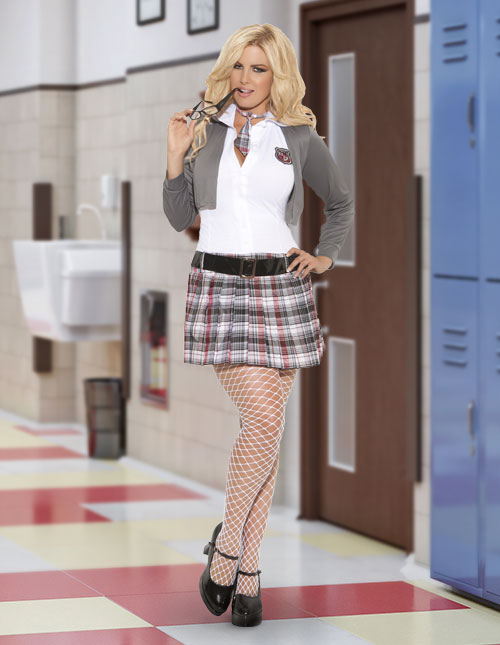 A classic made even more famous than before by Britney Spears, this costume will never go out of style. While the plaid skirt, white collared shirt, and pigtails are the main aspects of the sexy schoolgirl costume, you can make it your own with thigh or knee-high socks, blazers, and plenty of bubblegum.
Sexy Vampire Costumes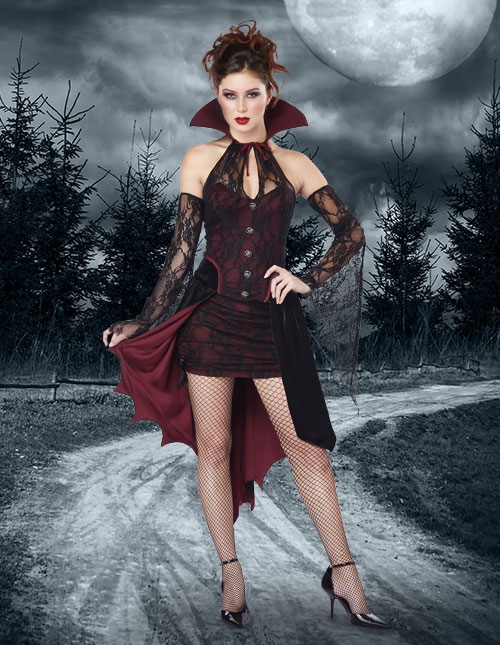 There are so many ways of creating the perfect sexy vampire costume. Maybe that's because vampires can live for centuries—we're talking in fiction here—and that covers a lot of time, fashion-wise! But you know the basic vampire look. The classic vampire costume includes draping sleeves, bustiers, and lush velvet. But you can decide what kind of vampire suits you best.
Sexy 80s Costume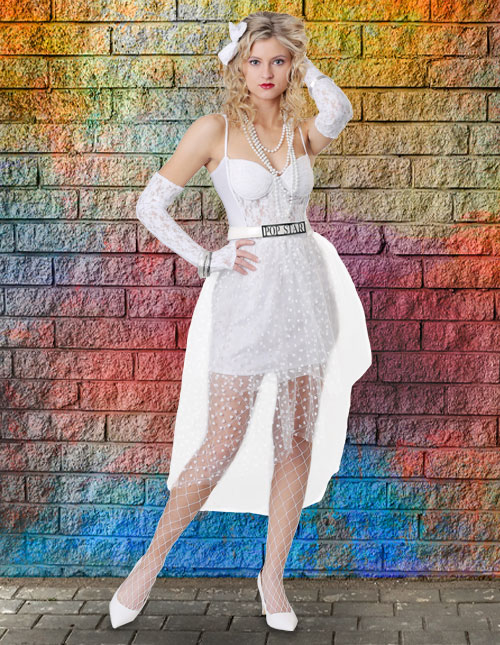 The eighties is a decade that popped out so many awesome fashionistas. Take your pick of the litter. Grace Jones, Boy George, Cher, and Madonna…all of these icons can make for some awesome costumes! When you're putting together your sexy 80s costume, keep in mind a few details like big hair, generous blush, and plenty of colour. Your retro sexy fancy dress is sure to make you feel like you're in vogue this Halloween so get ready to strike a pose!
Sexy Fancy Dress Costumes
Creating your own character for Halloween is fun enough, but fancy-dress costumes allow you to become someone else completely. Channelling your favourite characters from movies, television, books, and even history can be a whole lot of fun. With the right pick, you'll be able to know who, out of your fellow revellers, has the same taste as you. For instance, while some people might just think you're wearing a sexy clown costume, you'll recognise the true horror fans when they know you're doing a great interpretation of Pennywise from IT!
Whether you're choosing a character that's already sexy or you're adding a spicy twist to a more modest role, you'll discover delightful looks in this section. Portraying all sorts of characters from horror movies to fairy tale princesses, you'll find costumes that'll work for every mood you might be in.
Sexy Scary Halloween Costumes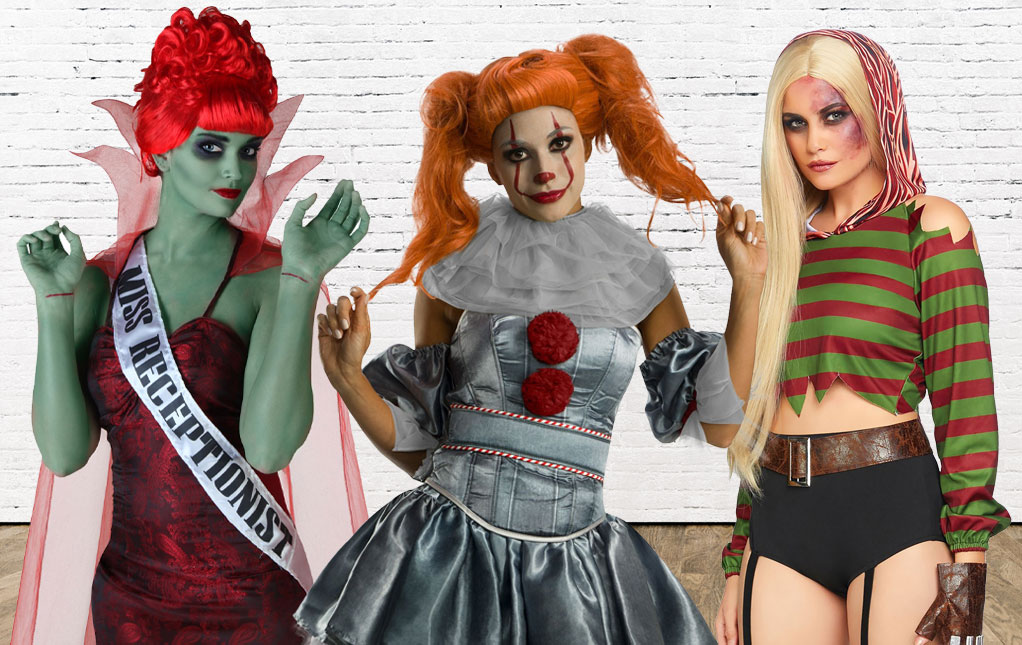 Rocking a scary sexy costume is the perfect way to celebrate the spirit of the season! Let's face it, this is a time of year when spooky reigns supreme. We want to curl up and revisit all our favourite horror movies. That's why slipping into the sexy version of a well-known horror icon is sure to be a lot of fun. Whether you're headed to a haunted house tour or you're looking for a costume that'll both impress and petrify at your next Halloween event, this is a category worth exploring!
Sexy Superhero Costumes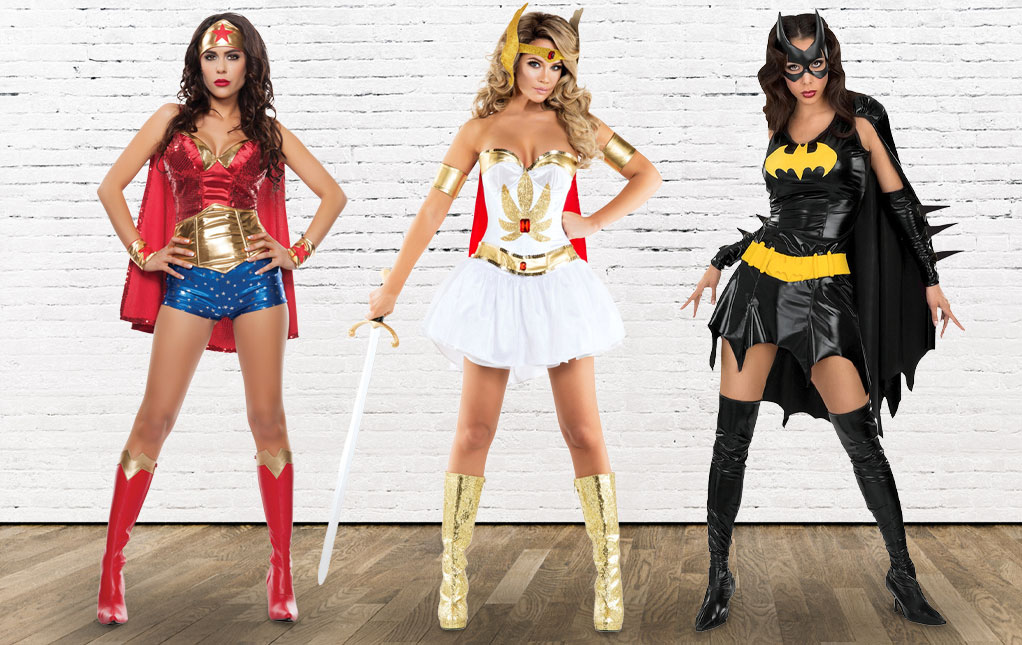 Some people have been wearing superhero costumes since they were little. The desire to save the world starts pretty early on! Spandex and capes have been calling to us since we could totter around and pretend to save the day. You don't have to leave that all behind just because you're looking for sexy adult costumes.
These superhero costumes allow us to take the stretchy spandex, shiny material, and a cape or two and give them an adult twist. And we have to say, if you're looking for a costume that's profile pic ready, a heroic stance is easy to take when wearing a grown-up style cape! The best part is, if you're looking to put together a sexy group of Halloween costumes, this is a great theme to tap into. You might not have the ability to fly and your supercar might not shoot jets of fire out the back, but when you're wearing one of these looks, you can totally save the day this Halloween!
Sexy Halloween Costumes for Couples
"Aww, you two are so cute together!" To be honest, coming up with a couple's costume can be painful. You've got to find a look that you like, your partner likes, and it has to suit the personality of your relationship. To be honest, the sexy Halloween ideas are too many to list, so we kept this section shorter than the rest. It's a matter of too many options, really! While we have a couple of examples below, you can always check out our couple's costume generator to find the perfect combined costume this Halloween!
Sexy Halloween Costumes for Couples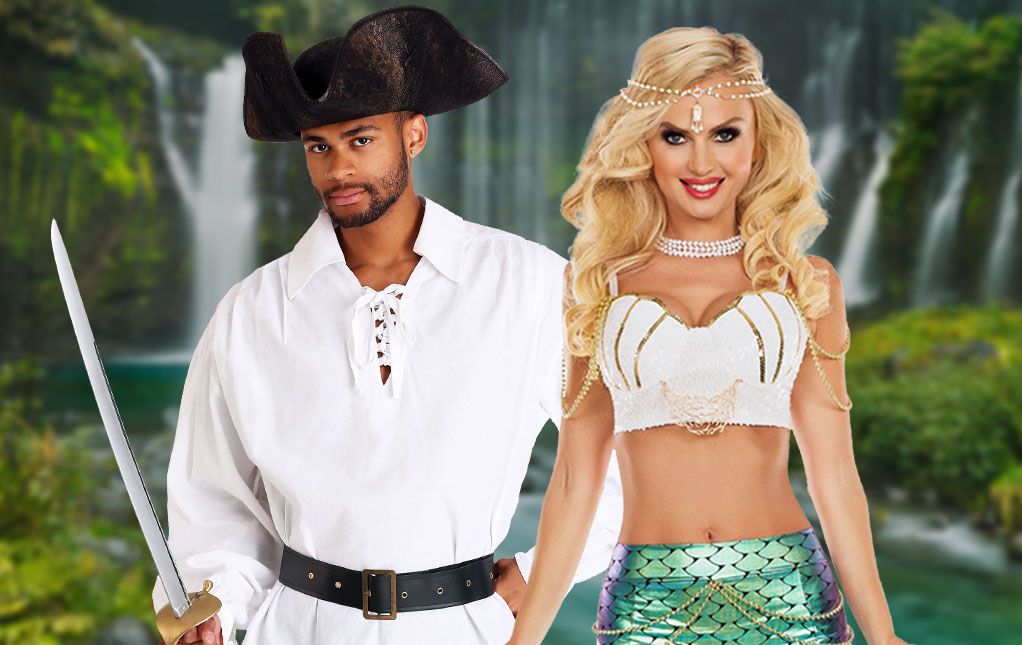 What's more romantic than a meet-cute on the high seas? Pairing a rugged pirate with a sparkly mermaid is a great couple's costume for people who love the sea. When it comes to sexy couple Halloween costumes, this is one that you might be able to wear again when summer comes around for a pool party.
Sexy Caveman Costumes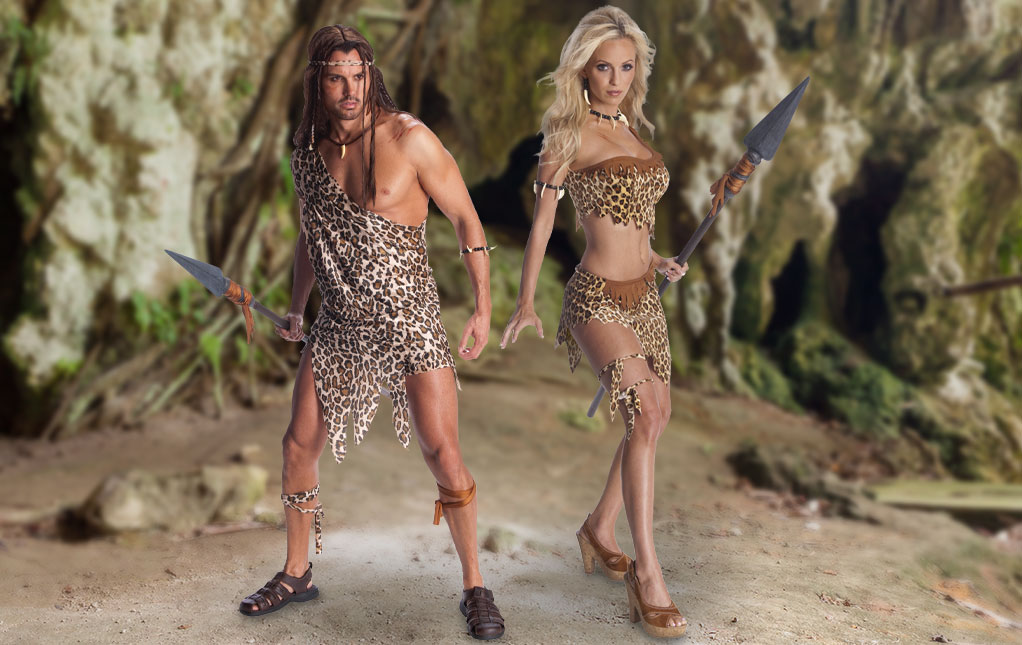 Wouldn't it be lovely to leave the trappings of modern society behind for a night? The classic caveman costume is timeless with simple shapes and a wild leopard print look. These costumes are great on their own but if Halloween night is turning out to be rather chilly, layer these costumes with leggings and fur-trimmed boots so you can stay sexy and stop shivering all at once!
Sexy Cosplay Costumes
Are you heading to a convention this year? Do you have a vision for a particular character but don't know where to start? Finding sexy dress-up costumes that are high-quality enough to wear to an event and flexible enough to make your own can be tricky. Begin by taking our high-quality costumes and adding on your own details both through DIY and by adding accessories to your basket. Check out our exclusive costumes as well as the cosplay category to get your convention look started!
Sexy Adult Costumes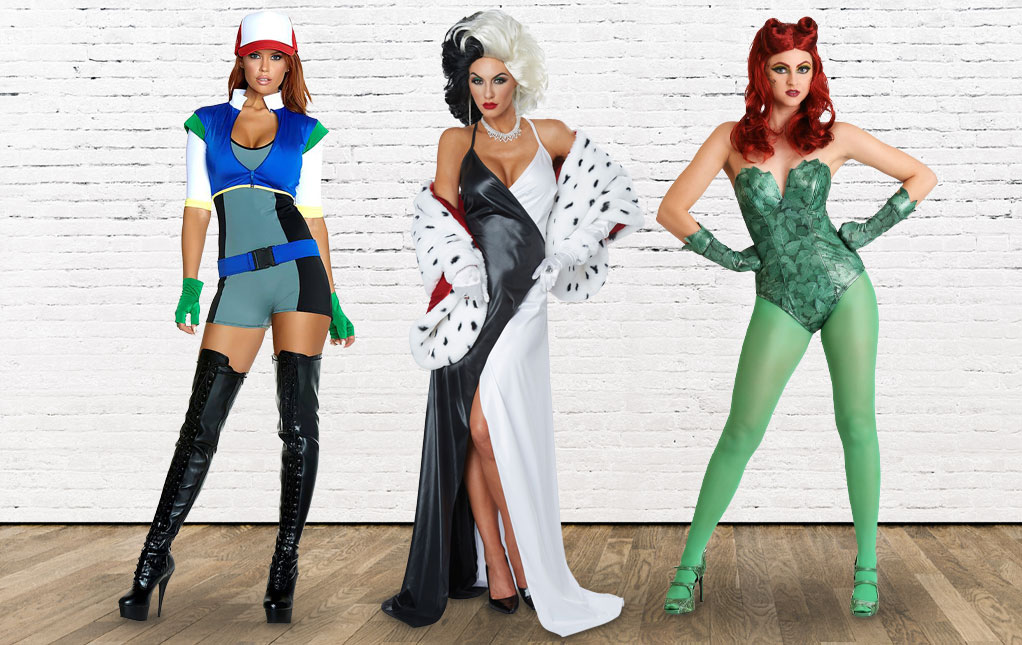 There's no feeling like transforming into someone completely different when you slip into a high-quality costume that you've picked out for yourself! These costumes of characters from your favourite movies and shows can make you anyone that you want to be. Whether you're looking for some serious sexy cosplay or you simply want to buy a gorgeous dress that's ready to go as soon as it arrives at your door, you'll find that everything feels different when you step into character. The best sexy Halloween costumes inspire you to be more creative and excited about your every day! You can tell the difference when you try these distinct outfits on. Being able to really transform into character is all about the details. Lush fabrics, unique cuts, and a flair for the dramatic all make for sexy adult Halloween costumes that are sure to make memories of any type of event stand out loud!