Halloween Costumes for Women
Some days it's entirely simple to roll out of bed, grab an outfit that's appropriate for the day, and head out the door. When there's a special occasion to dress for, however, it can feel like your entire closet is a let-down. From your festive holiday jumpers to your favourite pair of shoes, your standard wardrobe doesn't always hit the mark. The good news: you've found us, and we can help you get ready for any out-of-the-ordinary occasion with Halloween costume ideas for women!
We're proud to offer the largest and most diverse assortment of costumes for women! When you shop with us, we know you'll find the look that's perfect for Halloween or any fancy dress occasion. You'll find something that compliments your unique style and allows you to express your love for a variety of topics and fandoms. And whether you're looking for a costume accessory that polishes your own creation or you want to coordinate an elaborate group costume, you'll find we have the tools to get you ready!
Women's Fancy Dress Costumes
Sometimes when it comes to fancy-dress parties, the most popular costumes aren't the name of the game. Instead of replicating a character, taking inspiration from chilling monsters, film darlings, cult classics, and blatantly silly ideas can help you create original costumes that better fit the occasion.
Maybe your closest friend is hosting a clown-themed party. You're sure to see plenty of Pennywise impersonators, but you could choose to wear an unrelated goofy or grotesque clown costume. If you and the family are heading to a film premiere, you may want to go in character. However, instead of wearing a cosplay-worthy ensemble, subtlety might be preferred. Perhaps Mum and Dad host a New Year's Eve party with a different decade theme each time, and you need a 1950s outfit. Or it could be the company holiday gathering and you want to be festive but professional. Whatever the need, you'll find a costume or outfit in our selection that's perfect for the party!
Scary Women's Halloween Costumes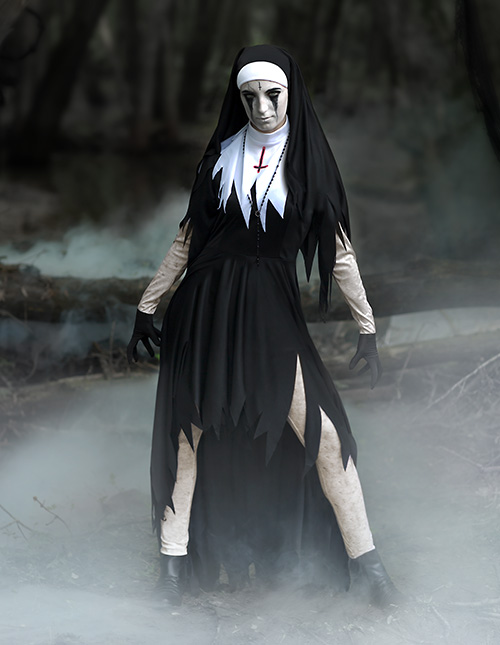 It's hard to go wrong with a scary Halloween costume. Phobias vary by the individual, so there's plenty to choose from if you're looking for something spooky for your costume party. You could dress as a dreadful nun that belongs in a horror film instead of your home. Combine terror and elegance as a vampire or dark angel. The classics aren't going anywhere, so picking a werewolf or skeleton costume would have you ready for years to come! Turn up the fear factor on any scary costume with a wig and makeup to give you the gruesome locks and dark sunken eyes of the dearly departed.
Halloween Outfits for Women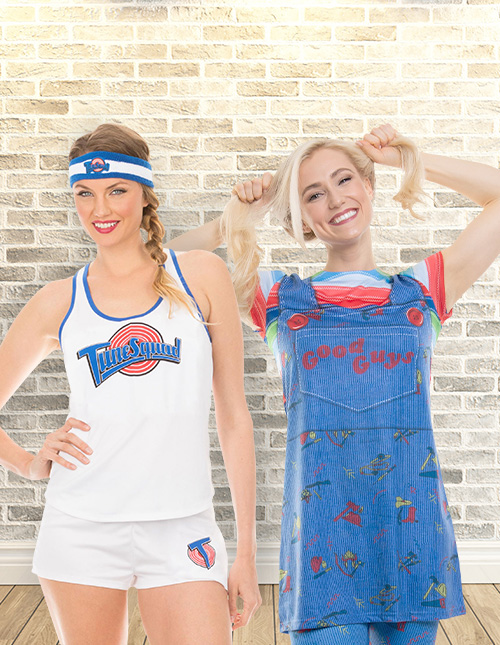 No matter the theme, be ready for the holiday with our costume apparel. With selections like a dress that turns you into Chucky from Child's Play and suits the Joker would love, every day can be a fancy-dress delight! Take a turn on the court as part of the Tune Squad with a Space Jam tank top and athletic shorts combo. Head to work or class in a Halloween jumper or dress that celebrates your favourite holiday season but keeps with dress code. Or cuddle up for a cosy movie night at home with a pyjama suit that'll keep you warm at home but will also have you ready for any costume party!
Funny Women's Halloween Costumes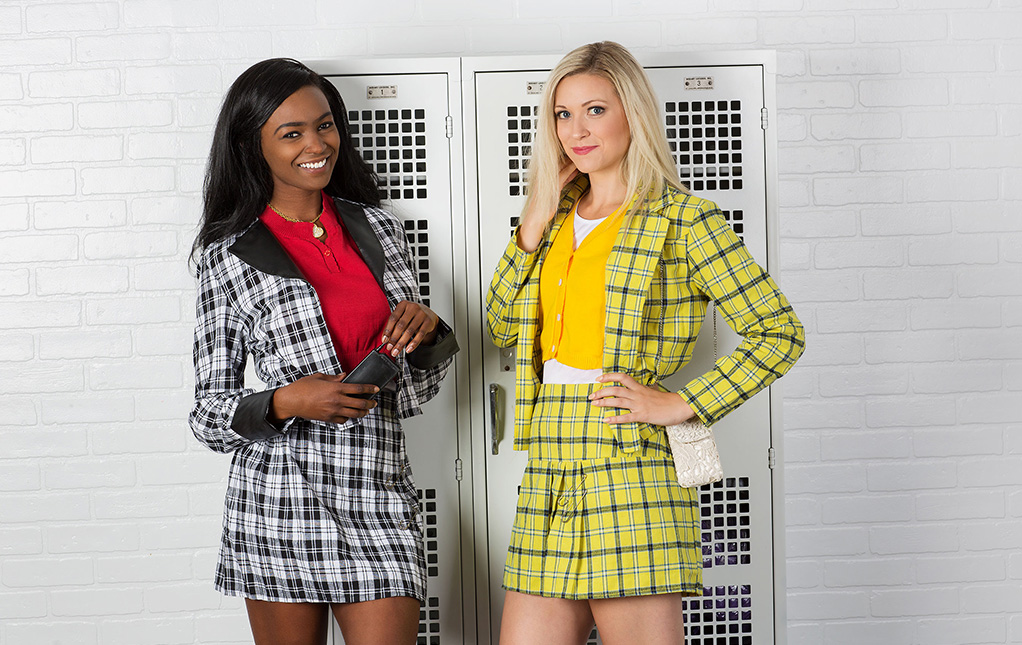 Keep the good times rolling with a funny women's costume. From cult classic comedies to outrageous looks that are for adults only, our selection of funny costumes has something to bring a smile or disapproving headshake to everyone you meet. Dress like your favourite dynamic duo, become what you eat with a hilarious and random food costume, or see who would win a game of rock, paper, scissors if more than hands were involved. You could even choose to relive a memorable moment from your favourite television program with cartoon character costumes or game show accessories. No matter your sense of humour, we're sure we can help you share a laugh at your next fancy-dress party!
Sexy Women Halloween Costumes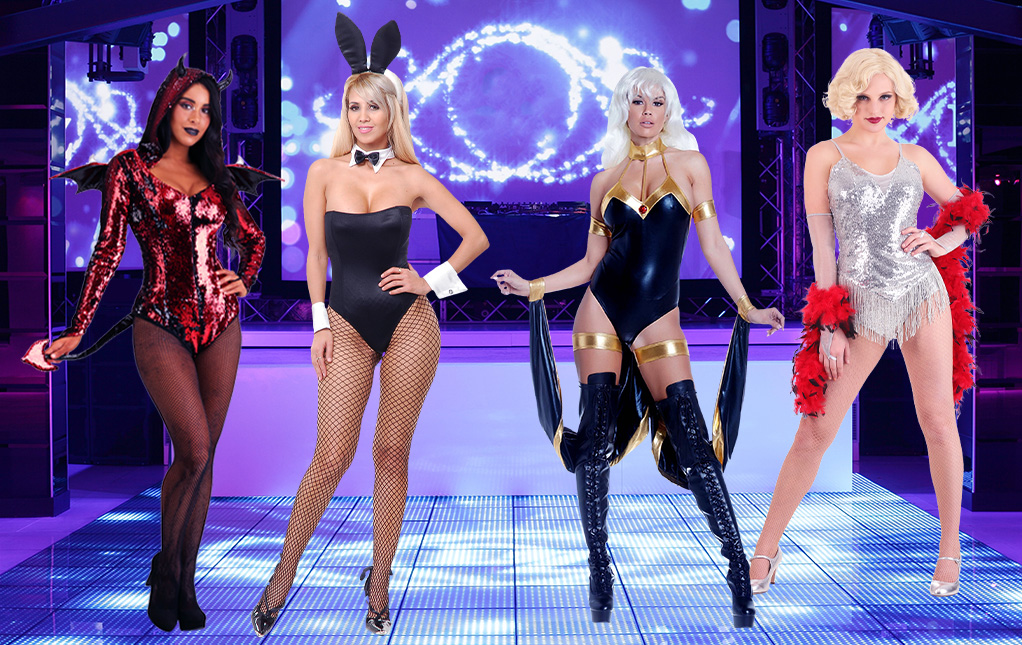 Every woman has her own sense of style and preference for cuts and colours. So when you're looking for a costume that makes you feel sexy, you'll find we have plenty to choose from! Show a little skin in a glitzy leotard like the one Roxie Hart wore in Chicago or pick a classy plunging neckline that Marilyn Monroe would swoon over. Imagine yourself as a centrefold with a sleek Bunny Costume. Maybe try your hand at comic book sex appeal with this Lightning Queen costume or a Poison Ivy dress that's equal parts mysterious and revealing. Or give Lucifer a run for his money with a Sequined Devil costume. Whatever style makes you feel empowered, our selection of sexy women's costumes has something for you!
Women's Plus Size Halloween Costumes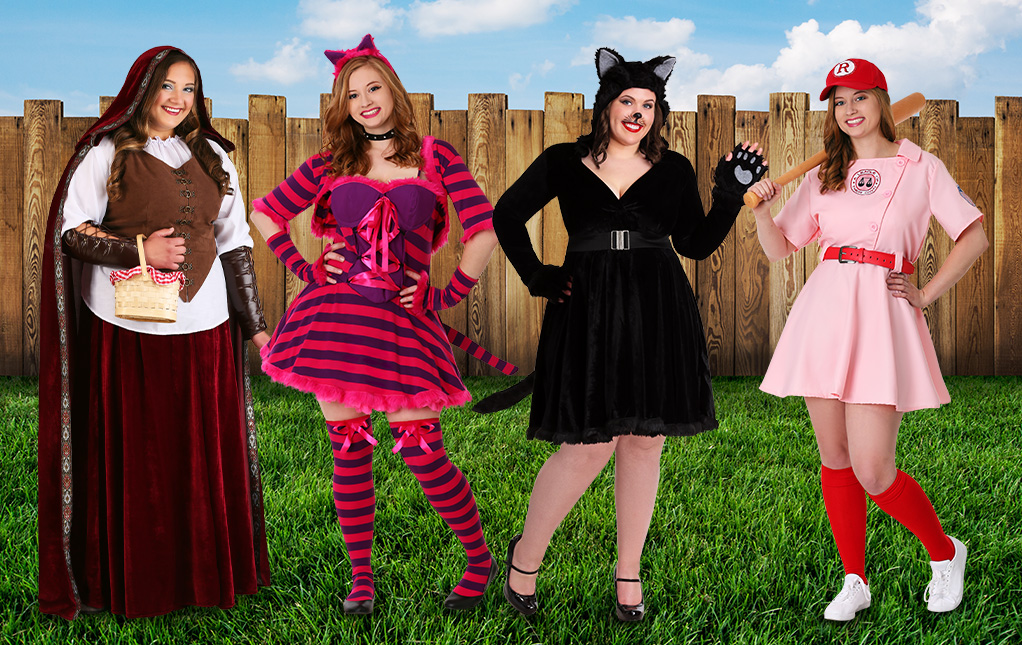 Did you know, we're the premier online retailer of plus size costumes for women? That's right! With sizes for every beautiful shape from 1X to 8X, we have the classic, popular, or original costume you've been looking for. Don't fuss with the limited sizes available at your local costume shop. Grab the catsuit or fitted uniform that brings your Halloween character to life. Become the cleverest cat in Wonderland or a sneaky black cat. Play ball and look as stunning as the rest of your team in an A League of Their Own Dottie costume that's designed for your powerful curves and curveballs! Show the world you aren't afraid of anything, whether it's a gorgeous Red Riding Hood costume or any of our other plus size costumes that look like something out of a fairy-tale. When you shop with us for your Halloween costume, there's a look that'll flatter your unique shape and size while letting you express your individual and diverse interests!