Girls' Halloween Costumes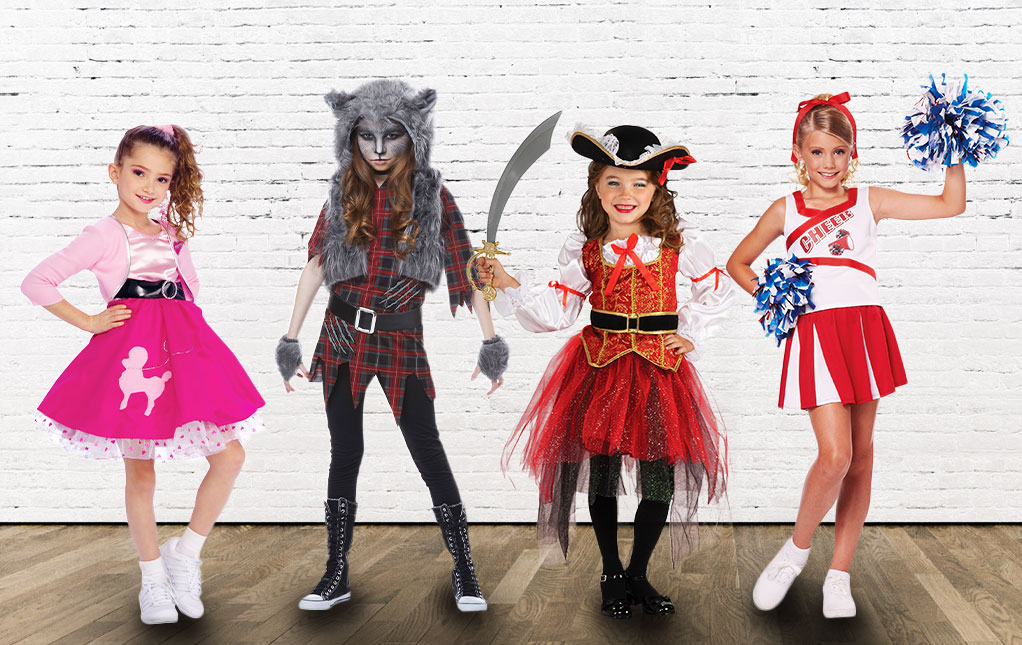 Playing dress-up is a favourite for girls the world over. Pulling on mum's floral blouses and heels and finding one of dad's flamboyant neckties makes for an excellent ensemble worthy of a mini fashion show. That love of putting together a unique look grows into your daughter's everyday wardrobe and finds major ways to shine for costume parties. From dressing up as a school cheerleader to transforming into a terrifying werewolf , Halloween gives your child a chance to take their dress-up routine to the next level. Explore our selection of girls' Halloween costumes to find all the outfits, accessories, and ideas that make dress-up an activity for the ages!
Halloween Costume Ideas for Girls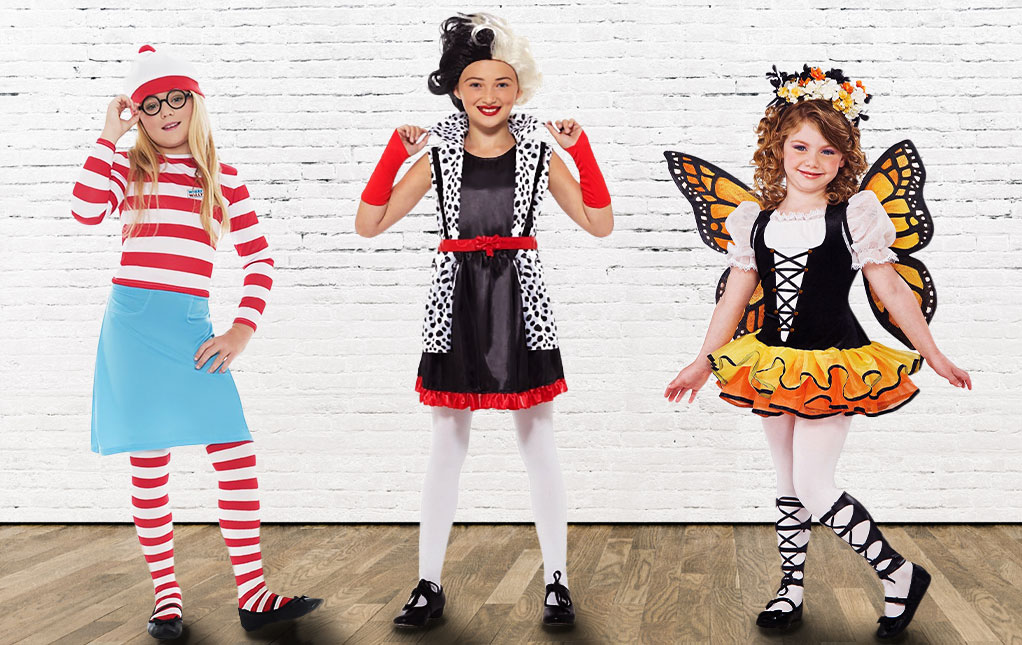 Not sure where to begin when helping your child get ready for Halloween? When you shop with us, you'll find the fantasy costume, decades costume, or group costume that's perfect for your little girl. Is your daughter obsessed with all things spooky? Maybe they're more interested in pop culture? Either way, our selection of girls' costumes promises to inspire twists on familiar classics and options that surprise entirely! And with sizes for every age from infant to teen, there's an option for every child!
Fancy Dress for Girls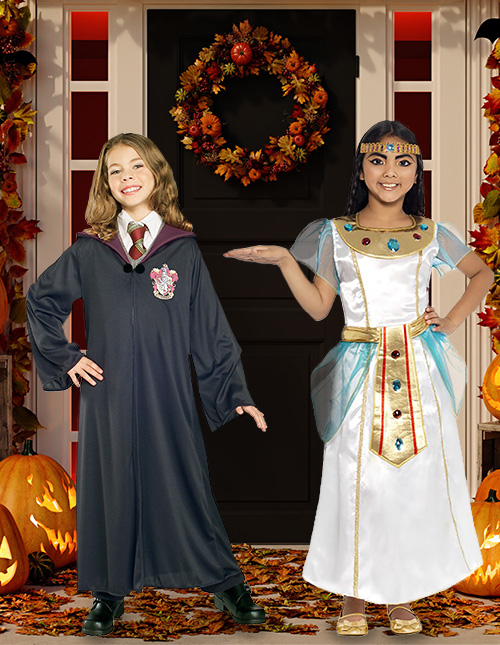 Help your little girl turn into the character or celebrity they've chosen with costumes based on notable figures! Are they attending a Harry Potter theme party? They'll be set with a Hermione Granger costume, just don't forget the wand or time-turner available in our selection of Harry Potter accessories. Maybe school is hosting a history day? Try a Cleopatra costume or any full costume from our historical costumes collection! No matter what the occasion calls for, we have the fancy dress look and complementary accessories to get your child ready!
Unique halloween Costumes for Girls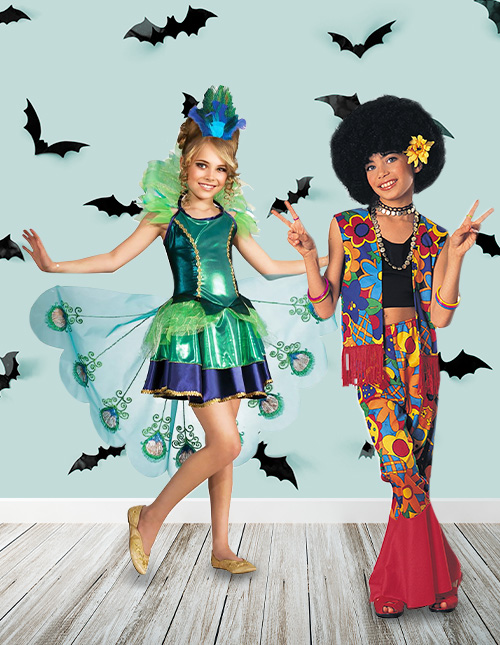 Just like the ensembles they created while playing dress-up in their nursery, a unique costume lets your child get in touch with their one-of-a-kind style and personality! From this fabulous peacock costume to this groovy hippie costume, there's a variety of surprising costumes for your daughter to explore. Whether they want to stand out at the family Halloween party or don't want to be another unicorn, our selection of girls' costumes has your child covered!
Halloween Costumes for Toddlers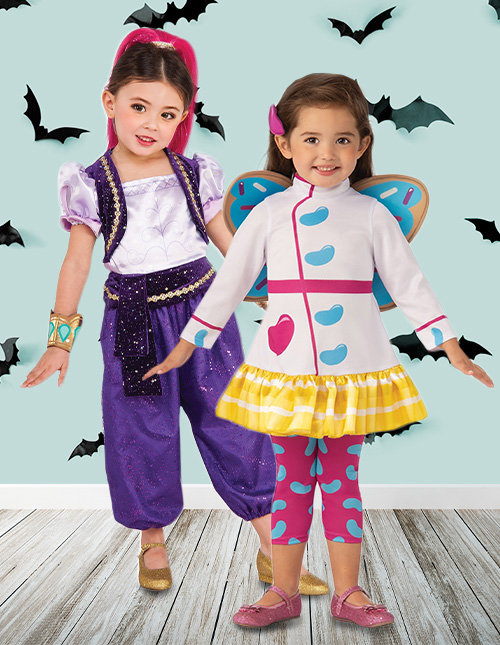 Chances are, your toddler is going to tell you exactly which cartoon character they want to dress up as. Even if they don't, their obsession with Paw Patrol or Baby Shark will help you decide what they'd prefer. However, if they're not interested in dressing up like Butterbean or Shimmer, our girls' toddler costumes offer several options to get them excited. From monster to mermaid, there's a costume for every tiny tot to get imaginative in while they trick-or-treat or play their day away!
Halloween Costumes for Tweens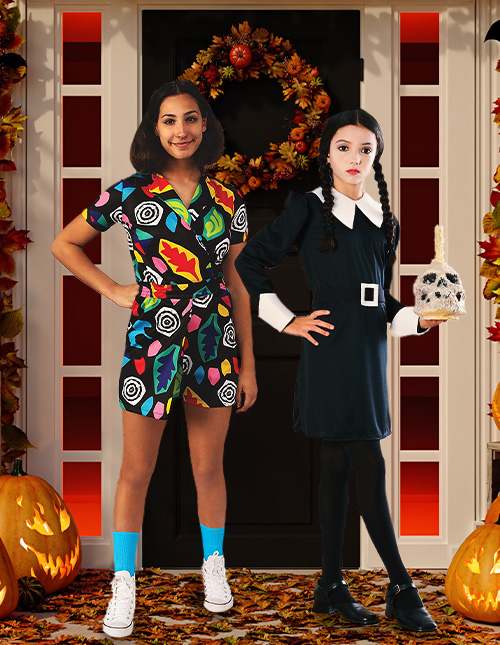 Give our collection of teen and tween costumes a look to find the costume your adolescent will want to try! With costumes inspired by characters in the same age group and accessories to match, even the ficklest of young ladies can make each ensemble their own. Start with Eleven's Stranger Things romper then let your child choose the leggings or bag that fits their individual style. Or let them embrace their teenaged angst with a costume that matches their moods, like a Wednesday Addams dress that would look excellent with any essential Halloween accessory!
Halloween Costume Ideas for Girls Groups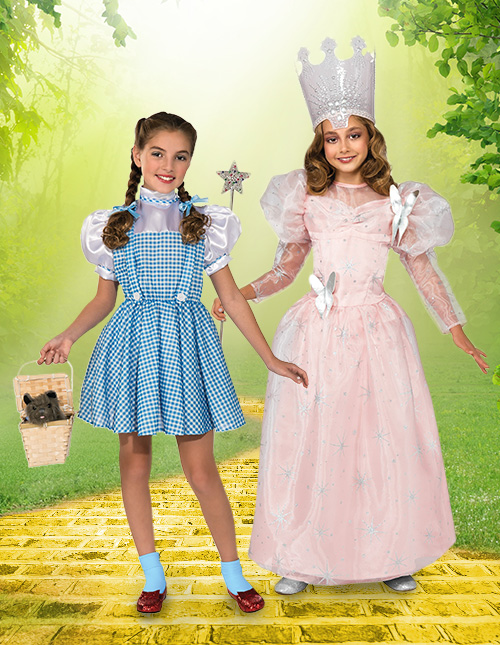 Bring your daughter and her closest friends together with a spectacular group costume! Any cast of characters makes for a fun ensemble, but our group costumes tool will introduce you to a wild variety of ideas. Try Wizard of Oz costumes or animal costumes. Maybe get the whole crew, friends and family included, suited up to stop some supervillains with the Justice League. Start with the main cast and expand to keep things inclusive. Then, whether your child is off to a theme party or joining their friends to trick-or-treat no one has to face making a matching costume faux pas!