Costume Ideas for Adults
Despite what some people like to think, costumes aren't just for children. We all need a way to add a little extraordinary into our ordinary day. Costumes are the perfect way for any adult to do that. Headed to a fancy dress party and you want to look like a debonair swashbuckler from the 1800s? Then all you need is a savvy pirate costume. What about Halloween? Well, you can tap into your inner horror movie villain by dressing up in one of our many scary costumes for adults! What if you're just headed on a trip to the market? Well, try dressing up as your favourite superhero to spice up the boring old humdrum routine!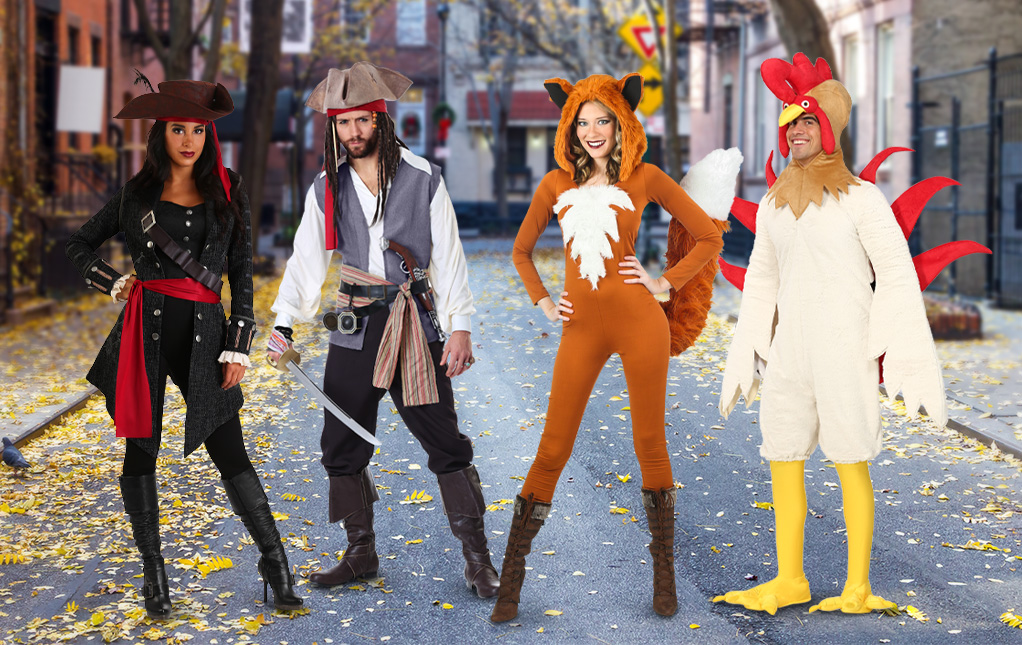 Well the good news is that we've come prepared with all of the best adult favourites for fancy dress, Halloween, and everything in between. We've got one of the largest selections around, so no matter what sort of thing you're looking for, we have it. But then, what if you're not quite sure what you're looking for just yet? That's where this guide comes in! We'll help you pick out the look that will knock them dead at the next party. So, just sit back and check out what we have to offer.
Adult Halloween Costume Ideas
Halloween has swept the UK! It seemed like just yesterday that everyone ignored the holiday. These days, it's just as big as Guy Fawkes Day…but with a smidge more fun involved, of course! The tradition started with the ancient Celtic festival of Samhain. They wore costumes to ward off evil spirits. Eventually, the Celtic traditions got mixed in with Christianity and the day became known as All Hallow's Eve and after that, simply Halloween. The American version of Halloween turned into a much more secular event, where children would dress up, play, and gather candy and that eventually transformed the holiday to the celebration we all know today. These days, even adults get into the fun with plenty of fancy dress parties during the holiday! So if you plan on hosting a fancy dress party, or if you want to head out for Halloween, then these adult Halloween costume ideas are great options!
Men's Halloween Costumes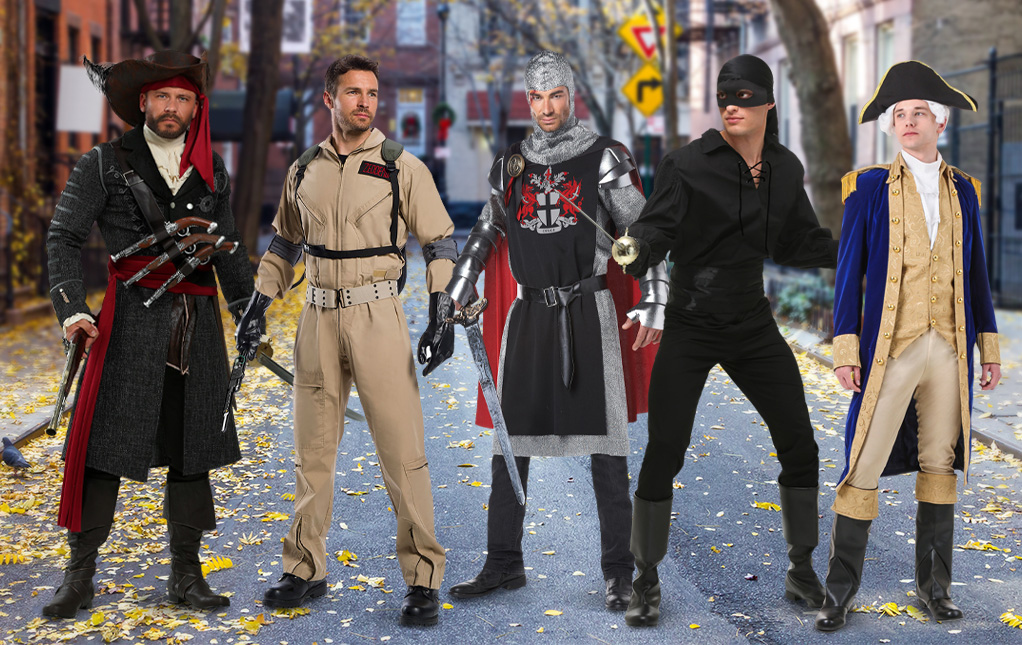 So what should you wear if you're a fellow trying to look his best at the fancy dress party? Well that just depends on what sparks your imagination! We have plenty of great movie costumes based on your favourite films. We have some exclusive costumes based on classics, like Westley from The Princess Bride and a Ghostbusters jumpsuit if bustin' makes you feel good (you know, like the song says). Otherwise, historical costumes are always a great choice! You can look like a proper pirate wearing a Blackbeard costume, or you can travel back to the Medieval ages by wearing one of our knight costumes for men. Really, you can express yourself in any number of ways with our selection of men's costumes.
Women's Halloween Costumes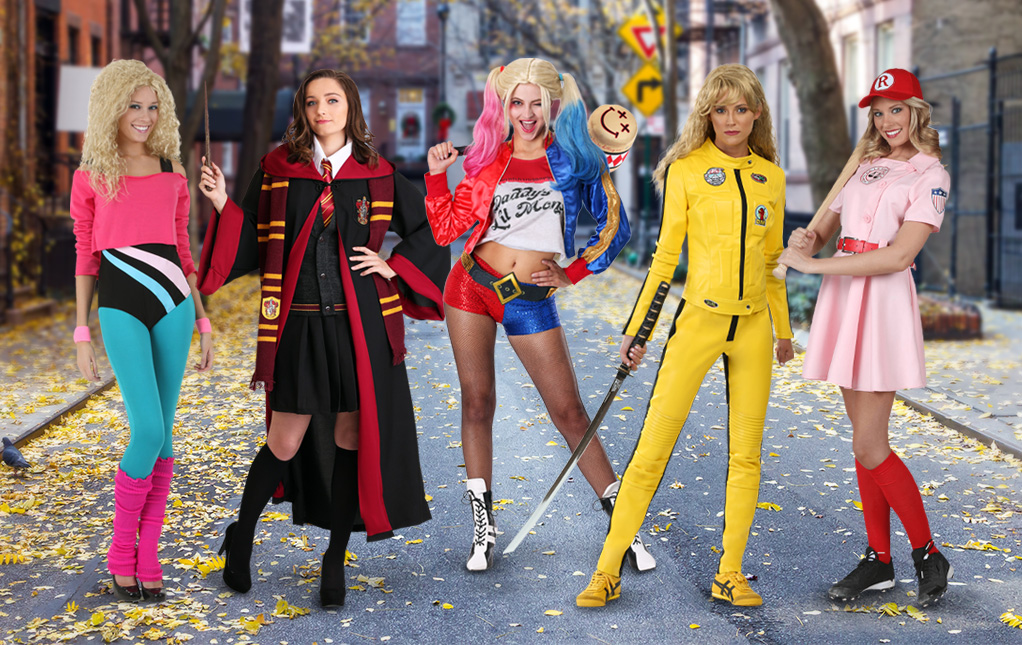 Ladies looking for a unique look will find plenty of great styles in our selection of costumes for women! We carry iconic styles from the greatest movies of our time, including Kill Bill and A League of Their Own. You could also try to jumpstart your career as a budding wizard by wearing one of our Hermione costumes based on J.K. Rowling's Harry Potter series (it's definitely our favourite book series of all time). Of course, superheroes and supervillains are always a hot choice and there's no better villain than Harley Quinn! Finally, we have plenty of retro styles of the 80s if you're looking for a look that's just a tad bit more colourful. All you have to do is pick your favourite style and you can head to the party with a confident new look to show off!
Sexy Halloween Costumes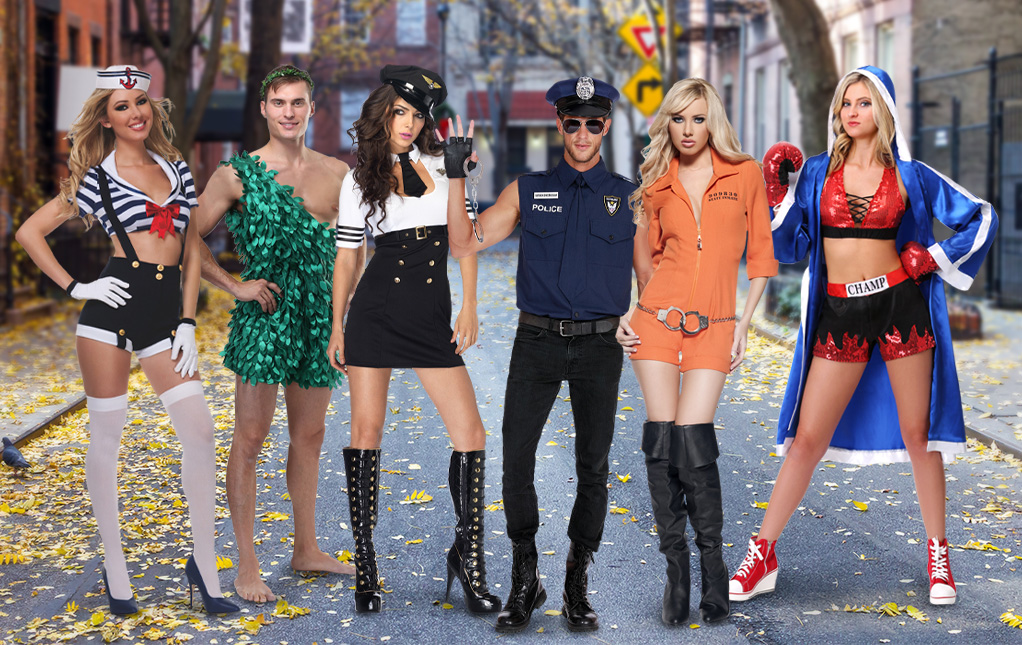 Plan on turning up the heat this Halloween? Well, you're one spicy devil, aren't you? Don't worry, because we have just the thing for you. There's no better way to get a confident look than with sexy Halloween costumes. If that's the sort of route you want to go this year, then check out our selection. We have plenty of styles for the ladies, including classic themes, like sailor and prisoner. Don't worry—we didn't forget about the boys! We also have plenty of sexy styles for guys, so if you're a guy looking to show a little extra skin this year, you'll be pleasantly surprised by our selection of outfits for men. It combines for a completely rounded collection of costumes for all of your spicy needs!
Plus Size Fancy Dress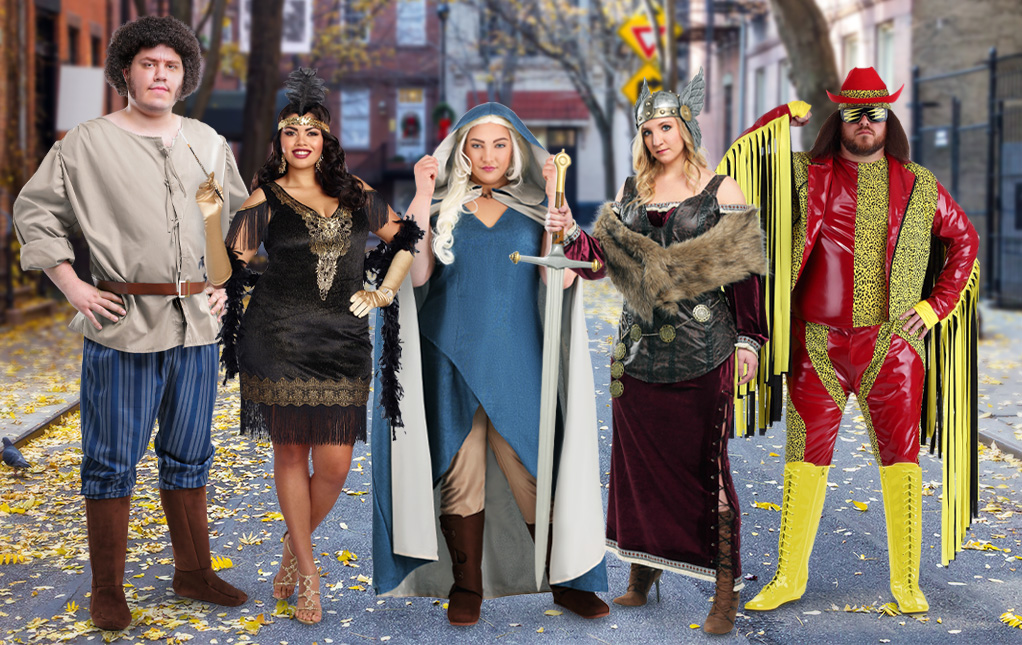 Fancy dress parties can be a dreaded occasion for anyone who doesn't always fit into standard sizes. Many costume shops don't have a great selection for diverse body shapes, so browsing around on some of those other sites can be rather disappointing. Well, we don't believe in that here. We think that all shapes and sizes matter! You should be able to get the costume you want in a size that fits you! That's why we've taken great care to gather up a great selection of plus size fancy dress costumes. You don't have to dread browsing through costumes anymore, since our range covers all of the bases! We have professional wrestling costumes, which includes Macho Man, of course. From Vikings to Game of Thrones and even your favourite movie characters, we have options for everyone.
Fancy Dress Costume Ideas
Fancy dress parties are fun at ALL times of the year. You don't have to sit around waiting for a whole year once Halloween passes by. You can throw one to break through the long winter or celebrate the warm weather with a curated costume party! Of course, a lot of people already know about this, but we just thought it was good to remind everyone! The real question is what sort of theme to choose for your party. That's the tricky part when it comes to throwing your own fancy dress party. Do you stick with a classic theme and have a historical party? Do you create a party based on the popularity of superheroes these days? Maybe you could have a Disney themed fancy dress party! Well, you can find all the costumes that you and your guests will need with our fancy dress costume ideas. Check out some of our best ideas below.
Adult Superhero Costumes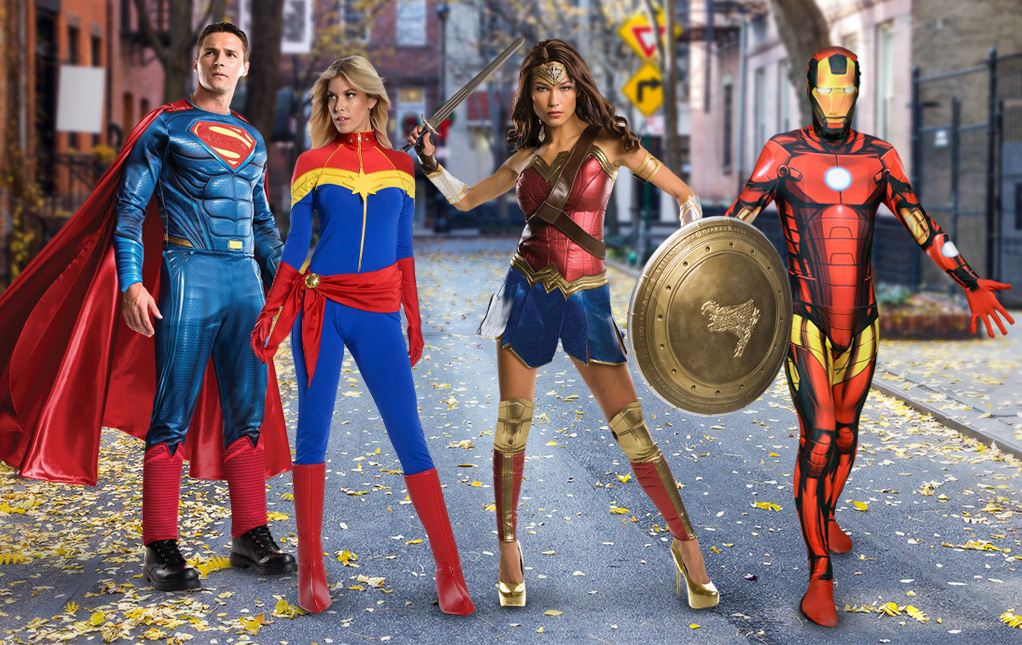 Let's start with one of our favourites: superheroes! We've always been huge fans of superheroes, even before the craze that happened in the last decade (our life-size Spider-Man mannequin in the office is proof of that). The comic book movies really made the whole thing mainstream in the last few years, with the Marvel Cinematic Universe soaring high, Wonder Woman getting her first solo movies, and even characters like Shazam getting some silver screen love. It's really never been better for superhero fans! That means a superhero-themed fancy dress party makes for an excellent idea to celebrate. Your guests can wear DC or Marvel outfits, just make sure you don't start a little feud in the process! We have styles for both men and women, so all you have to do is refer them to our selection of adult superhero costumes and pick up a few snacks from the market.
Adult Disney Costumes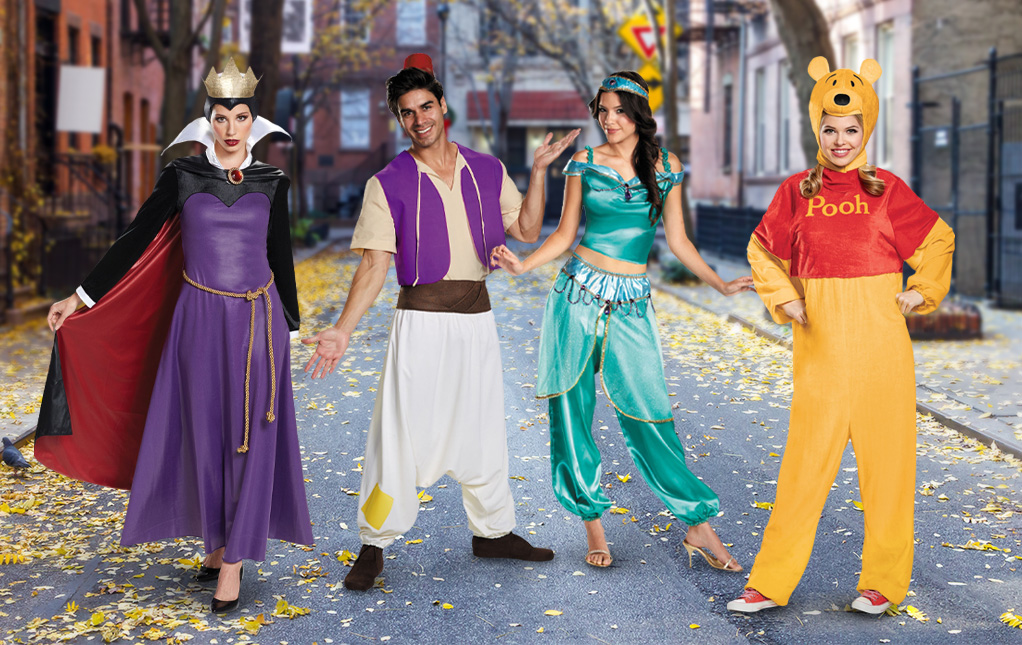 You're never too old for a Disney flick! The animated tales have been capturing our hearts and minds for many years and they've become a very part of the fabric of modern culture. To think, it all started with a plucky little guy named Mickey Mouse back in 1928! That means your grandparents probably grew up watching the same cartoon character that you know and love from movies today! Then Snow White changed the game with a full-length film based on the classic fairy tale. After that, Disney started churning out some of the best animated movies that the world had ever seen…and they've kept up with the tradition today by giving us modern classics like Inside Out, Moana, and Frozen. Well, we have plenty of adult Disney costumes to help you craft a Disney fancy dress party.
Funny Adult Costumes
Want to have a laugh? Well, studies have shown that those who laugh more tend to be healthier and in an overall better mood! Costumes are one of the best ways to help you have a chuckle. Not only will you be able to have a good laugh, but you'll also give your friends a good chuckle when you wear any of these funny outfits. We carry everything, from truly naughty costumes that you might not want your grandmother to see, to punny costumes that play with wordplay. Whether you want something from your favourite comedy movie (like Nacho Libre) or you want a little retro humour to add to your look, you can find something to guffaw at in our selection.
Adult Princess Fancy Dress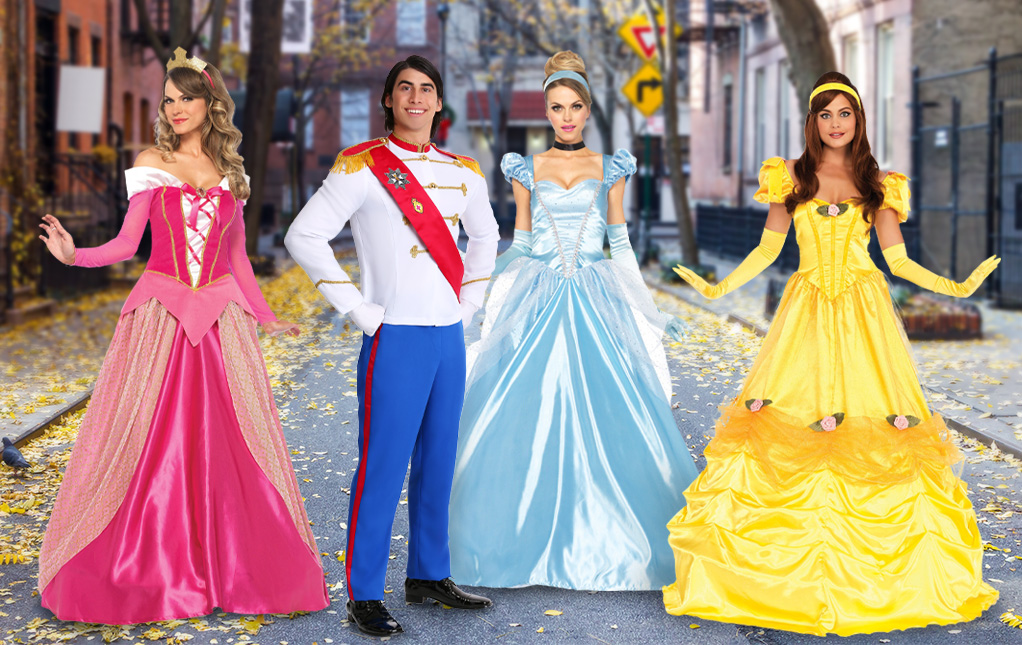 There's just something so magical and pure about the classic fairy tale. Well…not the REAL fairy tales that come from the Middle Ages. Some of those are downright scary! We're talking more in the realm of the Disney adaptation of classic fairy tales. The good princess always prevails over the evil villain, the prince always defeats the dragon, and they always live happily ever after. Of course, real life is just a smidge more complicated than that, but sometimes it's nice to imagine the perfect fairy tale for yourself! That's why princess fancy dress is such a great idea. We carry plenty of adult princess costumes to help you and your friends create the storybook party will have each of you feeling like a character in a classic story.
Scary Fancy Dress Costumes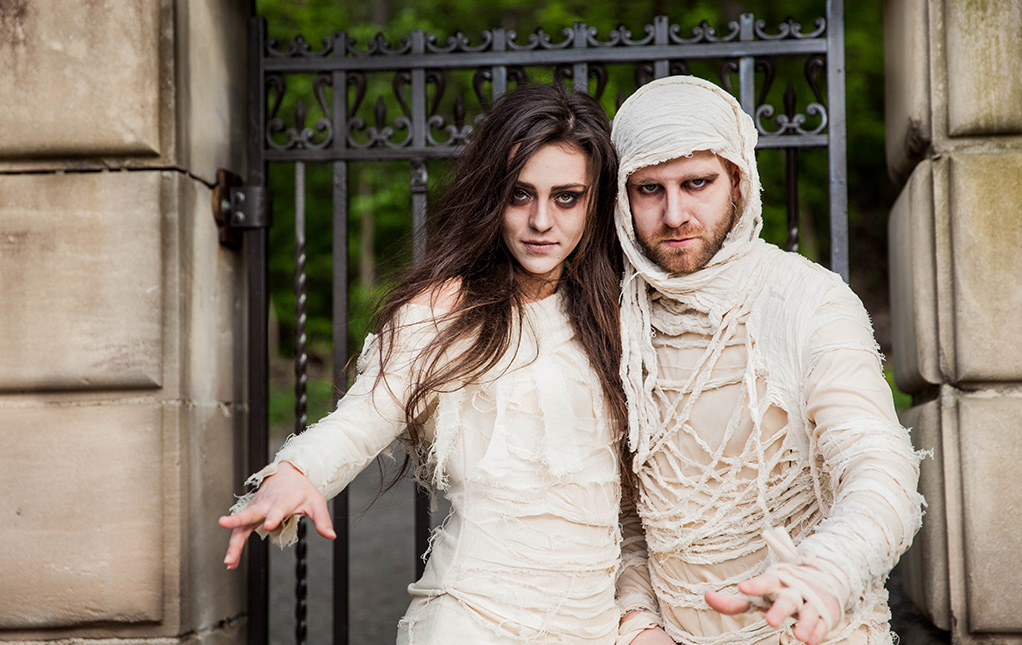 Scary fancy dress has a special place in our heart! After all, that's really the soul of Halloween, isn't it? Goblins, ghouls, and ghosts are allowed to roam the streets! Witches, werewolves, and every other unsavoury creature of the night gets turned loose upon the world. So of course a scary themed party is always a great way to kick off the Halloween season. We have a ton of great, classic scary Halloween costumes for adults, so getting the frightening look has never been easier. Our mummy costumes will give you that truly accursed look, while one of our witch costumes might just make you want to cause a little toil and trouble in your cauldron. If you really want to put a scare into the party, then check out some of our horror movie-themed costumes!
20s Fancy Dress Costumes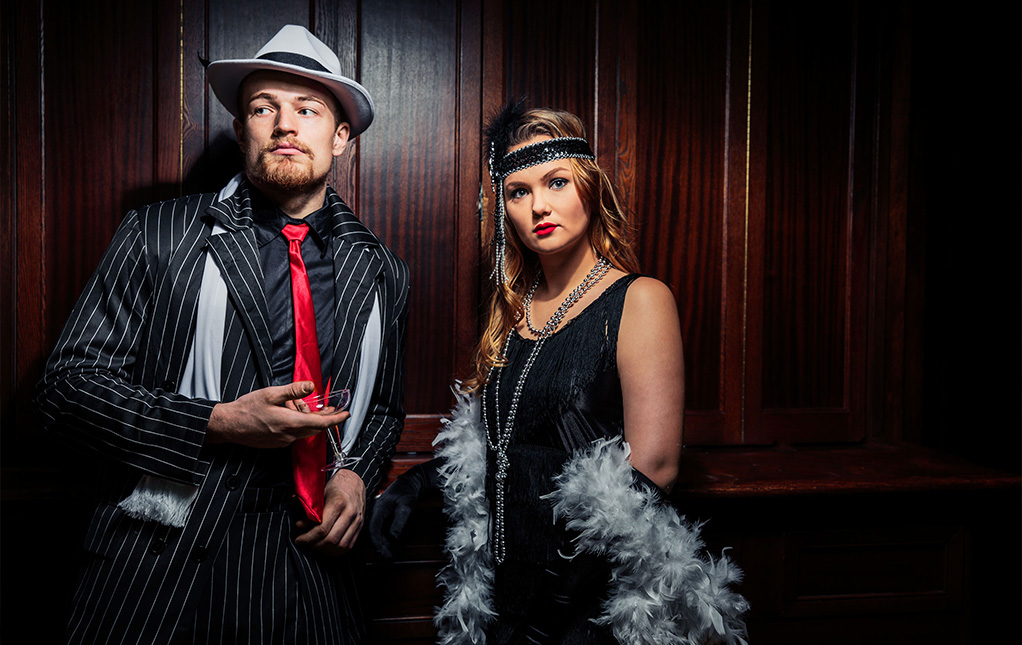 Ever feel like you were born in the wrong decade? Yeah, that's a pretty common feeling! Sometimes we feel like we should have been born back in 150,000,000 B.C.E.! We really have a feeling that was our decade…plenty of dinosaurs! Anyways, sometimes the fast-paced world of social media, smartphones, and high technology can get a little too crazy! Maybe it's time to head back to the golden age of jazz. You know, back in the 1920s! With our 20s fancy dress costumes, you can really craft a look that comes straight from the past. We have some classy flapper options, along with some very dangerous-looking gangster costumes to help you achieve your Bonnie and Clyde style fantasy. You'll be the bee's knees in these outfits…wait, do bees even have knees?
Disco Fancy Dress Costumes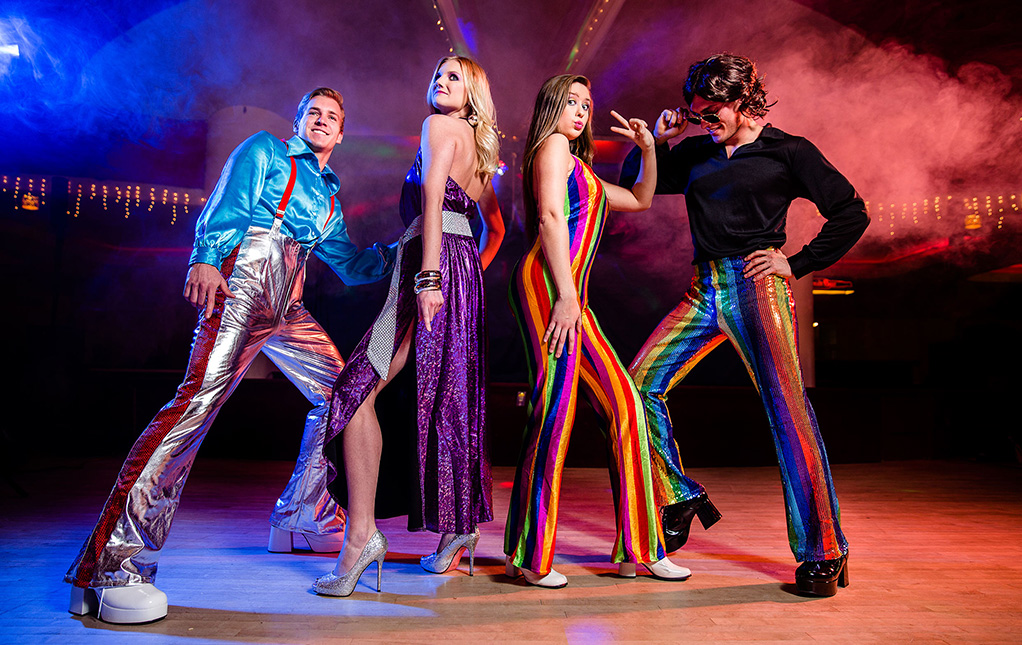 The best part about a fancy dress party? When an impromptu dance party breaks out right in the middle of your living room! If only there were some way to help that sort of thing happen organically in your home…wait a second! What about a disco fancy dress party? The entire decades of the 70s was basically about big hair and dancing, so it's the perfect theme for anyone looking to cut a rug this year. We have a ton of choices for any aspiring disco mamas out there and some totally rad stuff for you disco studs as well!